Dir: Pavel Lungin. 2016. Russia, Italy. 120 mins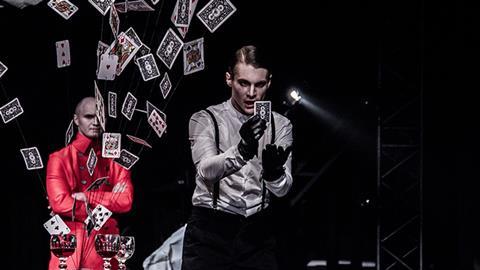 From the opening sequence, shot in woozy slow motion, with a vibrant colour palette, lashing torrential rain, and the ever-present threat of violence, it's clear that director Pavel Lungin is going for a bold stylistic statement. The savage pitch of the drama takes its cue from Tchaikovsky's opera, which gives its title to the film and provides much of the tempestuous musical backdrop. It might sit a little oddly with the rest of Lungin's more intimate, character-driven features, but this stylishly mounted riot of sexual and professional jealousies is a very entertaining watch.
It's not hard to read an allegory for contemporary Russia in Andrei's obsession with the link between his poverty and lack of status
Queen of Spades won the Audience Prize at Tallinn's Black Nights Film Festival, a win which may parlay into positive word of mouth in the region. Further festival berths seem likely – it will go on to screen in the inaugural Macao Film Festival. The film's operatic origins would make it particularly suitable for programming in events with a musical focus. A niche theatrical life is not out of the question. Astute marketing could tap into an existing audience for the full-blooded melodrama of the opera – Lungin's passion for the world is evident in the gloriously staged performance pieces.
Lungin's eleventh feature as a director (his first, Taxi Blues, earned him the Best Director prize at Cannes in 1990), Queen of Spades takes as its inspiration a short story by Alexander Pushkin, which itself was adapted into Tchaikovsky's opera of the same name. The focus here is a combative relationship between diva mezzo soprano Sofia Meyer (Kseniya Rappoport) and her protege Andrei (Ivan Yankovskiy), a sallow, self-regarding aspiring singer who is so convinced that he should play the lead in her production that he begins to mirror the character's life.
Sofia has returned, gloriously, to Moscow after a self-imposed exile of twenty-five years. She sweeps into the theatre trailing furs and tinkling diamonds. Her luggage includes a dozen or so life-sized wax mannequins of herself, dressed in the costumes of her past stage triumphs. But it turns out that the diamonds are glass, and the peace offering she makes to her estranged niece Lisa (Mariya Kurdenevich) is slightly hollow. Lisa, Andrei's lover, is cast in the lead role in Sofia's production of Queen Of Spades, but finds herself betrayed by both her man and her aunt.
The film unfolds mainly in the theatre, in a gangster's lair and in a covert casino entered through a secret door behind a cheese counter in a supermarket. "A supermarket for the common people upstairs; a casino for the elite downstairs," drawls Oleg, the dissolute and impossibly wealthy casino owner. It's not hard to read an allegory for contemporary Russia in Andrei's obsession with the link between his poverty and lack of status.
Queen of Spades is sexy, strident and extreme – tonally and thematically there are some similarities with the mannered obsessiveness of Darren Aronofsky's Black Swan. And like the preening egotists at the heart of the story, this is a film which comes alive on the stage: a vocal duel between Sofia and her niece is a spine-tingling moment of savage ambition, while an extended climactic sequence which takes place during the first night of the opera is thrillingly bloody.
Production company: Masterskaya of Pavel Lungin, Art Pictures Studio, Barter Films
International sales: Art Pictures Media
Producers: Fedor Bondarchuk, Pavel Lungin, Evgeniy Panfilov, Dmitriy Rudovskiy
Screenplay: Pavel Lungin, Alexander Lungin, Steve Walsh, Pavel Pecheykin
Cinematography: Levan Kapanadze
Editor: Karolina Machiewska
Production design: Pavel Parkhomenko
Main cast: Kseniya Rappoport, Ivan Yankovskiy, Igor Mirkurbanov, Mariya Kurdenevich, Evgeny Zelensky