Dirs. Baris Kaya, Soner Caner. Turkey, 2016. 93 min.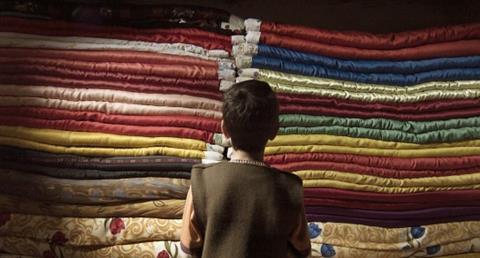 Not quite the children's item it pretends to be, Baris Kaya and Soner Caner's striking debut feature looks, for the most part, like a deceptively gentle, innocent anthropological portrait of a small village lost in time through the vast spaces of Northeastern Turkey. But already from the very first sombre, disquieting opening sequences, it seems a better fit for mature audiences than Berlinale's GenerationKplus section.
The directors give their first venture together not only the right look, but also the correct tone, working on a minimalist scale which allows no grandstanding of any kind
It starts with a mother and her son huddling terrified together through another sleepless night, listening to the echoes of a fierce battle going on nearby. Next, a dead body lies on a rickety table, is picked up and carried by some peasants to its grave. Teenagers may or may not relish this kind of introduction but on the other hand, art houses and festival programmers should stay and have a further look. They are bound to discover a subtle, eloquent - though carefully muted - political statement that will not be lost on their audiences.
The village in question is Kurdish, though the film does not identify it as such, the shooting all through the night suggestive of battles between rebels and the Turkish army, but once again, nothing is spelled out for the benefit of the audience. Tormenting oppressors never appear in person and most of the picture seems to focus on the contrast between images of wide-spread, gloriously snow-covered landscapes, and the dark, unlit interiors of primitive homes of the local inhabitants.
As for the plot, it is all about the coming-of-age of a ten year-old boy, Rauf (Alen Hüseyin Gürsoy), who leaves school when his teacher kicks him out of class. He goes to learn a trade with his father's carpenter friend, and falls for the simple, natural, unadorned charms of the carpenter's daughter, Zana (Şeyda Sözüer), who is ten years older than him.
The unhurried pace of country life is even slower because of the weather. This could almost be a pastoral winter tale but for the persistent reminders (compliments to the editors) which keep breaking into the proceedings, to maintain a level of subliminal anxiety. The villagers seem to be either old people or children, hardly any young, able-bodied person is in sight. The carpenter's main occupation is making coffins, every one of his many customers is asked about the deceased's age and size but never about the cause of death.
Then there is Rauf's mother, who moans as the boy's older brother is mentioned - he has left for the mountains, most likely never to return. Now an old woman sits on a chair, in the bitter cold, at the top of a hill, day in, day out, gazing silently into the horizon, waiting for her absent son. All this is taking place while Rauf tries to get Zana's attention by finding the floral pink scarf she fancies - but there is no floral pink color in the world he inhabits.
All this should be pretty clear for anyone who follows the news from Turkey and Ankara's treatment of the Kurdish population. However, refraining from any explicit accusations or specific protest, the picture gains a universal sense that persecuting minorities is a favorite sport with every kind of regime, all around the world. Still, there is at least one outspoken sarcastic remark, introduced in an early scene, when an ancient blind veteran of the Korean War tells children how he lost his sight, fighting his country's enemies, oblivious of the fact that Korea is at the other side of the world.
Directors Baris Kaya and Soner Caner, who worked together on a domestic war picture, Breath in 2008, as assistant director and production designer respectively, manage to give their first venture together not only the right look, but also the correct tone, working on a minimalist scale which allows no grandstanding of any kind. Among the film's most touching moments are a scarecrow's funeral and a scene when Rauf, standing in for the absent carpenter, takes the order for a coffin from two bereaved parents in the same compassionate but business-like manner of his master. All the performances have the rough feel of real people (indeed, it's a cast of non-actors) with Alen Gursoy bravely carrying most of the film on his frail shoulders. This is civil war seen through a child's eye, but not necessarily for children.
Production companies: Peri İstanbul , Aslan Film
Producers: Selman Kızılaslan, Uğur Kızılaslan, Burak Ozan
Contact: Peri, Istanbul (baris.kaya@periistanbul.com)
Screenplay: Soner Caner
Cinematography: Vedat Özdemir
Editing: Ahmet Boyacıoğlu , Ali Emre Uzsuz
Costumes: Nigar Tinmazsoy
Music: Ayşe Önder, Ümit Önder
Cast: Alen Hüseyin Gürsoy, Yavuz Gürbüz, Şeyda Sözüer, Veli Ubiç Muhammed Ubiç