Steve McQueen's 'Small Axe' series look at the Metropolitan Police in the early 1980s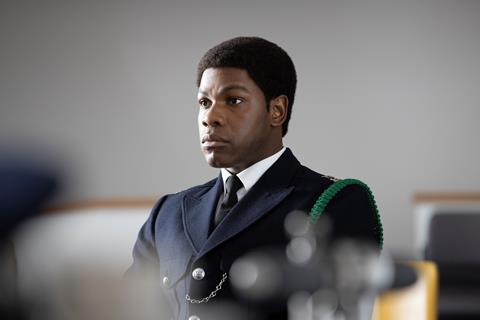 Dir. Steve McQueen. UK. 2020. 80 mins.
There are few people in the UK who would look back at the early 1980s with great fondness. Just a glance at the wallpaper and carpets smothering the council estate flats in Steve McQueen's Red, White And Blue is to remember how insular life was at that time. London's West Indian community went even further into retreat from a Metropolitan Police force later declared to be "institutionally racist", yet Leroy Logan (John Boyega, excellent), a clever research scientist with a bright future, decided to join up as a beat bobby, becoming, literally, a poster boy for an inclusion that never existed.
Boyega delivers a sturdy, coiled performance
Logan went on to spend three decades in uniform, and says the Met is still institutionally racist today. But McQueen and co-writer Courttia Newland's script focuses on the beginning of his journey, showing how Logan's decision to join up brought him into direct conflict with his Jamaican father (Steve Toussaint), himself a victim of police brutality. It's a moving tale, but with much more to it than the almost archetypal structure suggests. It's becoming increasingly evident, as McQueen's Small Axe anthology of five films premieres at festivals in advance of BBC One transmission, that the writer/director isn't just attempting to chronicle black British history, but view it as a part of the United Kingdom's recent past which runs through its present DNA.
Red, White And Blue will air in the US through Amazon, and Boyega's sturdy, coiled performance will attract interest globally. Although the estates of Hornsey and Hackney are close enough to home for the Peckham-born actor, they're a galaxy far, far away from his main fan base. There's no mention of it here, but Logan's story plays out around the time of the 1981 Brixton riots, making his career choice even more stark, brave, foolhardy, doomed, or noble - we're invited to see it in all possible lights. Yet there's a underlying humour to this story of one man's attempt to fight the power, and a sharp attention to detail, tone and music, which will see it connect. Those sludge-coloured carpets – shot on 35mm by series DoP Shabier Kirchner – are contrasted with the vivid hues of Caribbean clothes and furnishings, giving a sense of two worlds colliding. The film's soundtrack is delicious, and the fact that Logan was best friends with soul band Imagination's lead singer Leee John is a gift that keeps on giving, particularly when it comes to costumes.
As audiences watch this almost familiar story of father-son conflict, surrounded by overt racism and brutish police officers, naturally there will be a sense of structural familiarity – much like Mangrove, the longest of McQueen's five films, which takes a courtroom battle as its dramatic centrepiece. However, these stories have not been told in the UK, not by black directors, and most certainly not aired on the BBC's mainstream channel. There's a sense that the very texture of this film, the authentic eye and the open door into a community for whom keeping separate was a necessity, not a choice, will force some dirty laundry out of a festering basket. (Logan's on-screen friendship with an Indian policeman brings to mind the persecution of Superintendent Ali Dizaei, a case that would ensnare the officer later on in his career.)
Burning with conviction, Boyega – who is of Nigerian heritage – gives us a Logan who is keen to move away from his father's belief that the police are bad news. With fire in his belly and a sense of righteousness in his heart, quoting Peel at his interview, he leaves his job as a research scientist to join up. It's at officer training, in Hendon – the only black skin showing against a sea of white plimsolls and socks and singlets – that he first gets the sense how impossible this task will be. Ugly, unvarnished racism in his first posting reaches all the way up the ranks, while his own people call him a coconut or a Judas ("that's Constable Judas to you.") "Someone's got to be the bridge," is his mantra, but his colleagues won't back him up, even when his life is in danger, and his father is hurt and angry about the choices he's made ("man has PHD!").
Logan has a warm home life though, a loving family and a supportive wife (Antonia Thomas); this isn't a misery memoir. McQueen is aiming for more. With every deft brushstroke, whether that be the stiff macs the constables wear, or 'White Lines' on the radio, he puts the viewer inside the picture – the film shot in Wolverhampton to find authentic locations, and the effort pays off. If the cartoonishly racist bobbies don't get a backstory, it's because they wouldn't have told it to you as they frisked you. As the series moves on, it's increasingly clear that McQueen's tales of black British history can't be boxed off and filed away on a shelf marked "the past": after all, not all of this is history (see stop-and-search). The story continues.
Production companies: Lammas Park, Turbine Studios
International sales: BBC Worldwide (airing on BBC One in the UK and Amazon in the US)
Executive producers: Steve McQueen, Tracey Scoffield, David Tanner, Rose Garnett, Lucy Richer
Screenplay: Courttia Newland, Steve McQueen
Cinematography: Shabier Kirchner
Editing: Chris Dickens, Steve McQueen
Production design: Helen Scott
Main cast: John Boyega, Steve Toussaint, Antonia Thomas, Tyrone Huntley, Nathan Vidal and Jaden Oshenye.