A volatile, daring performance from Rebecca Hall buoys Andrew Semans' nervy provocation of a film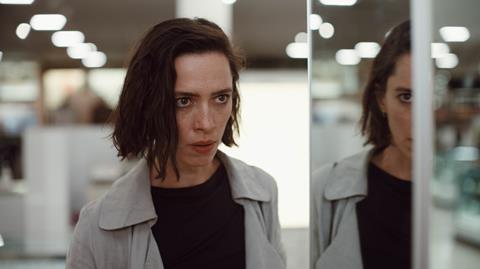 Dir/scr: Andrew Semans. US. 2021. 104 mins.
In films like Christine and The Night House, Rebecca Hall has demonstrated a gift for playing extreme characters; individuals who feel cut off from polite society, pushed to their breaking point. She goes even further in Resurrection, a prickly psychological drama laden with thriller and horror elements, in which she portrays a polished professional whose unwelcome past comes to visit. Wilfully disregarding plausibility to get at something more elemental about guilt, motherhood and trauma, writer-director Andrew Semans' second feature is a nervy, uneven provocation buoyed by Hall's uncompromising performance, matched by Tim Roth as a very literal reminder of the life our heroine left behind.
Resurrection savours its secrets, inviting the audience to try to unravel the story's many mysteries
Hall has become Sundance royalty of late — Christine and The Night House both premiered at the festival, as did her 2021 directorial debut Passing — and she returns with this Premieres selection that wouldn't have been terribly out of place in the Midnight platform. Resurrection is a carefully modulated study in strange, obsessive behaviour: some viewers will scratch their heads, while others will be happy to embrace the picture's teasing opacity.
Hall plays Margaret, a high-powered executive who is raising her teen daughter Abbie (Grace Kaufman) on her own and enjoying an affair with a married coworker, Peter (Michael Esper). She appears to be a warm, successful fortysomething, until one day she's at a conference and happens to spot a man (Roth) sitting across the room, his very presence causing her to run out in a panic. Soon, the man, named David, shows up at a store where's she shopping — and then, later, in a nearby park. Margaret tells him to leave her alone, and he menacingly replies that he still has Ben.
Resurrection savours its secrets, inviting the audience to try to unravel the story's many mysteries. (For instance, who is David? And who is Ben?) Semans (Nancy, Please) answers those riddles gradually, limiting our perspective to Margaret's growing panic as she tries to keep David from encroaching further into her life. Seemingly overnight, she's frantic and paranoid, demanding that Abbie, who is about ready to leave for college, stays in their apartment. (Likewise, she begins to behave erratically in the office, worrying Peter by how different she seems.) Whatever David represents, it's something so upsetting that Margaret no longer resembles the poised businesswoman we initially met.
Semans' screenplay does eventually provide some answers, but even then the revelations are so remarkable that the filmmaker practically goads the audience into dismissing them as ludicrous. Just as intriguing, Hall and Roth approach their characters' bizarre reality with utter normalcy, indicating that Margaret and David have long engaged in co-dependant mind-games that, after an extended intermission, have now resumed. Their interactions strain believability, but Margaret's fragile state and David's calm confidence suggest that we're not meant to fully understand their dynamic — other than that he clearly warped her in the past, leaving her permanently emotionally shackled to him.
Wyatt Garfield's chilly cinematography and Anna Kathleen's sleek production design echo Margaret's calm, controlled demeanour — a cool exterior that David will slowly dismantle. Hall's skill at depicting her characters' brittle inner worlds is especially well-deployed in Resurrection, which follows Margaret as she becomes increasingly incensed about protect her child while swearing to put a permanent end to her arrangement with David. It's a volatile, daring performance as Margaret ferociously unravels, frightening those closest to her.
Semans pushes Margaret into potentially preposterous narrative terrain, but Hall's total commitment to her character's growing mania helps ground the proceedings, no matter how outlandish the plotting becomes. Resurrection builds to an ending that's meant to be shocking but will probably be predictable considering everything that led up to that moment. Even so, Semans finds a denouement that once again leaves us off-balance — and once again has us staring at Margaret, seeking answers about this enigmatic figure that Hall brilliantly refuses to disclose.
Production companies: Square Peg, Secret Engine, Rosetory
International sales: WME, filmsalesinfo@wmeagency.com; and 2AM, sales@2AM.com
Producers: Tim Headington, Lia Buman, Tory Lenosky, Alex Scharfman, Drew Houpt, Lars Knudsen
Production design: Anna Kathleen
Editing: Ron Dulin
Cinematography: Wyatt Garfield
Music: Jim Williams
Main cast: Rebecca Hall, Grace Kaufman, Michael Esper, Tim Roth