Sierra Pettengill's impressive archival doc traces the recent history of America's militarised response to unrest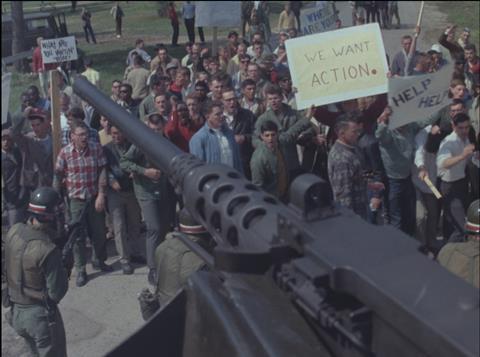 Dir: Sierra Pettengill. US. 2022. 91 mins.
In the mid-1960s, American cities experienced a wave of unrest, prompting the federal government to seek answers for what was causing such violent uprisings. The incisive documentary Riotsville, U.S.A. soberly catalogues what happened next, drawing from archival footage shot either for broadcast television or by the US government to illustrate how systemic racism and increasing police militarisation contributed to a growing inequality within the country. Although Sierra Pettengill's film will perhaps be most notable for its inclusion of startling scenes from Riotsvilles, model towns built by the US Army to train for actual riots, there's much here to consider about the American worship of law enforcement and demonisation of dissent.
Deftly brings the past into the present by choosing news clips that eerily echo modern concerns
Premiering in Sundance's Next section, Riotsville, U.S.A. will speak to viewers attuned to the nation's ongoing debate over police brutality and the rise of the Black Lives Matter movement. Pettengill's cerebral but impassioned approach connects her with other adventurous nonfiction filmmakers such as Theo Anthony and Robert Greene, both of whom are thanked in the end credits, and this slice of not-so-distant history should provoke further discussion about social and political issues that remain depressingly relevant.
With narration provided by Charlene Modeste, reading from Tobi Haslett's script, Pettengill eschews contemporary interviews to immerse the viewer in the archival materials. Spanning 1967 to 68, Riotsville, U.S.A. begins as President Lyndon Johnson sets up a commission to investigate the underlying causes that sparked riots in cities such as Watts and Detroit. The commission, named after its chairperson, Illinois Governor Otto Kerner, returns with several recommendations and observations — chiefly, that America was becoming an intractably racist country, requiring massive federal spending to combat the economic inequality between its white and Black residents.
But the Kerner Commission's proposals would fall on deaf ears at a time when the US was deeply (and expensively) engaged in the Vietnam War. Instead, money was spent to bolster local police forces, leading to the documentary's remarkable government footage of these Riotsvilles, where some soldiers would dress in street clothes to play ordinary citizens and protestors, running through riot scenarios with military and police officers. The archival material will elicit a mixture of chuckles and shock, the ridiculousness of these staged sequences combining with the surreal experience of hearing onlooking military leaders laugh at these "actors" who are really investing in their roles as fiery protestors.
Pettengill, whose previous films The Reagan Show (co-directed by Pacho Velez), Graven Image and The Rifleman also told their stories through archival footage, deftly brings the past into the present by choosing news clips that eerily echo modern concerns. Televised panels gather Black community leaders, who decry the cruel behaviour of local cops. (The white police chiefs stubbornly refuse to admit any wrongdoing.) Protestors are dismissed as violent agitators, while suburban whites arm themselves, fearful that they could be attacked next. Without being too didactic, Riotsville, U.S.A. convincingly demonstrates how far America hasn't come in the last 55 years, with Modeste's voiceover providing a poetic, restrained anger as she ponders racial bias and the habit of those in power to oppress their constituents.
It's no surprise that Nels Bangerter, a superb non-fiction editor who helped shape such thought-provoking films as The Hottest August, Let The Fire Burn and Dick Johnson Is Dead, was tapped to give Riotsville, U.S.A. its seamless flow between narration and differing archival sources. Pettengill's reach sometimes exceeds her grasp. (Her exploration of tear gas, as well as the so-called riot posse recruited to keep protestors at the 1968 Democratic National Convention in check, occasionally risks being too digressive.) And yet, these sequences thematically fit into her overall thesis that the US government — and, to some extent, American society as a whole — has become comfortable with ignoring the underlying political and economic factors that spur unrest, instead preferring to fight the problem with a more heavily armed police force that suppresses people's voices. Riotsville, U.S.A. offers no hopeful ending, knowing full well that those fires still burn.
Production company: Field Of Vision
International sales: Cinetic, jason@cineticmedia.com
Producers: Sara Archambault, Jamila Wignot
Screenplay: Tobi Haslett
Editing: Nels Bangerter
Music: Jace Clayton