The star of 'West Side Story' looks back on 70 years of defying the odds and the naysayers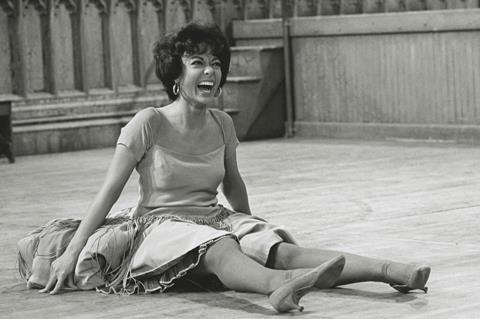 Dir: Mariem Perez Riera. US. 2020. 90 mins
Anyone who only knows Rita Moreno as Anita in West Side Story or Lydia in One Day At A Time will find there is so much more to discover in Rita Moreno: Just A Girl Who Decided To Go For It. Mariem Perez Riera's celebratory documentary covers the full sweep of Moreno's seven decades long career but also addresses her significance as a trailblazing Latina woman and political activist.
An appeal that extends beyond showbusiness nostalgia
Moreno turns 90 this year and will be seen in Steven Spielberg's version of West Side Story, piquing interest in a documentary with an appeal that extends beyond showbusiness nostalgia. Arts channels should find a warm welcome for an American Masters title with a positive energy that matches its irrepressible subject.
Moreno belongs to an elite showbusiness club who have won the EGOT (Emmy, Grammy, Oscar and Tony). We first see her in her California home preparing for a Cuban-themed 87th birthday party. The camera glides over the prizes and mementoes of a lifetime; a 'Life' magazine cover, her Oscar, the garland bestowed on her at the Kennedy Center Honours, a cherished photo with Marlon Brando.
Moreno readily fits the bill as the living embodiment of the American Dream. Born in Puerto Rico in 1931, she moved with her mother to New York, dropped out of school at 15, performed in clubs and cabaret, was spotted by a talent scout and signed to a contract with M-G-M. She was soon sharing the screen with Mario Lanza, Howard Keel and Yul Brynner and appeared in Singin' In The Rain (1952).
Riera invites us to look beyond the rags-to-riches story and investigate all the obstacles Moreno was obliged to overcome. Raised in poverty and told she had no right to dream big, Moreno faced further blows to her self-esteem in a Hollywood where women were disposable. Her career choices were confined to a succession of native girls inevitably rejected in favour of higher-billed white co-stars. The accent remained constant regardless of the nationality and she recalls being caked in make-up " the colour of mud".
Faced with systemic discrimination, Moreno also shares her #MeToo experiences. As she watches the Senate hearings testimony of Christine Blassey Ford, Moreno reveals being propositioned by Columbia boss Harry Cohn, raped by her agent and caught up in a destructive, on/off relationship with Marlon Brando that led her to attempt suicide. "He was the daddy I couldn't please," she recalls.
Moreno's considered, candid responses to Riera's probing are the backbone of a film that boasts a feast of archive footage, appealing animated sequences and a soundtrack featuring songs performed by Nina Simone, La Lupe and Moreno herself. Among the family members, academics, politicians and colleagues interviewed are George Chakiris, Morgan Freeman, Eva Longoria, Gloria Estefan, Hector Elizondo and Whoopi Goldberg. Interviewees Norman Lear and Lin Manuel Miranda also serve as executive producers on the title.
Moreno admits to spending significant amounts of time in therapy and it shows. She has clearly thought long and hard about a life often spent in search of validation from others but now lived to the full thanks to the realisation of her own worth.
Production companies: American Masters Pictures, Act 111 Productions, Artemis Rising, MaraMara Films
International sales: Submarine Entertainment info@submarine.com
Producers: Brent Miller, Mariem Perez Riera
Editing: Kevin Klauber, Mariem Perez Riera
Cinematography: Pedro Juan Lopez
Music: Kathryn Bostic