Dexter Fletcher directs a razzle-dazzle biopic of Elton John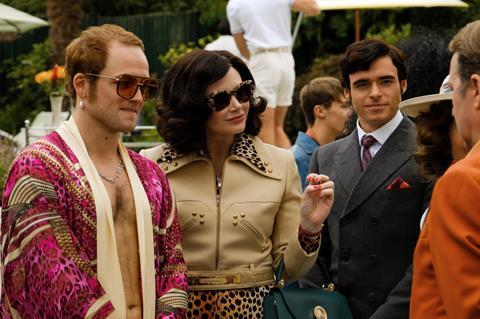 Dir: Dexter Fletcher. UK. 2019. 121mins.
A rock star origin story that flaunts its hero's superpowers as if he were the newest member of the Avengers, Rocketman is shameless in its ambitions to crown Elton John as one of music's greatest artists, most fascinating figures and saddest souls. Taron Egerton gives everything to his portrayal of the man born Reginald Dwight, including singing the pop titan's many indelible hits, and director Dexter Fletcher pulls out all the stops for a biopic that boldly tries to reimagine Elton classics as elaborate musical numbers that reveal clues to his psyche. Clearly taking a page from Elton's lavish costumes, Rocketman does nothing in half measures, but the overkill, and the narrative predictability, eventually just becomes overwhelming.
The narrative is occasionally paused so Egerton can perform extended musical sequences around Elton's songs — not unlike in a traditional Hollywood musical
Will any of these complaints bother Elton's fans? Probably not, and no doubt Paramount is setting its sights on last year's Queen biopic Bohemian Rhapsody, which topped $903 million worldwide. (However, the film's more-restrictive R, or 15-rating, due to the extremely rock 'n' roll ingredients of language, sex and drugs, could keep Rocketman from scaling such heights.) Still, amidst a summer of high-testosterone action blockbusters, Rocketman could find a wide niche among music lovers and older audiences, although this movie's appeal should expand beyond those two demos.
Rocketman opens as global superstar Elton John (Egerton) reluctantly enters rehab, looking back on the circumstances that led him to hitting rock bottom. Told through flashbacks, the film chronicles his journey from a piano prodigy to meeting talented lyricist Bernie Taupin (Jamie Bell), who becomes his songwriting partner during John's 1970s heyday. But soon, fame and buried insecurities prove to be a dangerous combination for a young man with a toxic belief that no one will ever love him.
Fletcher famously came on to complete Bohemian Rhapsody after director Bryan Singer was removed, and so it's inevitable that Rocketman will be compared to that Oscar-winning smash. But where Bohemian Rhapsody focused on telling the Queen story through their biggest hits and career highlights, Rocketman is more a tale of recovery, mapping out how John found sobriety and contentment later in life. Also, this film is far more impressionistic, with Fletcher occasionally pausing the narrative so that Egerton can perform extended musical sequences around Elton's songs — not unlike in a traditional Hollywood musical, complete with high-stepping choreography and show-stopping razzle-dazzle.
Reuniting with Fletcher — the pair previously made another biopic, Eddie The Eagle — Egerton gives us an Elton John who's wilfully flamboyant but also laid low by his gnawing self-loathing. (Lee Hall's screenplay points to John's distant father and a fear that his homosexuality would doom him to loneliness as the causes.) Egerton nails the singer's cocky vocal cadences and onstage theatrics, but Rocketman is far less confident when it's telling just another story of a rock god crippled by his ego, vices and excesses.
Elton John serves as one of the film's executive producers, and there's unquestionably an artist-approved quality to Rocketman that couches every one of the performer's failings as merely an obstacle he will triumphantly overcome. But because so much of the movie is pitched at such a high level of melodrama, Rocketman emphasises John's legend over his humanity, which makes it hard to feel closely connected to him, especially in the story's later stretches when he's meant to finally grow as a person.
The movie impressively recreates some of the artist's biggest moments — notably, his breakout 1970 shows at the Troubadour — but even though Rocketman doesn't hide his homosexuality, his romantic relationship with business manager John Reid (Richard Madden), despite some mildly titillating love scenes, feels underexplored. The film does better with John's platonic business partnership with Taupin — Bell is sweetly sympathetic — but here as well, there's not enough time to develop John's bond with anyone around him.
To be fair, Rocketman does occasionally manage to be as euphoric and baldly emotional as John's best songs. While it's a consistent problem that the tunes used for specific musical sequences don't offer much insight into the man, a strong set piece involving John's plunge into late-'70s hedonism is scored to 'Bennie And The Jets', as Fletcher cleverly turns the hit into a sexy Bob Fosse-style routine. Rocketman is so energetic that it's possible to be swept away by its enthusiasm for putting Reg on a pedestal. Too often, though, the film just flattens you, demanding fealty to Sir Elton.
Production companies: Marv Films, Rocket Pictures
Worldwide distribution: Paramount Pictures
Producers: Matthew Vaughn, David Furnish, Adam Bohling, David Reid
Screenplay: Lee Hall
Production design: Marcus Rowland
Editing: Chris Dickens
Cinematography: George Richmond
Music: Matthew Margeson
Main cast: Taron Egerton, Jamie Bell, Richard Madden, Gemma Jones, Bryce Dallas Howard