Dir: Warren Beatty. US. 2016. 126mins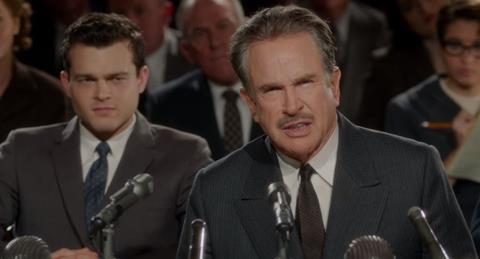 The fascinating, tragic legacy of Howard Hughes has seduced Warren Beatty for 40 years, but his passion project doesn't quite suggest what captivated the actor and filmmaker for so long.
Beatty's ruminations on Hughes ultimately feel inconsequential and redundant
The romantic comedy-drama Rules Don't Apply is, by turns, fizzy and melancholy, nostalgic and clear-eyed, but it never builds to anything especially substantial, telling the story of two young people (Lily Collins and Alden Ehrenreich) who are drawn into the troubled billionaire's orbit in the late 1950s. There are hints of the old-school Hollywood tale that Beatty wants to weave, but it gets lost amidst an ineffective love story and some unconvincing plot twists.
Opening in the US on November 23, this is the first movie Beatty has directed in 18 years — and his first starring vehicle in 15 — so Rules Don't Apply will be an object of considerable curiosity for his fans. But this film could appeal to younger viewers, too, given the Collins-Ehrenreich romantic storyline. Still, modestly positive reviews and tepid word-of-mouth may keep this movie from becoming a must-see during awards season.
Ehrenreich plays Frank, a driver employed by Howard Hughes (Beatty) to drive his bevy of beautiful starlets around Los Angeles. The latest is the virginal Marla Mabrey (Collins), who has been flown in from Virginia by Hughes for a screen test. Because Hughes is such a recluse, though, it takes a while for Frank or Marla to actually meet the man, and in the meantime they begin to develop an attraction — even though Hughes expressly forbids his employees from dating.
Beatty, who also wrote the screenplay, has been developing a Howard Hughes project since the early 1970s, and in the interim two Oscar-winning biopics, Melvin And Howard and The Aviator, have been made about the entrepreneur. Rules Don't Apply focuses on the older Hughes, and the film fictionalises a good deal of its story while staying faithful to the billionaire's struggles with obsessive-compulsive disorder.
At first, Hughes seems to be a peripheral figure as Frank and Marla dominate the film's foreground, the characters wrestling with their growing attraction while acknowledging its inherent complications. (Not only does their boss not allow romantic relationships, but Frank is technically engaged to his childhood sweetheart, who lives out of town.)
However, as Rules Don't Apply rolls along, Hughes becomes integral to the narrative, increasingly relying on Frank as a personal assistant. In addition, he takes a liking to Marla after he learns that, if he marries, he legally can't be sent to a psychiatric ward without his wife's approval. He fears his business competitors might try to get him out of the picture.
Elements of Rules Don't Apply are familiar from The Aviator — namely, Hughes' battles with the government, his fight to build his aviation empire and his expanding eccentricities. However, Rules Don't Apply isn't so much a portrait of Hughes as it is a look at life's haves and have-nots, and how young dreamers can sometimes get side-tracked by attaching themselves to powerful people beset with their own problems.
There's real poignancy in these ideas, and Beatty occasionally taps into it, especially in his performance, which shows the 79-year-old actor first portraying Hughes as an adorable kook before revealing shades of deep loneliness and mental anguish. It's easy to grasp what intrigues Beatty about Hughes — both men are perfectionists determined to have total control over their professional endeavours — and the Oscar-winning filmmaker plays the billionaire with a fading grandeur that suggests that Beatty recognises the limits of such control.
But Beatty's ruminations on Hughes ultimately feel inconsequential and redundant — and they're awkwardly squeezed into a movie that evolves into becoming an ungainly romantic triangle once Hughes makes advances on Marla just as she and Frank are clandestinely beginning their relationship.
Ehrenreich projects a sweet earnestness as Frank, although Collins can't bring sufficient dimension to a goody-goody aspiring actress — plus, their unrequited love affair isn't given the time to really blossom. Once Hughes complicates matters, we're left with three characters whose motivations and changes of heart aren't satisfyingly fleshed out. One senses that perhaps there was a bigger, more ambitious film in Rules Don't Apply that has been radically pared down — which would explain why several major actors (including Alec Baldwin, Candice Bergen and Annette Bening) have little more than glorified cameos.
Production companies: Regency Enterprises, RatPac Entertainment, Worldview Entertainment Partners, Considered Entertainment, Robson Orr Entertainment, Shangri-La Entertainment, Fiore Group, Demarest Films, Windsor Media, Tatira
Worldwide distribution: 20th Century Fox, www.foxmovies.com
Producers: Warren Beatty, Arnon Milchan, Brett Ratner, James Packer, Steve Bing, Ron Burkle, Frank Giustra, Steven Mnuchin, Sybil Robson Orr, Terry Semel, Jeffrey Soros, William D. Johnson, Christopher Woodrow, Molly Conners, Sarah E. Johnson, Jonathan McCoy
Screenplay: Warren Beatty, story by Warren Beatty and Bo Goldman
Cinematography: Caleb Deschanel
Production design: Jeannine Oppewall
Editors: Billy Weber, F. Brian Scofield, Leslie Jones, Robin Gonsalves
Website: www.foxmovies.com/movies/rules-dont-apply
Main Cast: Alec Baldwin, Warren Beatty, Annette Bening, Haley Bennett, Candice Bergen, Matthew Broderick, Dabney Coleman, Lily Collins, Steve Coogan, Alden Ehrenreich, Taissa Farmiga, Ed Harris, Megan Hilty, Amy Madigan, Oliver Platt, Paul Schneider, Martin Sheen, Paul Sorvino