South London-set romantic comedy is a winner for Raine Allen-Miller and Disney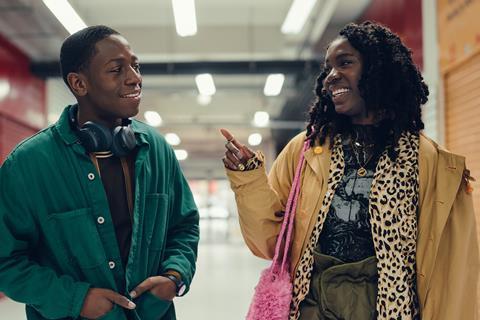 Dir: Raine Allen-Miller. UK. 2022. 79 mins.
UK director Raine Allen-Miller invites us to take a walk on the wildly enjoyable side with her feature debut film as we watch a potential love story unfold after an unexpected meet-cute in an art gallery bathroom. The romantic comedy, written by Nathan Bryon and Tom Melia, also offers a warmly realised showcase for newcomers Vivian Oparah and David Jonsson, both oozing charm as the central couple.
Allen-Miller achieves the Holy Grail of all great rom-coms in making us desperate to see the pair get together for good, while simultaneously not wanting this first flush of romance to end
Rye Lane's London-set feel-good story is already set to reach a wide worldwide audience after its world premiere in Sundance, with Searchlight releasing it in UK cinemas on March 17. From March 31, it will stream on Disney's DTC platforms as a Hulu Original in the US and worldwide on Disney+.
Oparah plays Yas, who overhears Jonsson's Dom sobbing in a toilet cubicle while both twentysomethings are attending a friend's art exhibition. It turns out Dom has just split up with his girlfriend Gia (Karene Peter), the circumstances of which are presented in one of the quirky flashbacks with which the pair interact and which help fuel Rye Lane's delightfully unpredictable energy.
Romantic comedies often portray woman as the weaker half of the pairing but Yas is a real livewire who evidently fizzes through life compared with accountant Dom's more staid approach. One thing they do have in common, however, is a recent break-up. "He was trying to dilute my squash," Yas tells Dom of her artist boyfriend Jules (Malcolm Atobrah), who won't wave at daytrippers on boats because "tourism funds sex trafficking".
Initially, their banter is only supposed to last for the short walk to Dom's idea of a date from hell. He's due at a dinner appointment with Gia and the man she cheated on him with, Eric (a puppy-like Benjamin Sarpong-Broni) in order to resolve their issues - not exactly easy given that Eric has been Dom's best friend since childhood and is seemingly oblivious to the hurt he has caused. Just as Dom is sucking it up, Yas crashes the gathering and invents a freewheeling story to boost Dom's position - a knight to his damsel in distress.
What follows is more unpredictable journey that will take in everything from a karaoke bar to a family gathering as Yas becomes a woman on a mission, determined to regain a personal possession from her ex. All the while, the heat gently builds between her and Dom, strengthened by the gentle adversity that comes their way.
Instead of opting for the slick, upper middle class reality of older London-set rom-coms like Love, Actually and Bridget Jones - both of which are subjected to sly references here, including a cheeky cameo which would be wrong to spoil - it's the glow of the vibrant and varied South London community that shines here. Allen-Miller and her cinematographer Olan Collardy use lenses so wide for many of the shots that they produce an almost fish-eye effect. This allows the periphery of the frame to be a part of the action and is constantly filled with an eclectic range of characters, from a cowboy to musicians and a kid zooming about on his scooter.
Allen-Miller, who was a Screen Star of Tomorrow in 2021 (as was Collardy), also uses frequent POV shots reminiscent of those in TV comedy Peep Show, so that a character's face is allowed to fill the frame full-on as they speak to someone else. There's also judicious use of aerial photography, including a hilariously inventive sequence in which toilet cubicles are shown to each contain a world of its own. Although there are multiple styles at work, they are used in specific ways that mean they always feel under control and in service of the story. Strong production design from Anna Rhodes also helps to create a world that feels both realistic and cohesive. The soundtrack from British producer Kwes, meanwhile, might be best described as 'quirky ambient' and features unexpected pings and blips that compliment the film's sprightly attitude.
Allen-Miller achieves the Holy Grail of all great rom-coms in making us desperate to see the pair get together for good, while simultaneously not wanting this first flush of romance to end.
Production companies: DJ Films, Turnover Films
Worldwide distribution: Disney
Producers: Yvonne Isimeme Ibazebo, Damian Jones
Screenplay: Nathan Bryon, Tom Melia
Cinematography: Olan Collardy
Production design: Anna Rhodes
Editing: Victoria Boydell
Music: Kwes
Main cast: David Jonsson, Vivian Oparah, Karene Peter, Benjamin Sarpong-Broni, Malcolm Atobrah, Alice Hewkin, Simon Manyonda, Poppy Allen-Quarmby