After some Covid turbulence, Kelly O'Sullivan's endearing feature will finally show on the big screen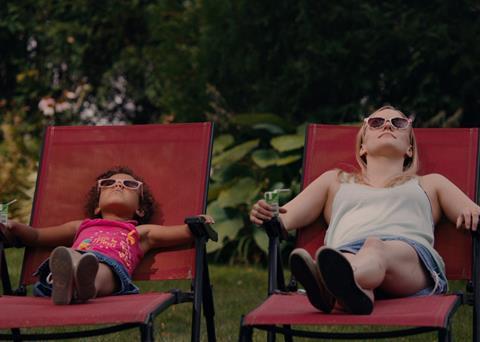 Dir. Alex Thompson. US. 2019. 101mins.
Saint Frances starts with a gush. Bridget (Kelly O'Sullivan), single, aged 34, and a waiter, locks eyes with a fellow low-achiever (Max Lipchitz) across a party. They have sex. The next morning they're covered in her period. Welcome to Saint Frances, a bloody good film.
Saint Frances is a showcase for O'Sullivan as an actor and a writer
Fortune hasn't favoured many pictures in lockdown, but writer/actor O'Sullivan's highly-likeable Saint Frances is brave enough to be one of them. Winner of the Audience Award and a special Jury prize for breakthrough talent at 2019 SXSW Film Festival, it did its time on the festival circuit before a planned March release in the US. Streamed there, it will now try again for theatrical success in a post-lockdown world in markets including the UK. Sailing on the warm air of positive notices, this wry, warm-hearted feminist comedy feels like a millennial hit. It may not know where to end, and it makes a surprising late-in-the-game play for sentimentality where it has previously been bracingly crisp about hot topics including abortion and post-natal depression, but it's mostly a wry plea for tolerance when the world is most disposed to hear it.
It also has an incredibly cute scene-stealing child, "Saint" Frances (Ramona Edith Williams). In fact, she's irresistible.
Bridget is no Mary Poppins. Her interview for the job as childminder to an affluent, older lesbian couple in a comfortable Chicago suburb is so disinterested, it comes as something of a shock when she's hired. Then again, they're at their wits end, and their pre-schooler Frances is no walk in the park (she's more of a carry-to-the-park). Subversively, yet with good cheer, Saint Frances starts to ready its aim. You can be a great parent, it says, but still get backed into a corner and need help so badly that almost any warm body will do. You can be a devout Catholic, but Jesus won't get you through post-natal depression. And if one parent is at home, the other will more than likely be forced back into work too early no matter what their sex is.
And, running in parallel, is a sharp story about how having an abortion takes a physical and mental toll on a woman no matter how much she wanted it.
Menstrual blood is cycling towards the light at the moment. Cannes title Slalom gives it a valedictory speech (delivered by a male character), while on TV Michela Coel's I May Destroy You awards it a starring role in one episode. Saint Frances goes further: Bridget's abortion results in haemorrhages which occur at typically inconvenient moments and are highlighted by her smart little charge.
Saint Frances is a showcase for O'Sullivan as an actor and a writer. She's got an easy, if disaffected, warmth as the film's lead and scales her performance appropriately over the range of situations her character finds itself in. As Frances's mothers, Charin Alvarez is particularly moving as an older woman buffeted by her body, while Lily Mojekwu is a commanding presence whose showdown with Bridget brings tears to the eyes. Lipchitz is also an easy actor who can be cheerful one minute, stalker-ish the next.
This first feature from Alex Thompson feels free-flowing, and, once Bridget moves towards Frances's world, quite unexpectedly tranquil. Frances may be adorably wayward, but soon the adult/child roles are reversed. In a way, it's a rites-of-passage film about an "agnostic feminist" who is older, yet becomes a lot wiser, saved by her little saint.
Production company: Runaway Train
International sales: Visit Films, info@visitfilms.com
Producers: Edwin Linker, James Choi, Haroula Rose Spyropoulos, Roger Welp
Cinematography: Nate Hurtsellers
Production design: Maggie O'Brien
Music: Quinn Tsan
Main cast: Kelly O'Sullivan, Ramona Edith Williams, Charin Alvarez, Lily Mojekwu, Max Lipchitz, Mary Beth Fisher, Jim True-Frost, Francis Guinan