Sony has snapped up all rights to this fiendishly clever directorial debut starring John Cho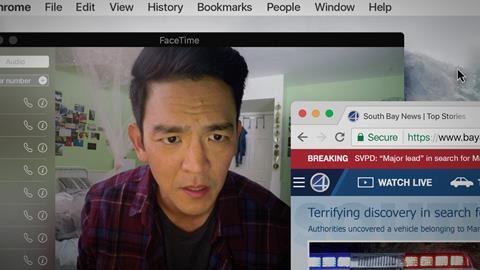 Dir: Aneesh Chaganty. US. 2018. 101mins
The massively clever Search draws significant suspense from two modern anxieties: we're spending too much time on our devices, and parents don't really know what their kids are up to. Taking place entirely on computer screens, this mystery-thriller gains emotional heft thanks to an agonised performance from John Cho as a widowed father trying to track down his missing daughter. The movie's arresting visual conceit has enough flexibility to sustain interest, even if the story's twists and turns sometimes feel excessively fiendish.
Search creates a dynamic visual language
Scooped up by Sony Pictures Worldwide Acquisitions after premiering in Sundance's Next section, the directional debut of Aneesh Chaganty will draw comparisons to everything from The Blair Witch Project to 2014's Unfriended. Younger, online-savvy audiences are the key demographic, and word-of-mouth ought to be strong.
Search introduces its conceit from the start, quickly tracing the history of David (Cho), his wife Pamela (Sara Sohn) and baby daughter Margot entirely through operations performed on a laptop. (For instance, we see photos of Margot's first day of school filed into a desktop folder. And we learn later through calendar updates that Pamela's lymphoma, which previously went into remission, ultimately proved fatal.)
Now in the present day, David and 16-year-old Margot (Michelle La) communicate exclusively by text and FaceTime, even though they live in the same house. (Like many teens, she's too busy with her friends to make time for Dad.) But after she doesn't come home one night, David begins to worry something might be wrong.
Much like Unfriended, which was also produced by Timur Bekmambetov, Search creates a dynamic visual language in which we see all the events through computer images and online programs. There's a strong possibility that the gimmick will lose steam or that the characters will never be more than faces on a FaceTime screen, but Chaganty and cowriter Sev Ohanian sidestep those problems by switching up the visuals and giving us enough emotional shading so that we're invested in David's increasing anxiety.
The performances are crucial as well. Largely acting by himself while his character is in front of the computer or on the phone, Cho conveys the mixture of anger and concern that's recognisable for any parent who is not sure if he should be incensed or panic-stricken that his child isn't getting in touch. Search's narrative ingenuity and unique look will entice viewers, but Cho's nuanced, increasingly despondent turn is the film's secret strength, capably playing a father who is shocked to learn how little he knows about the teenager living under his roof.
The supporting cast provides an air of unfussy naturalness to their portrayals that amplifies the film's sense of realism. La is seen mostly through videos David tracks down online while trying to determine her whereabouts — and to figure out if she's even alive — and the young actress believably plays a moody teen who has a whole life separate from her father. And Debra Messing impresses as a no-nonsense detective who becomes David's best hope of finding Margot in time.
Amidst the building unease concerning Margot's disappearance, Search does sneak in some levity about our addiction to the internet and our devices. But this thriller accurately depicts what modern life looks like in an age when endless photos, videos and information are available with just a click — which makes Margot's disappearance all the more frightening.
The filmmakers keep unveiling surprises as David's search becomes more and more fraught, but the rampant cunning of the storytelling can sometimes be at odds with what is meant to be a serious story about abduction. Search comments on the painfully familiar social-media phenomenon of tragic stories going viral, in which real suffering gets reduced to fodder for glib hashtags and Facebook posts. But by unleashing one narrative misdirection after another — teasing the audience and David about whether Margot is dead — Search in its own way milks potential tragedy for escapist entertainment. It's why Cho's empathetic portrayal is so important: he's the beating heart of a film that can be coldblooded in its construction.
Production company: Bazelevs
Contact: Sony Pictures Worldwide Acquisitions, www.sonypictures.com
Producers: Timur Bekmambetov, Sev Ohanian, Adam Sidman, Natalie Qasabian
Executive producers: Ana Liza Muravina, Mariya Zatulovskaya, Igor Tsay
Screenplay: Aneesh Chaganty & Sev Ohanian
Cinematography: Juan Sebastian Baron
Production design: Angel Herrera
Editors: Will Merrick, Nick Johnson
Music: Torin Borrowdale
Main Cast: John Cho, Debra Messing, Joseph Lee, Michelle La, Sara Sohn