Charlotte Colbert's unusual Gothic feature plays out in the world between art and horror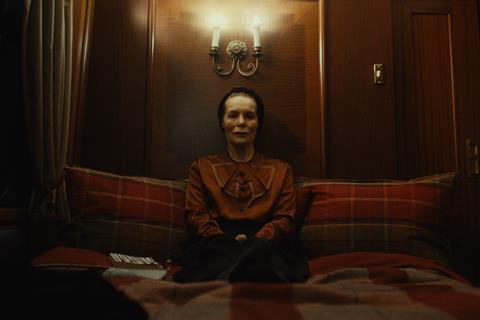 Dir. Charlotte Colbert. UK. 2021. 95 minutes.
She Will is a trip long before one of its main characters takes some mushrooms on an ill-advised night out in the only pub in the top end of the Scottish Highlands. Artist Charlotte Colbert's feature debut ostensibly mines a rich seam cracked open by recent UK female genre film-makers, but She Will swings on such a genuinely eccentric and unpredictable world view that such comparisons feel somehow wrong. Colbert's Gothic extravaganza may sink its fangs into the patriarchy (like Amulet) while following an ailing, older artist and her nurse (Saint Maud), but this film is its own oozing creature. It fields such a disorientating mix of styles and symbols and tonal swerves (Rupert Everett going full fruit, for example), that it's quite a surprise that Colbert has managed to weave a structured story throughout She Will. But she has.
More beautiful than shocking but perversely compelling nonetheless
Premiering at Locarno in a gala slot, She Will sits in the art horror zone, more beautiful than shocking but perversely compelling nonetheless. With no familiar stars inhabiting what superficially looks like a familiar premise, it will need to be carefully handled - this is undoubtedly framed as a big-screen prospect. Word of mouth should be strong, though, and from unlikely quarters given the genre casing - more highbrow audiences drawn by Colbert's rich journey through strangeness, and a younger crowd drawn to its strong feminist pulse.
The central role of the ageing, ailing Miss Veronica Ghent (Alice Krige) is just the first of Colbert's jabs at the film hierarchy (the film starts upside down, for example). She's demanding, high-handed, and in pain after a double-mastectomy. With her turbans and furs and harsh slash of unflattering lipstick, she's got the air of a 1940s-Joan Crawford as her train slides up to what she believes is a solitary retreat at a granite pile in the Highlands. She's accompanied by sweetly patient nurse Desi (Kota Eberhardt), the only character charged with rooting the film in the here-and-now as various archetypes dip in and out.
Certainly the cast of creatures she finds lurking around the manor house, led by the pearl-earringed, stole-wearing Everett, could have come from any era, from PG Wodehouse to Agatha Christie on to Knives Out. It turns out they're just eccentric decoration, though, as the odd couple of Veronica and Desi is led to a separate cabin in the woods (a tin-roofed shack which Miss Ghent accurately describes as "scout camp, with a touch of Guantanamo"). References are made to this being a site upon which witches were burned in the past, and soon enough Miss Ghent is levitating her way through strange, peaty dreams. "I'm having dark thoughts," she says. She also starts to feel restored.
Nestling behind this increasingly ripe scenario is the character of Eric Hathbourne (Malcolm McDowell), a famous film director who seemingly abused Miss Ghent as a 13-year-old child star, but whose star has continued to soar as hers as faded.
The screenplay, a 2018 Britlist winner, tuns out to have a strong backbone, but it often seems secondary to Colbert's thoughts on a range of subjects and ripe visuals. Sometimes it's all expressed with witchy humour, and at others, with snapping imperiousness. It's always a challenge to pin down the film's interior logic amid such slippery sensusness, but it does have one, and a strong point of view. This work looks so unusual, it's almost a shame to see it locked into genre tropes, but Colbert is nothing if not defiant, and determined. Others have been here before her, but she's found a new way in.
Camera work is both lucid and remarkably free, while Clint Mansell's score Is a highlight. Yorgos Mavropsaridis, a long time collaborator with Yorgos Lanthimos, helps assemble a troubling latticework around the film's heart - the strange relationship between Miss Ghent and Desi, patient and carer, mother and daughter, or, something more perhaps.
Production company: Popcorn Group
International sales: Rocket Science, info@rocket-science.net
Producers: Jessica Malik, Bob Last
Screenplay: Kitty Percy, Charlotte Colbert
Cinematography: Jamie D. Ramsay
Production design: Laura Ellis Cricks
Editing: Yorgos Mavropsaridis
Music: Clint Mansell
Main cast: Alice Krige, Kota Eberhardt, Malcolm McDowell, Rupert Everett