A son traces the life of his basketball legend father in this bio-doc of Mirza Delibasic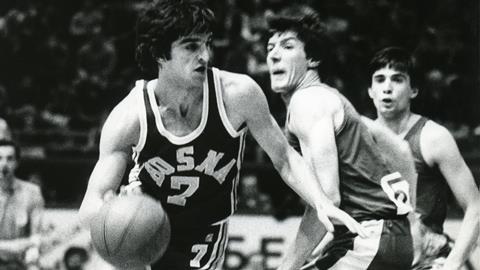 Director: Juan Gautier. Spain/Bosnia & Herzegovina 2021. 93 minutes
The remarkable life, career, context and legacy of late Yugoslavian/Bosnian basketball legend Mirza Delibasic (1952-2011) are dutifully detailed in Shooting For Mirza, an authorised bio-doc made in close collaboration with his surviving family. A Spanish-Bosnian enterprise produced by Delibasic's son Danko — who also appears extensively on-screen throughout — and with the latter's half-brother Dario and mother Slavica listed as associate producers, the film strikes an acceptable balance midway between hagiography and warts-and-all.
An accessible and competently professional affair
Quite logically world-premiering in the national selection at Sarajevo — the city with which the Tuzla-born giant became synonymous — the picture is a theatrical proposition in ex-Yugoslavian territories, and also in cities elsewhere with strong basketball followings. Sports-themed documentaries have become increasingly popular with festival programmers and audiences in recent years (partly thanks to standouts like Julien Faraut's John McEnroe: In the Realm of Perfection); this one certainly contains no shortage of drama, nuance and tragedy, extending its appeal beyond aficionados.
Shooting For Mirza is at its core a story of a son — with some measure of sporting ability — dealing with the shadow (and then absence) of his far more illustrious father. A promising basketballer in his youth, Delibasic Jr never threatened to emulate the amazing honour-roll of Delibasic Sr (nicknamed 'Kindje'), who had won the European Championships, World Championships and Olympic gold medal by the age of 26.
The heyday of Delibasic coincided with a golden era for Yugoslavian sport, and then with the decline through the 1980s which presaged the socialist republic's bloodily catastrophic breakup. For Mirza Delibasic, physical decline set in at 29 via the first of several strokes; he retired from the court at 33, and his remaining 16 years were plagued by excesses. It's not an unfamiliar story in sports (George Best is perhaps the closest soccer analogue), but Delibasic was clearly an exceptional individual in all aspects: "a complex and bohemian man," troubled by personal demons, but revered by all who knew or met him.
By the time of his death in 2001 (in Sarajevo) at the age of 47, he had been acclaimed as Bosnia's "athlete of the century," left behind two wives and two sons, plus myriad close friends; one gets the sense he was cut out more as a drinking-buddy than a husband. He also earned the affection of sports fans both in ex-Yugoslavia and in Spain, where he achieved superstar status for Real Madrid Baloncesto and was dubbed 'El Monstruo'. Visiting the Real trophy museum, Delibasic Jr proudly reads a testimonial noting his father's "subtle and talented play, and tons of charisma."
16mm film and video gloriously records this Delibasic in his elegant prime; later, as his adopted city Sarajevo became the notorious epicentre of the early-1990s Bosnian War, the archival video material is of a harrowing and sometimes devastating nature. Images of the sniper-haunted, bomb-blasted streets stand in contrast to the spectacular city glimpsed via Gautier's modern-day shooting. His film is an economic snapshot of (and tribute to) this historic, hill-fringed mini-metropolis, and the famed resilience of its people.
With only a handful of little-seen documentaries to his credit, the Spanish director sensibly entrusts the editing to a pair of very experienced compatriots in Nuria Esquerra and Cristobal Fernandez: the former has worked extensively with Catalan maestro Jose Luis Guerin; the latter's recent credits include Olivier Laxe's Fire Will Come and Nuria Gimenez's My Mexican Bretzel.
Shooting For Mirza is considerably more formally straightforward, mainstream-oriented and conventional than such a pedigree might portend. Scored in slightly over-insistent style by "The Youth" (a.k.a. Luis Herrero, brother of the film's screenwriter Yayo Herrero), it's an accessible and competently professional affair, never approaching or even attempting the casual brilliance of its enigmatic, mercurial protagonist.
Production companies: Dynamite Films, Udruzenje Mirza Delibasic - Kindje
International sales: Dynamite Films, Madrid, mdiaz@dynamite-films.com
Producers: Mintxo Diaz, Dinko Delibasic
Screenplay: Yayo Herrero
Editing: Cristobal Fernandez, Nuria Esquerra
Cinematography: Lamia Sabic
Music: 'The Youth' (Luis Herrero)