Virginie Efira stars in the third film from France's Justine Triet, closing Cannes Competition for 2019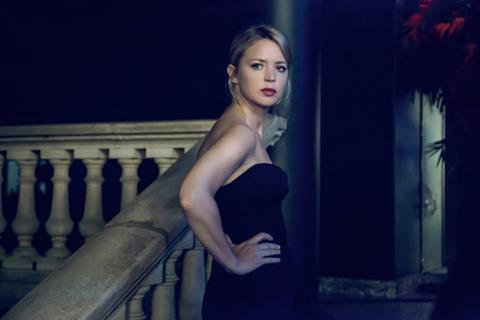 Dir/scr: Justine Triet. France. 2019. 141 mins.
Sibyl, as one reading of the title would indicate, is a many-faceted woman. For her follow-up to In Bed With Victoria, writer/director Justine Triet casts Virginie Efira again as a superficially-sophisticated Parisienne with a full-Vuitton set of personal baggage. It's a digestible film, with an attractive cast which also includes Adele Exarchopoulos, Gaspard Ulliel and Sandra Huller and a side-trip to a film set in Stromboli for some sweet location imagery. But Sibyl is far less than the sum of its parts, and never manages to shake off a heavy tone which consistently threatens to capsize even the rare funny interludes.
Triet's performance of the drunkest woman alive at the premiere party is certainly a sight to behold
Premiering as the last film in Competition at Cannes, Triet's third feature may be exportable to Francophile territories, mainly due to that cast (it opens shortly in France). But, although pleasant, it lacks the dynamism to drive new audiences to Triet and …Victoria fans may well be disappointed. Efira again dominates a film which is totally reliant on her performance, and Triet asks a lot of her actor when it comes to the many faces of Sibyl, both past and present.
Trouble is in the air in the very opening sequence, when Sibyl tells her former publisher that after 10 years as a psychoanalyst, she has decided to pursue full-time writing again. She hasn't yet shared this news with her long-suffering partner Etienne, but Paul Hamy is more part of the interior décor of her glowing, handsome, candlelit Paris apartment than a real person. She starts to cancel her clients, but when an insistent call comes through from a desperate actress seeking counsel, Sibyl can't resist following up. Soon, she's breaking all the boundaries of her profession by taping her sessions with Margot (Exarchopoulos), who is pregnant by her co-star Igor (Gaspard Ulliel) and wants an abortion. Igor, meanwhile, is in a relationship with the film's German director Mika (Sandra Huller).
Before you know it, Sibyl is on set in Stromboli, intimately involved with all the cast and crew and writing a novel based on all of it. A former alcoholic, she constantly flashes back to drunken sexual encounters with her best friend Gabriel (Niels Schneider) which resulted in a pregnancy, much like Margot's current situation. There are deeply ominous overtones to these, as if they will hold some key to Sibyl's torment. Her own shrink keeps asking, 'are you ready to talk about Gabriel yet?'. This element of the plotting is somewhat over-played.
Confusingly, in the hazy flashbacks – Triet makes much use of torrential rain for Paris exteriors and soft interior lighting alongside warm velvet furnishings – Gabriel looks a lot like Etienne. There's also mention of an alcoholic mother. Sibyl's sister Edith (Laure Calamy) lives with Sibyl and Etienne as some sort of childminder, and although it becomes clear that the oldest daughter belongs to Gabriel, the poor second child gets short shrift. It would probably be vulgar to wonder where the money comes from to support all this in the light of Sibyl's rash decision to give up paying work, but perhaps Etienne is loaded.
By far the most entertaining sequences take place in Stromboli, where Sibyl gets stuck between two monstrous actors and a neurotic director. It can never end well, but Triet's performance of the drunkest woman alive at the premiere party is certainly a sight to behold. Production values are strong and steady, unlike those in the film-within-the-film, which presumably and enjoyably have the ring of real-life authenticity.
Production company: Les Films Pelleas
International sales: MK2
Producers: David Thion, Philippe Martin
Screenplay: Justine Triet
Cinematography: Simon Beaufils
Production design: Toma Baqueni
Editing: Larent Senechal
Main cast: Virginie Efira, Adele Exarchopoulos, Gaspard Ulliel, Sandra Huller, Laure Calamy, Nils Schneider, Paul Hamy, Arthur Harari