A kidnapped woman fights for survival in Apolline Traoré's north Africa-set Berlin award winner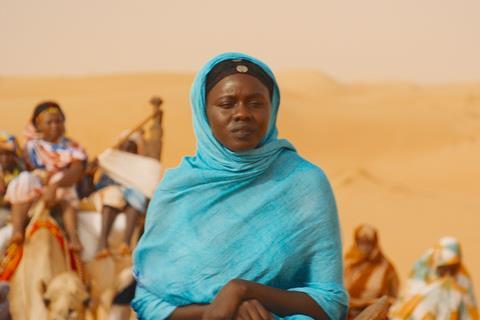 Dir. Apolline Traoré. Burkina Faso/France/Germany/Senegal. 2023. 122mins
A punchy, visually potent story of survival and revenge, Apolline Traoré's Sira offers a female-centred take on current tensions in northern Africa, and shows the Burkinabe writer/director on confident form with her fifth narrative feature. Following her 2019 Desrances and 2021 documentary Witba: A Woman Leader, Traoré's involving, sometimes unashamedly melodramatic adventure feels a touch overextended – but that didn't stop it winning a Panorama Audience Award for its Berlin premiere. Sira should show at least as much export potential as any recent African title, with festival and platform exposure likely for an accessible and ultimately crowd-pleasing drama.
Mixing the modes of popular adventure and feminist social realism
Addressing some of the same themes of Islamist militancy and the position of women as Abderrahmane Sissako's 2014 art-house success Timbuktu, Sira is set in the present day Sahel, the region that stretches across the north of Africa. Sira (Nafissatou Cissé ) is a 17-year-old woman, travelling by caravan with her Fulani nomad family to meet her intended husband, young farmer Jean Sidi (Abdramane Barry) – to the disapproval of her father's right-hand man Moustapha (actor and singer Mike Danon) who, as a fervent Muslim, objects to her marrying a Christian outsider.
En route, Sira's family is confronted by a group of gunmen – not named as such, but evidently based on the Boko Haram militant organisation – who kill most of the party and abduct Sidi. It turns out that the militants' leader Yere (menacingly played by impassively frowning, gruff-voiced Lazare Minoungou) has a secret ally in Moustapha.
Sira is raped by Yere, but manages to escape and take shelter in the rocks near his encampment, where she discovers that a group of young abducted women from various countries, including Mali and Nigeria, are being held prisoner as servants and sex slaves. Just about subsisting on the edge of survival, with help from an unexpected ally from the camp, she befriends the women and looks for a way to turn the tables. Meanwhile, Jean Sidi embarks on a rescue mission – but his ineffectually well-meaning progress becomes both a source of suspense and something of a running joke.
The Jean Sidi strand is one of the elements that slows down a drama which, although the action by necessity spans months, sometimes feels less than efficient in cutting to the chase – or in this case, the big gundown. While Sira spends much of the film in a state of terror and confusion, by the end she has become a determined avenger, bringing echoes of Shekar Kapur's 1994 Bandit Queen, or indeed of 70s American rape-revenge horror. The telling shot in this respect comes when Sira picks up a rifle, takes sight and turns it straight to the camera – the film's only such knowing moment, but one that delivers a sharp emotive charge. It's the preface to a cathartically brutal climax during which, at one point, Traoré makes us wonder whether Sira is so far gone from her extreme experience that she might actually do something truly unthinkable.
The drama plays out as a critique not only of male brutality but also of the hypocrisy of those who call themselves devout yet commit godless acts, such as the violence meted out on the militia's prisoner Kemi (Ruth Werner); it should be said that, in pointing the finger at the group's abuses, the film isn't without a streak of sensationalism. International audiences may also feel discomfort at the fact that the duplicitous Moustapha, supposedly an intransigent man of God, is in fact a closeted and tormented homosexual who matches Yere in his predatory activities.
As the embattled heroine, Cissé is given a somewhat narrow emotional range to carry but, as a woman on the edge of survival – right down to relying on dried lizard for sustenance – she gives an intense, often very physical performance. Traoré stages Sira somewhat as a figures-in-a-landscape drama, and a very imposing one, right from the opening sequence, in which the nomads' vividly colored clothes, notably Sira's in cerulean blue, sharply complement the hot orange of the sand dunes – desert rock formations later burnished by cameraman Nicolas Berteyac to resemble burnt gold.
Cyril Morin's flute-heavy score is a little generic in its atmospheric moments, more distinctive when hitting an action-thriller register. As for the dialogue, references to current events in this region of Africa, notably the crisis of mass displacement, remind us that Sira is mixing the modes of popular adventure and feminist social realism – and, notwithstanding drawbacks of pacing, pulls it off with muscular brio.
Production companies: Les Films Selmon, Araucania Films
International sales: Wide infos@widemanagement.com
Producers: Apolline Traoré, Denis Cougnaud, Souleymane Kebe
Cinematography: Nicolas Berteyac
Editor: Sylvie Gadmer
Production design: Mamadou Traoure
Music: Cyril Morin
Main cast: Nafissatou Cissé, Mike Danon, Lazare Minoungou, Nathalie Vairac, Ruth Werner