Alexander Payne executive produces this small, gentle story about a boy and his troubled father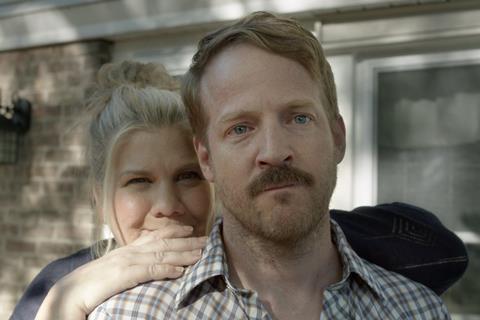 Dir: Niels Mueller. US. 2020. 110mins.
Male bonding and modest life lessons are on the itinerary in Small Town Wisconsin, a melancholy character study in which an alcoholic father takes a road trip with his adoring 9-year old son in order to deliver some bad news: the boy and his mother are moving across the country without him. This low-key drama has lovely interludes and some nicely understated performances, although director Niels Mueller doesn't glean too many new insights from Jason Naczek's familiar story about a self-destructive man who needs to get his house in order.
Kristen Johnston brings a tough-love sweetness to her tole that radiates warmth
Premiering in Sarajevo's Open Air section, the film is executive produced by Alexander Payne, and indeed that Oscar-winner's compassionate portraits of ordinary American Midwesterners is a good guide for what curious audiences should expect from Mueller's gentle tale.
David Sullivan plays Wayne, an auto mechanic who resides in a tiny Wisconsin community which offers few economic prospects. Battling a drinking problem, anger issues and general immaturity, Wayne tries to exude a life-of-the-party demeanour, only finding joy in rooting for the Milwaukee Brewers baseball team and being around his young son Tyler (Cooper J. Friedman). Wayne shares custody of the boy with his ex-wife Deidra (Tanya Fischer) and her new husband.
Tyler loves his dad, not fully aware of his demons, but their close relationship is threatened after Deidra is suddenly granted full custody of Tyler and informs Wayne that she's moving to Phoenix. Devastated by the news, Wayne asks to take Tyler on a weekend camping trip, where he'll let the boy know about the move. Typical of Wayne's manipulative, dishonest nature, though, is that he lies to Deidra about their destination, instead taking Tyler into the big city of Milwaukee so they can catch a ballgame.
Mueller (The Assassination Of Richard Nixon) embeds the film in the town's laidback individuals and sleepy rhythms, only slowly revealing just how troubled Wayne is. Sullivan relies on folksy charm and an appealing smile to demonstrate Wayne's ability to put people at ease — even though he drinks too much and is capable of exploding at any moment. But soon, the stiff grins on the characters around Wayne make it clear to us (if not to him) that they recognise his life is troubled.
Small Town Wisconsin soon switches to a road picture, with Wayne and Tyler joined by Wayne's best friend Chuck (Bill Heck), although Wayne never tells his buddy that Deidra insisted Wayne bring a chaperone because she doesn't entirely trust her ex-husband. The three male actors have a comfortable rapport — especially Sullivan and Friedman, who believably play a dad and son who don't have a care when they're around each other. Jason Naczek's screenplay only offers conventional narrative twists and stock observations about fatherhood, family and growing up, however. And although it's quickly established that Wayne is absentminded, there are two crucial instances in Small Town Wisconsin in which his thoughtlessness complicates the story in contrived ways. Despite Sullivan's heartfelt performance, the character feels like a superficial rendering of the overgrown-adolescent type that's endemic to bittersweet masculinity dramas.
The supporting cast is filled with likeable, small-scale turns, most notably Kristen Johnston as Wayne's estranged sister Alicia, who will conveniently become a safe haven for these menonce they discover they have nowhere else to stay in Milwaukee. The background to Wayne and Alicia's rift is fairly unremarkable, and their eventual mending of fences seems assured, but Johnston brings a tough-love sweetness to the role that radiates warmth.
Similarly, Nicholas Jacobson-Larson's score is delicate but also a bit insistent, loading up on strings and piano for emphasis. Inevitably, Small Town Wisconsin's faint narrative engine revs up a little once Wayne decides he can no longer delay telling his boy about their separation, and the climactic moment contains a kernel of truth about how children see their parents more clearly than they themselves do. Such piercing candour would have been welcome throughout this film, which sometimes sympathises with Wayne's failings so intently that it doesn't recognise when it's coddling them.
Production company: Mahua FunAge Productions
Producers: Scott K. Foley, Josh Rosenberg, Niels Mueller, Hongtao Liu
Screenplay: Jason Naczek
Production design: Kelly Fallon
Editing: Tracy Adams
Cinematography: Nathaniel Goodman
Music: Nicholas Jacobson-Larson
Main cast: David Sullivan, Kristen Johnston, Bill Heck, Tanya Fischer, Cooper J. Friedman