A real-life 1980s commune provides the backdrop to Christopher Roth's exuberant and distinctive vision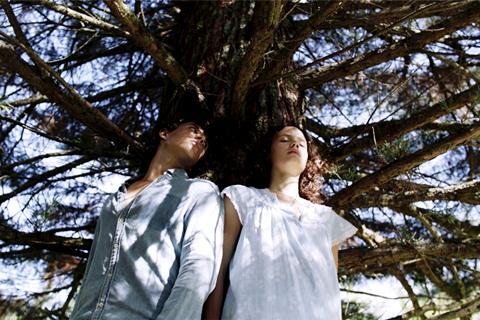 Dir: Christopher Roth. Germany. 2022. 116mins.

Love is the one threat to a brave new world order in So Long Daddy, See You In Hell. Dramatising the memories of co-writer Jeanne Tremsal, director Christopher Roth spares us none of the oddity of a rural commune that operates like something from the pages of The Handmaid's Tale where free love and a disdain for bourgeois morality cloak a crushing totalitarian rule. Told with a mixture of punk-like exuberance and lyrical reserve, the film struggles to contain all the intriguing elements of a chilling true story. Festivals may welcome Roth's distinctive vision of the material, and local audiences could be intrigued when Port Au Prince releases in Germay.
Visually impressive with some striking scenes
The island commune in question is said to be located close to the border between Austria and Hungary. During the course of the film, we come to realise it is the late 1980s; there are news reports mentioning Gorbachev and MTV is a guilty pleasure for some of the commune residents, especially if it is screening the video for Falco's Rock Me Amadeus.
Fourteen year-old Jeanne (played by the significantly older Jana McKinnon) has lived in the commune since she was two, and lengthy narration from her provides an abundance of exposition detailing the ethos and structure of the commune. This is a place where "sex is allowed but love is forbidden". Couples and the nuclear family are considered to be the root of all evil. Men do not have homes, and are expected to pass each evening with a different woman. We learn that Jeanne's city dwelling parents have sent her and her sister Julie (Miriam Schiweck) to the commune for a better life . We also discover that the commune exists with the approval of high-ranking politicians.
Initially, it seems a bizarre but idyllic rural retreat. The residents seem to live off the land but we never see anyone plant a crop, bake bread or catch a fish. Roth seems much more drawn to the group's social life, lingering over repetitive moments of singalongs, naked dancing around camp fires, primal screaming, chanting, gatherings, reckonings and festivities. There are echoes of The Wicker Man (1973) or Midsommar (2019 – without quite so much floral adornment.
Jeanne is loved by everyone, and Roth is keen to convey her affinity with animals and nature. She is a picture of innocence as she rides horses (sometimes in slow motion), cups a butterfly in her hands or strolls through sunlit fields. The contrast between her and narcissistic, unhinged commune leader Otto (Clemens Schick) could not be more extreme. An intense, domineering presence, Otto is known as the King of the commune; his word is law. His bug-eyed intensity offers Schick an invitation to chew the scenery and he duly obliges. It can hardly be a coincidence that his angry, exhausting rants suggest Hitler or that the entire commune calls to mind a Hitler Youth Summer camp. And when Jeanne falls in love with handsome stable lad and commune resident Jean (Leo Altaras), it sets her on a collision course with Otto who has begun to look at her the way a fox looks at a chicken coop.
So Long Daddy, See You In Hell is visually impressive with some striking scenes as Jeanne and Jean ride their horse into city streets or a spider crawls across Jeanne's face. Roth seems to throw everything at the story, from his use of slow-motion to animated depictions of the commune's crumbling power structures and bruising black comedy at the expense of the teenagers naivety. The film becomes more focused and involving as it finally settles on the power struggle between Otto and Jeanne, between abusive control and sweet liberation. Closing titles provide welcome details on the commune, and the fate of the real Otto.
Production companies: Arden Film, Friendship Films
International sales: Arden Film. info@ardenfilm.com
Producer: Andro Steinborn
Screenplay: Jeanne Tremsal, Christopher Roth
Cinematography: Lydia Richter
Production design: Michael Schindlmeier
Editing: Christoph Bargfrede, Christopher Roth
Music: Cosimo Flohr
Main cast: Jana McKinnon, Clemens Schick, Leo Altaras