Stranding his monied family on a deserted island, Jorge Serrano pushes the boat out too far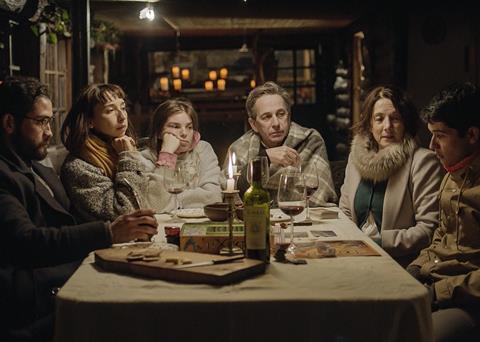 Dir: Jorge Riquelme Serrano. Chile. 2019, 97 mins
Jorge Riquelme Serrano's second feature shows a similar interest in the anger and covetousness, disdain and disgust of the class divide as his 2016 debut, Chameleon, and also the somewhat lamentable means of expressing that interest. As the title none too subtly suggests, Some Beasts concerns the vilest of human instincts, in such a way that doesn't make one reflect, but despair.
It can't be ignored that [Serrano's first film] Chameleon also centred on a rape scene.
The Chilean director clearly has a talent for directing actors, orchestrating site-specific action (in the first film an apartment, the second a small island) and creating horribly tense scenarios. Yet given that the defining moment of Some Beasts is the extended rape of a teenage girl by her grandfather, it's hard to imagine any prospect for the film beyond other festivals willing to stretch their audiences' tolerance.
First shot from the clouds, the island in question is idyllically set in clear waters off the Chilean coast, deserted save for one house near the beach. This has been bought by Ana and Alejandro (Millaray Lobos, Gaston Salgado), a married couple, with the intention of turning it into an eco-holiday resort. To that end they've brought Ana's parents Dolores and Antonio (Paulina Garcia, Alfredo Castro) for a visit, with the intention of tapping them for a substantial investment. Their kids Maximo and Consuelo (Andrew Bargsted, Consuelo Carreño) are also there, and a caretaker, Nicolas, is on hand to cater for this highly demanding family's every need.
The first day offers plentiful proof that the adults are both unlikeable and downright peculiar: Antonio hiding behind dark glasses while flying off the handle at the kids for no reason; ugly racist remarks; the brazen hostility towards Alejandro by his higher-class in-laws, who refer to him as an 'imbecile' to their daughter's face. In turn, there's his brazen expectation that they should finance him; some appalling parenting skills; and finally Dolores making a sudden, luridly sexual advance at Nicolas.
The caretaker has already been shaken by an unwarranted accusation from Consuelo that he'd touched her (an intimation of other, legitimate fears). And on the second morning he disappears. With no water, heating, wireless or phone signals, the family is stranded and in no position to cope.
Even now this might be a normative set-up, a fraught family in an unfamiliar setting about to be implode. And what we'd give for even the more melodramatic options: the caretaker found dead in the woodshed, the bitter husband's dastardly plan to murder the snobs who humiliate him, for someone to try to build a boat. Instead of these rote delights, we're afforded a succession of absurd and perversely cruel acts, culminating in the rape by Antonio of Consuelo, while excusing himself to her on the grounds that his wife is having a tough time with the menopause.
One might imagine the director's ambition to be to depict the moral and psychological malaise of a Chilean monied class – self-obsessed, materialistic, racist – that is so deep-rooted that a family will collectively condone the sexual abuse of a child. But other directors with the same depressing social diagnosis would choose to imply the deed, rather than detailing it. It can't be ignored that Chameleon also centred on a rape scene.
Serrano is also guilty of squandering his resources. With such accomplished actors as Castro and Garcia, attractive lensing by Eduardo Bunster Charme (who sometimes overdoes the shadow, but who could blame him?) and an ominous score by Carlos Cabezas and sound design by Rita Garcia-Salas, which at times seems to mix animal cries in the wind, this might have been expected to play very differently.
Production company: Laberinto Films
International sales: Cite Films, contact@citefilms.com
Producer: Jorge Riquelme Serrano
Screenplay: Jorge Riquelme Serrano, Nicholas Diodovich
Production design: Patricia Lucia Figueroa
Editing: Jorge Riquelme Serrano, Valeria Hernandez
Cinematography: Eduardo Bunster Charme
Music: Carlos Cabezas
Main cast: Paulina García, Alfredo Castro, Gastón Salgado, Millaray Lobos, Consuelo Carreño, Andrew Bargsted