Dir/scr. Alex Taylor. UK. 2016. 87 mins.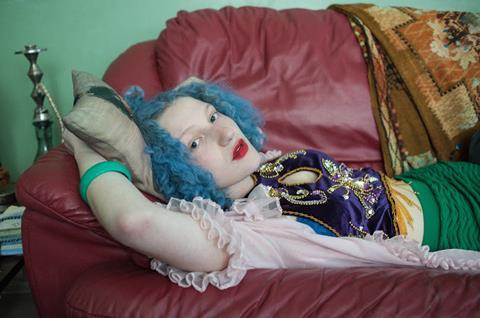 It takes a certain sense of mischief to name a central character Lucidia in a film which makes a virtue of its incoherence. Spaceship, the bold debut debut feature from former Screen International Star Of Tomorrow Alex Taylor, is a day glo fever-dream of a movie. It's a sensory assault, a window into the world of a group of teen misfits who themselves long to venture into other parallel dimensions. It takes its cast of exotic adolescent outsiders, with their talk of unicorns and aliens, black holes and rainbows, at face value, with no ironic distance or metaphorical raised eyebrows.
Taylor taps into a loose community of cyber punks and goth drop-outs who wear their rebellion defiantly on the outside
It's a teen movie, certainly, but one that is closer to the lurid head trips of Gaspar Noe than the urban British Kidulthood milieu. Following on from the film's premiere at SXSW, its hallucinatory, freewheeling tone should capture festival interest, particularly in events skewed towards a youth audience. A life beyond the festival circuit will be more of a challenge, although astute marketing could connect the film with a receptive cult audience.
Shot around Farnborough, Guildford and Aldershot, the film taps into a loose community of cyber punks and goth drop-outs who wear their rebellion defiantly on the outside. Hair dyed into the vivid hues of a flock of tropical birds, they flirt with the idea of escape. The most popular methods include brain-frazzling club drugs and alien abduction. There has been a spate of the latter, explains Lucidia (Alexa Davies) in a laconic voiceover. So many kids claim to have been snatched by little green men that the local college was practically empty for a while.
Lucidia is troubled by the loss of her mother in a mysterious accident in the family swimming pool. She was just seven years-old when her mother died, and in some ways it seems she lost her father at the same time. Gabriel (Antti Reini) is an archeologist whose peripatetic lifestyle was halted after his wife's death. He spends his days dreaming of escape on his motorbike and excavating in the nearby woods where the army's manoeuvres have unearthed a few tantalising glimpses of the past. In one of the film's less successful devices, Taylor intercuts the footage of Lucidia and her friends spouting a trippy stream of consciousness with shots of a pair of clean-cut squaddies working out together and making banal chitchat about the number of reps they plan to do.
But of all the parallel worlds existing in this affluent commuter belt, it is the teenage dropouts who exert the most powerful fascination for Taylor. When Lucidia appears to vanish into thin air – her sometime boyfriend Luke (Lucian Charles Collier) swears she was sucked into the ether by extra-terrestrials – her friends react with something approaching envy.
Of the extended circle of friends, the most intriguing is blue-haired siren Alice (Tallulah Haddon, a young actress with an unnervingly malevolent presence). Manipulative, controlling and highly charismatic, Alice looks more convincingly alien than anything else in the film. With her pale eyes, the chalky pallor of her skin and the livid red of her lipstick, she looks like a changeling catwalk model. Lucidia's disappearance jolts her father out of his world and into hers, where he forges a connection with Tegan (Lara Peake), a smokey-eyed brunette who bears a striking resemblance to his late wife.
Gabriel's voyage into the teen subculture is powered by music. Taylor's soundtrack is eclectic – homespun folk rubs shoulders with electronica – and ever-present. It doesn't do much to clarify the story, but it does drive this eccentric little space oddity rather effectively.
Production company: Belly Productions, Parkville Pictures, iFeatures
US sales: Bridge Independent bill@bridgeindependent.com; International Sales, Parkville Pictures, Olivier@parkvillepictures.com
Producers: Nicola Bowen, Olivier Kaempfer
Cinematography: Liam Iandoli
Editor: Carmela Iandoli
Production design: Francesca Massariol
Main cast: Alexa Davies, Tallulah Haddon, Antti Reini, Lara Peake, Lucian Charles Collier, Harry Jarvis