Dirs/prods: Oliver Parker, Barnaby Thompson. UK. 2009. 106 mins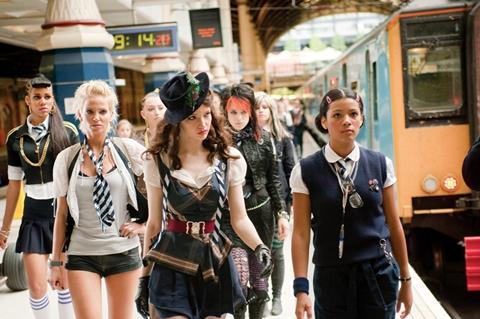 The 2007 revival of venerable British franchise St Trinian's was one of the biggest home-grown hits of the year despite waves of critical revulsion and there seems every reason to assume a repeat performance from this slapdash sequel.
Colin Firth's appearance as Geoffrey offers a bizarre contrast to a year in which the actor gave the performance of his career in A Single Man.
Producer/directors Oliver Parker and Barnaby Thompson do nothing here to destroy a winning formula which is cannily constructed to appeal to the target audience of teenage girls and nobody else. Even if the novelty has worn off the slapstick, girl-power antics of the film's schoolgirl terrors this should still deliver a substantial Christmas hit in the UK with international prospects much more uncertain.
The main thrust of the sequel surrounds the hunt for long lost treasure acquired by a 16th century ancestor of St Trinian's headmistress Camilla Fritton (Rupert Everett). Dastardly aristocrat Sir Pomfrey (David Tennant) is also after the loot for the good of his secret society AD1 which believes in the suppression and subjugation of women, a stance that makes him a hated target for the girls. Along the way Miss Fritton rekindles her romance with old flame Geoffrey (Colin Firth) and new head girl Annabelle (Tallulah Riley) proves herself worthy of the honour.
The biggest problem with St Trinian's 2 is a screenplay by Piers Ashworth and Nick Moorcroft that feels more like a string of random incidents than a coherent piece of storytelling. There is a sense that the film has been cobbled together from a list of cool ideas that might appeal to its key demographic. Thus the girls perform a mass dance routine at Liverpool Street Station in London, Everett and Firth are obliged to play an unorthodox version of Romeo And Juliet at the Globe Theatre and the girls transform a group of choristers into swaying, improvising rappers.
The screenplay does raise a few wan smiles from its fondness for Carry On-style innuendo and groan-inducing puns. Jodie Whittaker's dizzy receptionist Beverley mentions a friend's wedding. "Hen do? " asks one of the girls. "No, I think she is Church Of England," comes the reply. It's the best joke in the film.
Parker and Thompson make great use of freeze framing, split-screens, slow-motion group scenes and even animated sequences in a seemingly desperate attempt to inject energy into the proceedings. Russell Brand's Flash Harry is one of the significant characters missing in action from the first film but most of the cast return for second helpings with even Gemma Arterton's former head girl Kelly back for a cameo role using her new skills as a member of MI7.
Everett's toothsome, conniving Miss Fritton has none of the subtle comic genius that Alastair Sim brought to the role in the 1950s and Colin Firth's appearance as Geoffrey offers a bizarre contrast to a year in which the actor gave the performance of his career in A Single Man. Newcomers to St Trinian's this time include Sarah Harding from Girls Aloud as indie chick Roxy, Ricky Wilson from The Kaiser Chiefs in a cameo role as her boyfriend, and television's Doctor Who David Tennant who makes Pomfrey a convincing rotter. All of the casting choices seem designed to appeal to the teen demographic, confirming that Parker and Thompson know their audience even if the are unlikely to win hearts and minds among the critics.
Production company
Fragile Films
International sales
Ealing Studios International
+(44) 20 8567 6655
Screenplay
Piers Ashworth
Nick Moorcroft
Cinematography
David Higgs
Editor
Emma Hickox
Production design
Amanda McArthur
Music
Charlie Mole
Main cast
Rupert Everett
Colin Firth
David Tennant
Gemma Arterton
Sarah Harding
Juno Temple