Dir: J.J. Abrams. US. 2015. 135mins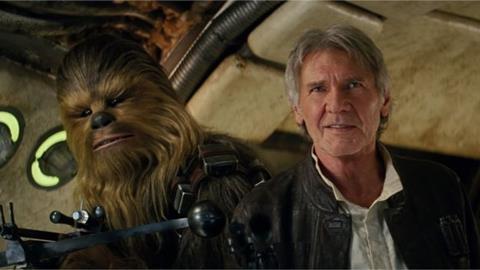 Robustly entertaining while carrying the weight of impossible audience expectations, Star Wars: The Force Awakens is a fascinating, often satisfying mixture of rollicking mythmaking and fan service. As with many recent franchises restarting their creative and commercial juices, the seventh instalment of this iconic sci-fi series feels spread a little thin, trying to satisfy long-time supporters while introducing fresh energy and new characters. But after the uninspired prequels, most will simply be happy to know that director J.J. Abrams has delivered a properly swashbuckling Star Wars adventure.
Ultimately, The Force Awakens succeeds in its most crucial mission, which is to establish a sturdy bridge between the previous instalments and future sequels
Launching across the globe this week, The Force Awakens is a guaranteed box-office juggernaut, the only question being just how massive the haul will be. Bringing together the original trilogy's stars — Harrison Ford, Mark Hamill, Carrie Fisher — and adding rising talents such as Oscar Isaac, John Boyega and Daisy Ridley, the film should benefit from good reviews and glowing word-of-mouth. The Force Awakens will almost certainly eclipse $1b worldwide, which doesn't even factor in the lucrative licensing agreements made by Disney, which bought George Lucas's Lucasfilm and now owns one of cinema's most enduring properties.
Set decades after Return Of The Jedi, The Force Awakens explains early on that beloved Jedi Luke Skywalker (Hamill) has disappeared, prompting his sister Leia (Fisher), the leader of the Resistance, to send her top soldiers to find him. A Resistance fighter pilot named Poe (Isaac) tracks down a partial map that offers clues to Luke's whereabouts, but he — alongside an ex-stormtrooper named Finn (an enormously likable Boyega) and Rey (Ridley), a lowly scavenger — must work together to keep the information away from the fearsome First Order, which has replaced the Empire as the galaxy's malevolent aggressor.
Working with screenwriters Lawrence Kasdan (who co-wrote The Empire Strikes Back and Return Of The Jedi) and Michael Arndt, Abrams brings the same wide-eyed, slightly cheeky tone he previously inserted into the recent Star Trek reboots and Mission: Impossible III. Although The Force Awakens exhibits the original trilogy's stylistic hallmarks — transitional wipes, an opening explanatory crawl — Abrams introduces a self-aware, warmly nostalgic humour that wryly undercuts this space opera's life-or-death stakes.
Which isn't to say that Abrams is only interested in a fond trip down memory lane. A powerful Jedi, Kylo Ren (Adam Driver), who has been seduced by the Dark Side, wants to help the First Order crush the Resistance, and Rey and Finn have to discover untapped courage if they are to thwart this masked foe. The Force Awakens doesn't always find the right tonal balance between the story's dire, bittersweet urgency and Abrams' occasional it's-only-a-movie impishness, but after the drab performances and emotional inertness of Lucas' prequels, it's a relief to see a new filmmaker take over the reins and supply this franchise with a vigour and clarity that have long been missing.
Because some plot points lead to significant spoilers, it can be difficult to describe the performances for fear of ruining surprises. But of the younger cast, Ridley and Driver acquit themselves most confidently, essaying dynamic new characters that have dimension and heft. Driver plays Kylo Ren with a refreshing unpredictability, revealing the villain's sinister nature but also his inner conflict and nagging immaturity. (If Darth Vader was a towering, intimidatingly evil presence, Kylo Ren can be an undisciplined, erratic Jedi novice still unsure in his role.)
As for Rey, she has been written as a corrective to years of ineffectual damsels-in-distress, the ones who always need rescuing in blockbusters. But Ridley supplies flesh-and-blood realism, making Rey not just powerfully self-sufficient but also vaguely annoyed that the men around her can't believe how capable she is. Consequently, Rey is no mere token feminist role model but a deeply fun, instantly likeable hero.
The Force Awakens is less stellar when Abrams tries to incorporate the original trilogy's central characters. The older actors all do competent work, but the relative enjoyment of seeing them reprise their roles is mitigated by the fact that the filmmakers aren't quite sure how to fit them into the movie — and that the actors don't jump off the screen the way some of their younger, hungrier cohorts do.
Ultimately, The Force Awakens succeeds in its most crucial mission, which is to establish a sturdy bridge between the previous instalments and future sequels. Aided by top-notch effects, Abrams has devised some nifty action sequences, and he manages to construct the foundation for a grander destiny for some of his newer characters. The Force Awakens is a perfectly rousing spectacle, but perhaps more importantly it inspires hope for what could come next. In the world of Star Wars, the careful cultivation of the franchise is an undertaking that's treated even more reverently than the Force.
Production companies: Lucasfilm Ltd., Bad Robot
Worldwide distribution: Disney, www.movies.disney.com
Producers: Kathleen Kennedy, J.J. Abrams, Bryan Burk
Executive producers: Tommy Harper, Jason McGatlin
Screenplay: Lawrence Kasdan & J.J. Abrams and Michael Arndt, based on characters created by George Lucas
Cinematography: Dan Mindel
Production design: Rick Carter and Darren Gilford
Editors: Maryann Brandon, Mary Jo Markey
Music: John Williams
Website: www.starwars.com/the-force-awakens
Main Cast: Harrison Ford, Mark Hamill, Carrie Fisher, Adam Driver, Daisy Ridley, John Boyega, Oscar Isaac, Lupita Nyong'o, Andy Serkis, Domhnall Gleeson, Anthony Daniels, Peter Mayhew, Max Von Sydow