Sergei Loznitsa explores the national impact of Soviet Union leader Joseph Stalin's death in 1953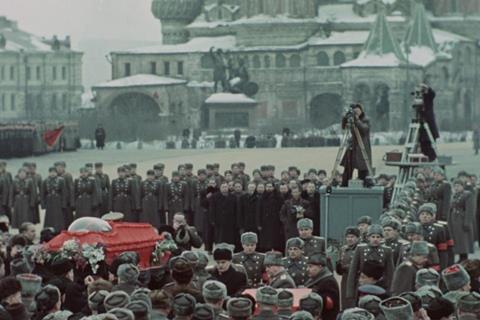 Dir. Sergei Loznitsa. Netherlands/Lithuania. 2019. 135mins
Ukrainian director Sergei Loznitsa is effectively three film-makers – the fiercely imaginative fiction director of films such as My Joy, A Gentle Creature and Donbass, and two different sorts of documentarist. In one documentary mode, he films observational pieces such as Maidan, Austerlitz and Victory Day, while in another he creates complex assemblages of archival work mapping the surface appearances and underlying complexities of modern Russian history; notably in The Event and last year's The Trial. His new film State Funeral is in the latter vein, an epic, implicitly ironic evocation of the elaborate ceremonies that followed the death of Joseph Stalin in March 1953.
Offers an understated but immensely suggestive questioning of authoritarian personality cult as "terror-induced delusion."
Following the extensive and highly theatrical mourning that occupied the entire USSR over five days – from the announcement of Stalin's death to his state funeral in Red Square – Loznitsa's essay raises questions about the nature and ideological mechanisms of totalitarian myth-making, and the nature of public grief as propagandist display. Offering an implicit commentary that arises more from visual juxtaposition and sound design than from any outright statements, Loznitsa's film is a characteristically imposing piece with niche appeal, but will make a powerful impact at outlets that sit at the nexus of cinema, art and political discussion.
State Funeral uses both colour and black and white archive footage, much of it never seen before and all restored to such pristine condition that it could almost have been shot yesterday; the key source, end credits reveal, is a film called Velykoye Proschenye (The Great Farewell.) Loznitsa begins with images of Stalin's body lying in state amid a jungle of lush funeral foliage, then moves on to scenes from across the USSR as crowds gather to listen to loudspeaker announcements of the leader's death. These are imparted in incantatory, solemnly intoned prose, heavily laden both with propaganda rhetoric and precise medical data; the director's screenplay credit suggests that he has written these speeches, based presumably on documented material.
Then, in an extraordinary sequence, visiting leaders arrive from friendly nations. It is here that Loznitsa's approach becomes evident, as he gives us a hypnotically repetitive montage of grim-faced men stepping off planes, shaking hands with Soviet officials and getting into black cars, before more grim-faced men get off planes, and so on for some time. The absurdity of such testing repetition is intrinsic to the film's strategy, much of the footage showing endless queues stretching along streets, making their way slowly into buildings, up staircases and along corridors, as citizens undertake an unceasing, shuffling journey of homage, which repeats over and over again.
Some of the film's images are intensely poetic and clearly artificial, steeped in propangandist visual poetry: head-and-shoulder groups of mourners are shot so as to resemble heroic Soviet statues. In one image from a territory in the far north, even reindeer are made to look as if they're hanging their heads in mourning. There is no shortage of tears among the crowds, but the very nature of public grief as official spectacle comes bitterly into question, given the fact that multitudes in the Soviet Union had cause to celebrate the death of a tyrant who, closing titles remind us, had caused the deaths of millions.
Apart from the loudspeaker announcements that run throughout, there is no speech in the film, until the closing sequence showing the funeral itself in Red Square. Here, numbingly dull speeches are made by Stalin's short-lived successor Georgy Malenkov, commissar Vycheslav Molotov and, most chillingly, Stalin's much feared chief of intelligence Lavrenty Beria – who would himself be executed by the end of that same year.
Music also runs throughout the film, sometimes in the form of classical compositions (Chopin, Schubert, Tchaikovsky et al), heard almost subliminally in the background. As is characteristic of Loznitsa, intricate sound design is used to make this imagery from the distant past feel immediate and immersive – the tramp of boots, the sound of factory whistles and cannon salutes, the specific timbres of the Tannoy announcements.
Sometimes, however, the sound works to subtly ironic effect, as in the creak of generals' leather boots, or in the monotonous tramp of crowds on staircases and corridors, suggesting that an entire nation is trapped in an absurd, cyclical dream. Without any explicit commentary, in voice-over or other from, State Funeral offers an understated but immensely suggestive questioning – as Loznitsa puts it in his Director's Notes – of authoritarian personality cult as "terror-induced delusion."
Production companies: Atoms & Void, Studio Uljana Kim, nutprodukce
International sales: Atoms & Void contact@atomsvoid.com
Producers: Sergei Loznitsa, Maria Choustova, Uljana Kim
Archive research: Vladilen Vierny
Editor: Danielus Kokanauskis
Sound: Vladimir Golovnitski