Gritty drama from China is set in the Sichuan Province of two decades ago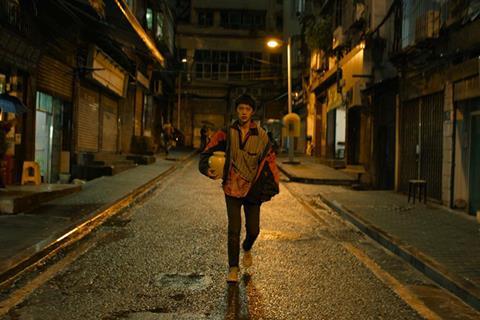 Dir: Na Jiazuo. China. 2021. 96 mins
A gritty drama with a mile-wide melancholy streak, writer-director Na Jiazuo's debut feature Streetwise concerns a debt collector's henchman who takes a fair share of knocks on the job yet mostly nurses bruises of the emotional variety. Produced under the auspices of Guan Hu, it shares the slow-burn feel of his elegiac underworld drama Mr. Six (2015) but unfolds from the perspective of a scrappy youth rather than that of a veteran mobster. The films are similar, though, in terms of depicting characters who behave according to an outmoded set of codes and are consequently bound to a way of life that is being eradicated by China's sweeping social-economic transformation. Moreover, Streetwise also follows such recent crime-oriented Chinese indies as Li Xiaofeng's Back to the Wharf (2020) and Shen Yu's The Old Town Girls (2020) in that noir elements stylistically enhance an exploration of a particular milieu while loosely fixing its take of marginal existence within genre trappings.
Eye-catching fusion of stark realism and beguiling romanticism
Receiving its world premiere in the Un Certain Regard sidebar at Cannes, Streetwise is too familiar in terms of plot beats to completely stand out from the crowd but its unerring sense of place will nonetheless make Na a director to watch. A domestic theatrical run could well result in fair returns from China's growing art-house circuit while Na's eye-catching fusion of stark realism and beguiling romanticism should ensure respectable international specialty sales.
Events occur in a fading riverside town in Sichuan Province circa 2004. Twenty-year-old Dongzi (Li Jiuxiao) provides the muscle for debt collector Xu Jun (Yu Ailei), whose ability to deal with tougher assignments is severely hindered by a bad leg. Dongzi needs the cash to cover medical bills for his father (Yao Lu), a hard-living widower. Seeking respite from the daily grind and family turmoil, Dongzi has become close to tattoo parlour proprietor Jiu'er (Huang Miyi), who he saved from a suicide attempt.
Their relationship remains strictly platonic, partially because Jiu'er's ex-husband, Mr. Four (Sha Baoliang), not only runs the debt collection agency that Xu Jun works for but is clearly dangerously obsessed with his former spouse. Meanwhile, Xu Jun has been skimming from his employer's profits, putting himself and Dongzi at great risk considering Mr. Four's notorious reputation. Although a fresh start is offered when Jiu'er resolves to leave town, the ties that bind threaten to hold Dongzi back.
Setting a crime film in the recent past is a handy way for Chinese filmmakers to avoid censorship restrictions (the strictly illegal type of debt collection unflinchingly illustrated here has been subject to crackdowns in recent years) but Na also presents a portrait of a community in limbo. Capturing the largely deserted streets and flailing small businesses in evocative medium or long shots, Na and cinematographer Li Jianeng illustrate how the economic rush of the 2000s almost created 'ghost towns' in the region after many inhabitants took off in pursuit of the opportunities offered by big cities or development zones. Yet this is not say that the film is entirely in thrall to social realism. The sense of time standing still lends the after-hours scenes between between Dongzi and Jiu'er a woozily romantic ambience which is heightened by the alluring glow of neon signage, recalling the sensuous mood of Lou Ye's noir masterpiece Suzhou River (2000).
Any tenderness is contrasted with flashes of violence which range from mordantly amusing to shockingly offhanded to sadly necessary. An early collection scene in an apartment is staged to absurdist effect with Xu Jun matter-of-factly pointing out repayment obligations on one side of the frame while Dongzi flails around trying to pulverise an associate of the debtor on the other. However, the tone soon becomes more serious, particularly with regards to Dongzi's complex dynamic with his father, a sickly but still imposing miscreant who wears his rugged leather jacket over hospital pajamas and communicates through abusive physical force. Despite all the rampant machismo, Na doesn't portray women as victims, with Jiu'er fearlessly protecting her employee from a customer who makes unwanted advances. Given that characters repeatedly wind up in hospital or at the police station, a tragic climax is inevitable but Na relies too heavily on cruel coincidences when orchestrating the fatalistic collision course.
Drawing on genre traditions means that some characters don't quite transcend archetypes, although Na's non-judgmental approach engenders sympathy for their intertwined plight. Dongzi's tattoo ('Dunno') indicates an inability to envision life beyond immediate circumstances with Li, previously seen in Hu's blockbuster war epics The Eight Hundred (2020) and The Sacrifice (2020) and making a good fist here of embodying the protagonist's struggles. As his caring yet somehow unknowable companion, Huang exudes the kind of naturally entrancing presence which guarantees major stardom.
Production company: The Seventh Art Pictures
International sales: Cercamon, sebastien@cercamon.biz
Producer: Wang Donghui
Screenplay: Na Jiazuo
Editing: Kong Jinlei
Cinematography: Li Jianeng
Music: Wang Yulong
Main cast: Li Jiuxiao, Huang Miyi, Yu Ailei, Sha Baoliang, Yao Lu, Luo Siwei