Dir/scr: Nicolas Saada. Belgium-Fr. 2015. 90mins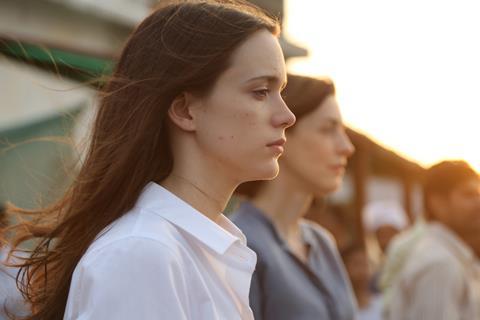 The only thing more distressing than being trapped in a hotel under siege is when it happens in a strange city and you're an 18-year-old cipher who forgot to pack her pulse. If you believe that treating a headline-grabbing multi-pronged lethal terrorist attack in the most oblique fashion possible is a worthwhile cinematic approach, then Taj Mahal is the film for you. Inspired by the November 2008 terror attacks in what the French still call Bombay, Nicolas Saada's second feature is an intellectual gamble with scant emotional pay off.
Despite a professional level of attention to sound and visuals, the result is borderline inert.
This resoundingly odd filmic entity will score additional fest berths following its Venice premiere and may even find fans in France upon its Oct 7 commercial release. But the deliberately unspectacular endeavour is far removed from what rank and file movie-goers expect from an film based on real-life events in which at least 164 people died.
Saada, whose credentials as a film critic and historian are top-notch and whose London-set Spy(ies) was both well-crafted and engaging, has cast Stacy Martin ("Nymphomaniac") as perfectly bilingual Louise who accompanies her Brit mum (Gina McKee) and French dad (Louis-Do de Lencquesaing) to India when the later is assigned to an engineering project for two years.
The Parisian trio is shown to a lavish suite on the fourth floor of the historic Taj Mahal hotel, their residence until they can move in to a real house. Louise asserts that as a smoker she'll need to open the windows, which are locked shut to protect the air-conditioning. She is told to get a special handle from the reception desk, paving the way for the understandably rare concept that a tobacco habit might save your life.
Louise plans to study photography and we are shown plenty of local colour as she walks or rides through her new surroundings for the first 20 minutes or so.
Louise never says much but her bedtime reading is a book by Pasolini and when her parents go out to dinner on 26 November, Louise decides to stay at the hotel to curl up with Alain Resnais' 1950 classic Hiroshima mon amour. Saada has fun with that masterpiece's musical score playing as the couple leaves the hotel, only for Louise's viewing to be stymied by a defective DVD.
That's just as well because she starts hearing vaguely unsettling sounds, a bit like muffled creaks and ka-booms in the hold of a ship. The bellboy tells her to get back into her room; the receptionist advises her to turn off all the lights and lay low.
Louise has a cheap used cell phone with mum and dad on speed-dial and that's about it. Dad tells her the hotel is under attack and that he's on his way back to rescue her, but cars aren't getting through. If this sounds bland, that's because it is. When you're a French teenager you don't have political insights or Ethan Hunt's skill set, so you sit on the cold bathroom floor grappling with boredom.
Grenades are tossed, Louise's section of the hotel explodes in a fireball (the film incorporates authentic video footage from the real attacks) and it turns out to be a good thing she's got that window handle.
Will Louise and the Italian woman (Alba Rohrwacher) honeymooning one floor down be rescued? Will Louise ever see her slightly cardboard parents again? Incredibly, it's hard to care one way or the other because the storytelling is so aloof.
The filmmaker is presumably out to explore whether a life-threatening ordeal leaves lasting scars or can be filed under "inconvenient context-free stuff happens."
But despite a professional level of attention to sound and visuals, the result is borderline inert.
Production companies: Agat Films & Cie / Ex Nihilo
International sales: Bac Films, contact@bacfilms.fr
Producer: Patrick Sobelman
Screenplay: Nicolas Saada
Cinematography: Leo Hinstin
Editor: Christophe Pinel
Production design: Pascal Leguellec
Main cast: Stacy Martin, Louis-Do de Lencquesaing, Gina McKee, Alba Rohrwacher