The first instalment of a new Hongkong horror omnibus gives old school scares with a contemporary twist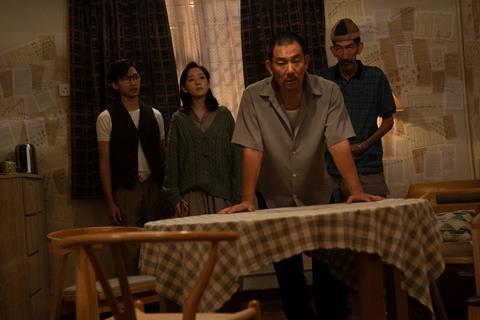 Dir: Fruit Chan, Fung Chi-chiang, Wesley Ip Sang-hoi. Hong Kong. 2022. 111 mins.
Newcomer Wesley Ip Sang-hoi joins veteran filmmakers Fruit Chan and Fung Chi-chiang for the first instalment of Media Asia's new Hongkong omnibus series, Tales From The Occult. Bringing together three distinct modern takes on the classic ghost story, Tales From The Occult is spooky rather than scary and even occasionally funny as each of the filmmakers use well-oiled horror tropes in a nod to the spectre of the territory's past whilst also providing 111 minutes of quality genre entertainment.
111 minutes of quality genre entertainment

Narratively efficient due to the short run-times of each individual film, all three ghost stories move along at a cracking pace – there is no time for tiresome false jump scares, or characters who don't believe their friends are being haunted; all three shorts simply cut to the chase. And though each short film is distinct, there is tonal continuity in Henry Lai's consistently creepy scores. A polished package, with a big enough name in Fruit Chan, Tales From The Occult should have no trouble finding its audience both at genre festivals and beyond – this would be a perfect Hallowe'en offering for cinemas or a streaming service.
The first short, The Chink, is Ip's directing debut. It begins with two teenage girls hanging out after school. After they part ways, and on her walk home alone, Yoyi (Cherry Ngan) follows a cat up to the titular chink between two walls. But when she pulls an obscuring object away for a closer look she finds instead the cold, hard stare of a dead, rotting corpse. Editor Mathew Tang, who is also a producer on the project, cuts abruptly to the present day where the two girls, now women, are unpacking in Yoyi's new apartment. As the story goes on, it becomes clear that the cut represents the callousness with which Yoyi has forgotten her past trauma, revisiting it now as, "The feeling's been creeping back."
Crafted entirely around that creeping tone, The Chink is all billowing curtains and growling, rumbling sound design. Her sensible Uncle Ronald (Lawrence Cheng), a psychiatrist, uses relaxation techniques to help Yoyi through her trauma, which he assumes to be imagined and not real. Ultimately, though, the surprise ending, which takes place in session, suggests some ghosts have greater impact than modern methods can manage.
In Fruit Chan's Dead Mall, real estate, consumerism, pandemic panic and online influencers all come under attack. The aesthetic is claustrophobic, beginning with close ups of a crowd at a busy street crossing, wearing masks, mostly surgical style until Benny Chan's slow motion focuses on gas masks, signalling something even more serious than the current Covid-19 pandemic. Moving indoors and with a smaller resolution handheld camera, Dead Mall is an assault of bright lighting, point of sale signage and eerily empty shopfronts. Our host is Wilson Yeung (Jerry Lamb), an online influencer for a channel called 'The Gate To Wealth'. He is staging a video to encourage investment in the mall, working with its managers and a crew of paid actors. But things take a turn for the worse when a female figure wearing a gas mask starts stalking him and another influencer turns up to film in the mall.
Finally, Fung Chi-chiang's The Tenement, which blends comedy with horror, is both the most classic and revisionist of the three ghost stories. In a half-empty, dank and crumbling apartment building, occupied only by five strange and stubborn tenants who won't sell to developers, a water ghost appears. They all see it, and immediately form a 1980s-style 'kids on a caper' gang (think The Goonies, or Stranger Things, but with a strong sense of irony). The water ghost first appears as a shadow on the wall, with long, sharp talons and a hunchback. Later, in close-up, it appears to be a woman whose face is painted ghostly white, her fixed stare and dark cloak a genre giveaway that she has come specifically for one of the five individuals. Who then, can anyone trust? Literally drudging up the past, flooding the stairs and apartments with water, this initially appears to be your garden variety ghost. But, when a journalist turns up, investigating one of the tenants, the whole thing is turned on its head, giving the overall project a killer ending.
The films are ordered according to their seriousness, lightening a little in tone each time, but always anchored by Henry Lai's creepy score. For a first instalment, Tales From The Occult promises old school horror with a contemporary twist, its light-touch satire a welcome addition to classic supernatural fare. The next instalment, the currently undated Tales From The Occult 2, has Frank Hui, Doris Wong and Daniel Chan attached.
Production companies: Media Asia Film, Movie Addict Productions
International sales: Media Asia Film, wwdist@mediaasia.com
Producers: John Chong, Mathew Tang
Screenplay: Fruit Chan, Fung Chi-chiang, Wesley Ip Sang-hoi, Ling Wai-chung, Ho Sui-hong, Stanley Wong
Cinematography: Benny Chan (Dead Mall), Ming Wong (The Tenement), Kwan Pun-leung, Sunny Wong (The Chink)
Editing: Tin Sup-fat, To To, Mathew Tang
Production design: Delon Sui, Chet Chan, Pater Wong
Music: Henry Lai
Main cast: Jerry Lamb, Cecilia So, Richie Ren, Sofiee Ng, Peter Chan, Paul Che, Baby Bo, Cherry Ngan, Ng Wing-sze, Kelvin Kwan, Lawrence Cheng