Dir/scr. Zaza Urushadze. Estonia/Georgia, 2013, 88 mins.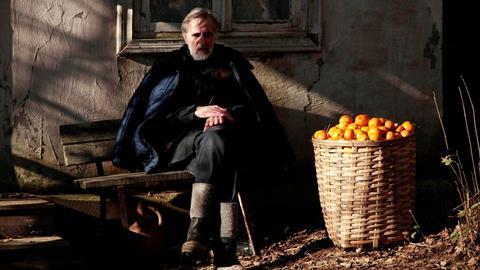 The surprise nomination in the best foreign film category at the 2015 Academy Awards, Estonian-Georgian co-production Tangerines is a tense, moving, nuanced anti-war drama. It may not have lifted the big prize, but its inclusion in the shortlist – the first ever for a film from either country – was the culmination of a wave of goodwill that had been building since its debut at the 2013 Warsaw Film Festival. The icing on the cake came with Samuel Goldwyn's acquisition of the film for US distribution on the eve of the Oscars. Released theatrically on 17 April in New York and 24 April in Los Angeles, Tangerines could add a few more territories in the wake of the attention, despite its long shelf life.
What might seem like a challenging ethno-historic background melts away almost immediately. It's just a premise, allowing Urushadze to hone the drama down to the lean and hungry shape of a humane, philosophical Spaghetti Western
It would be wrong to overstate Tangerines' feelgood factor; this is on one level at least a war film with a high body count and an unromantic view of man's seemingly unlimited appetite for tribal conflict. But writer director Urushadze has found a way into the material that extracts universal lessons from a microscopically local flashpoint. His subject is not just a now almost forgotten Caucasian war – the Georgian-Abkhaz conflict that flared up in the summer of 1992 (and continues to simmer). It's a forgotten detail of that forgotten war: the fact that hundreds of ethnic Estonians who had lived in Abkhazia since the 19th century were forced to flee to a 'motherland' they had never known. It's a lane in one such Estonian-Abkhaz village, a rural arcadia dominated by the citrus fruits of the title, that provides the film with its single location.
Dealt with in a succinct opening caption, what might seem like a challenging ethno-historic background melts away almost immediately. It's just a premise, allowing Urushadze to hone the drama down to the lean and hungry shape of a humane, philosophical Spaghetti Western. It's about three men, the pitch might go: two wounded young fighters, bitter enemies, who are saved and nursed back to health by an older man who refuses to take sides. Will they tear each other part once healed? Or will their host's clear-eyed pacifism prevail?
Played by the magnificent Lembit Ulfsak, a sort of Estonian Laurence Olivier, this older man is Ivo – a stooped, careworn but still dignified carpenter who lives in the rural enclave where the whole story pans out. Ivo, it soon becomes clear, stayed put after the outbreak of the Georgian-Abkhaz war, though most of his family chose to leave. The only other stubborn Estonian survivor in the immediate vicinity is Ivo's friend Margus, a farmer who has stayed on because he can't bear the thought that his tangerine crop will not be harvested. This year's crop is so abundant that Ivo can hardly make the crates fast enough.
Part of the appeal of Tangerines has to do with the sense that we're in a place out of time – just like these two ethnic fish out of water. Furnishings, light fittings, even the radio that brings news of the war – all float in an indeterminate vintage era, and this veneer of fable (enhanced by spot lighting even in exterior scenes, and the amplified sound of feet on floorboards) makes the war, when it arrives, all the more violent and jarring.
After a jeep chase and shoot-out that leaves three soldiers dead, Ivo finds himself having to care for two wounded fighters – something he does with the same patient absorption that he applies to his woodworking. One, Ahmed (Nakhashidze), is a Muslim Chechen mercenary fighting on the Abkhazi side; the other, Niko (Meskhi) is a young Christian Georgian volunteer. Both, in their different ways, bring the implacable logic of military conflict into a house that has only every known peace; and the absorbing, slow-build drama that follows is a battle of wills between the war-hating Ivo and two men who don't see why he should waste his time nursing their enemy back to life.
Its impact sealed by across-the-board strong performances from its all-male cast, Tangerines is a film about loss and belonging, about rootedness and departure. Those crates, ready for export, stand in for the populations that get banished and shunted around in the name of nationalism, but also suggest the way soldiers like Ahmed or Niko allow themselves to hate, and therefore shoot, by creating boxes of prejudice and hearsay around the 'enemy'. The dismantling of such mental barriers does not take place without the occasional forced script move – and there's a certain theatrical quality about the one-stop location and some of the dialogue – but the end result is a rich and passionate film, in which a man isolated by the tide of history manages, for a brief time, to work as small miracle through the force of courage, compassion and principle.
Sure, the film's promotion of universal brotherhood doesn't seem to extend to the Russian soldiers who briefly appear near the end in order, it appears, to unite the film's three oppressed minorities. But that's okay; even an anti-war film needs its goodies and baddies.
Production company: Allfilm
Co-production: Cinema 24
US distribution: Samuel Goldwyn Films
International sales: Cinemavault, www.cinemavault.com
Producer: Ivo Felt
Co-producer: Zaza Urushadze
Cinematography: Rein Kotov
Editor: Alexander Kuranov
Production designer: Thea Telia
Music: Niaz Diasamidze
Main cast: Lembit Ulfsak, Mikheil Meshki, Giorgi Nakhashidze, Elmo Nuganen, Raivo Trass