Alena Mikhailova gives an intense lead performance in Kirill Serebrennikov's 'brooding prestige monument'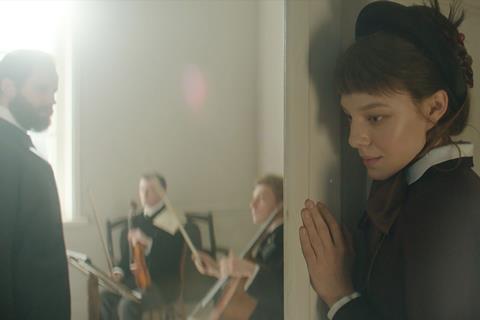 Dir. Kirill Serebrennikov. Russia/France/Switzerland. 2022. 143 mins
In Tchaikovsky's Wife, the domestic life of a Russian icon is depicted as a marital calvary intense enough to make Ingmar Bergman blanch – or Ken Russell, for that matter, who treated the same story in his film The Music Lovers. As the title suggests, writer-director Kirill Serebrennikov here focuses on the experience of Antonina Miliukova, who was unfortunate enough – and, the film suggests, deluded enough – to marry the composer Pyotr Ilyich Tchaikovsky. A sometimes mesmerisingly intense lead performance by Alena Mikhailova is the trump card of this sprawling, sumptuously mounted revisionist drama, depicting Antonina's extended martyrdom at the hands of the Tsarist-era patriarchy. But, despite some arrestingly stylised dramatic moments, the overall impression is of a leadenly brooding prestige monument. Given the current world picture, a Russian film would need to be very special, and rather accessible, to make any kind of international mark, and Tchaikovsky's Wife would not seem to be that candidate.
There's no denying the ambition or craft of this visually virtuoso film,
Writer-director Serebrennikov, famously no friend of the Putin regime, has made some striking Cannes appearances in recent years, notably Soviet-rock panorama Leto and his hallucinatory state-of-Russia drama Petrov's Flu. Tchaikovsky's Wife is by far his most ambitious film yet, but for all its sometimes-crazed energies, it feels ponderous and overwrought. The drama begins in St Petersburg in 1893, as widow Antonina attends her husband's funeral – only for the deceased to jump up and rage at her, calling their marriage a "vulgar tragedy". Vulgar or not, it is indeed a tragedy of Grecian scale, which the film traces back to Moscow and 1871, as young Antonina, a promising pianist, attends an afternoon gathering where the composer (Odin Biron) is showing off for friends. Besotted with him (and apparently not even aware of his fame), she hopes to get an introduction, ostensibly to study at the Conservatoire where he teaches, but really to bask in his presence.
Before long, she's bold enough to tell him her feelings, and proposes marriage, even though they barely know each other. Remarkably, he accepts – although it's partly because her family wealth will solve his financial worries, and partly because (a friend of his later tells her) that marriage will absolve him of suspicions about his sexuality. But it's clear from early on that Tchaikovsky is gay – clear, that is, to everyone but Antonina, whose talent for denial leads her into increasingly stormy emotional waters.
The action skips between Moscow and St Peterburg, mainly through the 1870s, as the composer does everything he can, with increasing callousness, to distance himself from Antonina. His circle – musical associates, gay friends, his brothers, lawyers - close in on her, some trying to pressurise her into signing a divorce contract, which she refuses to touch. Meanwhile, she embarks on an ill-fated affair with her lawyer, while one of Pyotr's cronies tries to distract her by laying on a cadre of muscular, naked lovers for her to choose from – one of a handful of scenes which leap abruptly into altogether febrile regions.
There's no denying the ambition or craft of this visually virtuoso film, with Serebrennikov mounting elaborate long takes that sometimes play disorienting games with time and space: as in a railway station scene, in which Antonina waves off Pyotr's train, then seems to wait an eternity for his return; or another, in which she walks from one locale to another across a street populated with fire eaters. These sequences, however, are exceptions in a film which generally sustains a register of muted realism, with DoP Vladislav Opelyants mustering some oppressive effects of hazily lit interiors.
Antonina's isolation is most neatly evoked by her being costumed in sometimes vivid red, alone among a sea of men in funereal black. The film could hardly be more explicit about themes of sexual oppression and privilege, notably the idea that, as one person puts it, "Geniuses are permitted anything."
There's little light and shade in a drama that comes across as an extended martyrdom from start to finish, but Mikhailova does bring nuance and a tantalising opacity to the character of a woman who is at once heroically devoted to her quixotic passion, and her own worst, wildly self-destructive enemy. She is certainly imposing, in a performance that exudes both hyper-charged fragility and repressed fury.
Otherwise, the film suffers from overstatement, both in its bombastic narrative and a soundtrack (including, naturally, the classics but not the obvious selections) that leans towards the over-rhetorical. Some bizarre moments – like a late sequence in which Antonina expresses her agony in a full-tilt interpretative dance – have a certain WTH exoticism, but the combination of frenzy and oppressive solemnity make this a heavy ride. In any case, don't expect to come out whistling selections from Swan Lake.
Production companies: Hype Film
International sales: Charades, leonard@charades.eu
Producers: Ilya Stewart, Kirill Serebrennikov, Murad Osmann, Pavel Burya
Screenplay: Kirill Serebrennikov
Cinematography: Vladislav Opelyants
Editor: Yuriy Karikh
Production design: Vlad Ogai
Music: Daniil Orlov
Main cast: Alena Mihailova, Odin Biron, Phillipp Avdeev, Ekaterina Ermishina