Dir/scr. Craig Boreham. Australia, 2016, 99 mins.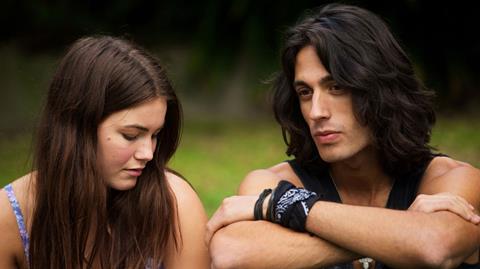 'Despite the frivolity implied by its title, the passage from adolescence to adulthood is far from fun or thrilling in Teenage Kicks, the debut feature from veteran short filmmaker Craig Boreham. Instead, for 17-year-old Miklós (Miles Szanto), it's a whirlwind of grief, guilt and grappling with his sexuality. There's little that's new about his predicament, nor about the film that charts his path; however the right stylistic touches and a strong central performance render the familiar both affecting and lingering here.
Szanto's central performance the film's real standout element, hiis tortured gaze and tentative posture ensuring that Mik becomes more than just a yearning, searching cliché
Premiering at the Sydney Film Festival, Teenage Kicks taps into two growing cohorts of local content: queer narratives, as exemplified by 2015's Holding the Man and Downriver; and explorations of the multicultural experience, as seen in vastly different shades in fellow Sydney titles Goldstone and Down Under. Indeed, there's a sense of comfort to Boreham's combination of the two that may help the feature find an audience. A limited Australian theatrical release, a tour of the international LGBT festival circuit and a run on streaming platforms appear the film's likely destinations.
When the movie opens, Mik isn't careening out of control in his quest for acceptance just yet; he's getting stoned and masturbating to pornography with his best mate Dan (Daniel Webber), whom he secretly has a crush on. To escape their respective troubled home environments — with Mik tired of disappointing his stern father (Tony Poli), and Dan keen to flee his own aggressive dad (Ian Roberts) — the duo plans to run away after high school. Mik might be struggling with his feelings for his friend, and with exploring his affections and urges in general, but he's certain about their proposed future together.
Then his older brother Tomi (Nadim Kobeissi) is struck by a car and killed, fracturing Mik's already fragile grasp of his burgeoning identity, and burdening him with sorrow and remorse. Soon, he's fighting at school, openly making his animosity for Dan's new girlfriend Phaedra (Charlotte Best) known, and following random strangers to seedy apartments. With his relationship with his mother (Anni Finsterer) tested by long-held family secrets, he also gravitates towards Tomi's pregnant girlfriend Annuska (Shari Sebbens). Attempting to step into his sibling's shoes marks another troublesome move for a character so tormented by his demons that he can't make any other choices.
As a screenwriter, Boreham remains happy to tread well-worn territory, so much so that where his coming-of-age effort is headed is hardly difficult to predict. Several narrative turns feel much too convenient, while the escalating drama and a violent climax seem designed to simply further stress out its protagonist. And yet, as much as Teenage Kicks largely presents a routine, unsubtle plot, it does so with a firm grasp of the uncertainties of encroaching maturity in both sentiment and style. Accordingly, as a director Boreham relates his tale through moody, almost dream-like visuals, valuing the sensory over the naturalistic. He's ably assisted cinematographer Bonnie Elliott, who not only adds another fine credit to her resume after Tim Winton's The Turning, These Final Hours and Spear, but gives Mik's journey an appropriately hazy sheen.
Eye-catching aesthetics can only take an otherwise formulaic feature so far, of course, with Szanto's central performance its real standout element. It's his tortured gaze and tentative posture which ensure that Mik becomes more than just a yearning, searching cliché, and that Teenage Kicks' emotional core convinces enough to hit home. Recently impressing in television's 11.22.63, Webber isn't asked to display as much range, but credibly conveys a questionable late-stage development. Sebbens, too, offers much-needed warmth to a film largely characterised by harsh realities, and by the kind of painful realisations that continue to simmer long after viewing.
Production company: Azure Productions Pty Ltd
Sales: LevelK, natja@levelk.dk
Producer: Annmaree J Bell
Executive producer: John Frank
Cinematography: Bonnie Elliott
Editor: Adrian Chiarella
Production designer: Virginia Mesiti
Music: David Barber
Main cast: Miles Szanto, Daniel Webber, Anni Finsterer, Charlotte Best, Shari Sebbens