Dir. Hou Hsiao Hsien. China/Hong Kong/Taiwan. 2015. 104 mins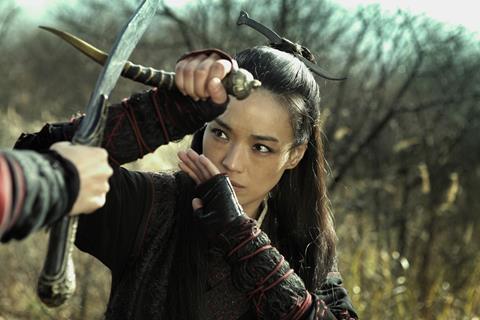 Any purist fearing that Hou Hsiao-Hsien might have compromised his artistic integrity by making a wuxia/kung fu film will be mostly re-assured by the long-gestating The Assassin (Nie Yinniang). This is not a venture into wire-work and acrobatics but a contemplative, often ravishing-looking, immersion in the complex politics, power struggles and personalities of the Tang Dynasty as seen through the moral dilemmas facing an enigmatic trained assassin. The combined attractions of Hou Hsiao-Hsien's return, the gorgeous cinematography, the subject matter and the trim running time should be strong enough to attract substantial arthouse audiences.
Shu Qi makes the character's steely resolution and conflicted heart entirely convincing.
Directly inspired by a chuanqi (short story) from the period entitled Nie Yinniang, The Assassin is set in 9th century China when provincial outposts established as defenders of the Tang Emperor had become hotbeds of rebellion. It begins with a black and white prologue before bursting into the richest, lushest palette of colours. Abducted by a nun at the age of 10, general's daughter Nie Yinniang (Shu Qi) has developed into a feared assassin. Her latest target is Tian Ji'an (Chang Chen), the Governor of the troublesome Weibo province, but this is the land of her birth and Tian Ji'an is the man that she was once supposed to wed. She faces the dilemma of completing her task or breaking from the group of assassins who are the only world she has known for the past thirteen years of exile.
Hou Hsiao-Hsien proudly made the epic Flowers Of Shanghai (1998) with just 31 cuts. He has clearly moderated his minimalist approach for The Assassin which mixes shots of measured, distanced observation with some elegantly choreographed and edited bursts of wuxia action. It isn't always easy to follow the politics of The Assassin but it does look an absolute treat. The film revels in the daily details of long ago lives and the fabulous costumes from Hwarng Wern-Ying assault the sense with their deep crimsons, lush greens and rich gold brocades.
Clearly influenced by classic Kurosawa and Mizoguchi, the film also underlines the cross-fertilisation between wuxia films and Hollywood westerns as Shu Qi's black-garbed assassin evokes both the frontier guardian angel of Shane and the spirit of Clint Eastwood's Unforgiven in her ultimate adherence to a higher moral code than her life of violence. Shu Qi makes the character's steely resolution and conflicted heart entirely convincing.
Production companies: Spotfilms, Sil-Metropole, Media Asia, CMPC
International sales: Wild Bunch edvos@wildbunch.eu
Producers: Hou Hsiao-Hsien, Chen Yiqi, Lam Peter, Lin Kufn, Gou Tai-Chiang, Tung Tzu-Hsien
Screenplay: Hou Hsiao-Hsien, Chu Tien-Wen, Hsieh Hai-Meng, Zhong Acheng
Cinematography: Mark Lee Ping Bing
Editor: Huang Chih-Chia
Music: Lim Giong
Main cast: Shu Qi, Chang Chen, Zhou Yun, Tsumabuki Satoshi