Nina Hoss stars in this Belin-set feature about a violin teacher and her family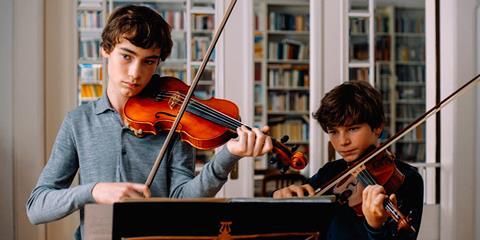 Dir: Ina Weisse. Germany, France. 2019. 99 mins
Taking a big step forward from her chilly debut feature The Architect, actress-director Ina Weisse - along with co-writer Daphne Charizani - crafts a compelling character study in this music-school drama. Lead actress Nina Hoss rises impressively to the challenge, fully inhabiting the mind and body of the flawed perfectionist at the core of The Audition. There are shades of Whiplash and The Piano Teacher in this story that centres on an off-kilter rapport between a demanding music teacher and a gifted student, and it's the second Berlin-set film centred in the world of classical music this year, after Munich Film Festival hit Lara. But Weisse puts her own, distinctive spin on this film, keeping the audience guessing about whose story this really is, feeling its way slowly towards a bracing, risky dramatic conclusion that suddenly reshuffles the cards we've been dealt.
What makes Anna so fascinating is that she combines uncertainty and self-doubt with an unforgiving demand for perfection in herself, her student and her son
Add a solid technical package and the passionate foregrounding of the solo violin and string ensemble music by Bach, Paganini, Lalo and other composers, and the result is a feature that could strike a chord with arthouse distributors in the market for quality drama and strong women's stories.
Hoss plays Anna, a music teacher in a German conservatory high school. She lives in a book-lined apartment with adolescent son Jonas (Serafin Mishiev), who attends the same school, and French-speaking husband Philippe, a luthier by trade, deftly played by Simon Abkarian as a seemingly uncomplicated bedrock of a spouse who will gradually reveal emotional depths and fissures. Two auditions bookend the action. At the first, Anna is struck by the potential of Alexander (Ilja Monti), a shy young violinist who is applying for admission at the school. Although her colleagues are unconvinced by his worth, she convinces them to give the boy a chance and takes on the job of preparing the introverted student for an all important trial exam – the second 'audition' – in six months' time.
A scene near the beginning that flirts with comedy shows Anna and Philippe meeting for dinner at a restaurant. They move tables twice before Anna settles on one that (perhaps) works, and the same goes for her order: even when she finally plumps for an off-menu dish, it's not what she wanted, and she ends up swapping plates with her long-suffering husband, who is clearly used to this kind of thing. The need to keep her options open, choosing strawberry and chocolate when allowed only one scoop, seems to be the main reason she's having an affair with her colleague Christian (Jens Albinus), but what makes Anna so fascinating is that she combines this uncertainty and self-doubt with an unforgiving demand for perfection in herself, her student and her son – a touchy teenager who resents his mother's criticism of his own violin playing and her undisguised admiration of Alexander.
Scenes in which Anna reluctantly agrees to join a string ensemble headed by Christian, and others that hint at a difficult past relationship with her grumpy, hyper-critical elderly father, add notes to a portrait that draws dramatic power not only from the mounting tension of the teacher-pupil relationship as Anna uses it to work through her own neuroses, but also from the occasional sly cutaway to Jonas, the only other character whose point of view the camera sometimes shares.
The jagged rhythm of the editing also helps here: more than once, urgent solo violin music gives way abruptly to silence or the hum or traffic. A smart use of the film's Berlin locations, and some sensitive production design, also plays into The Audition's command of mood and character. Philippe's luthier workshop below the family's apartment, for example, becomes a place that is not quite of Anna's world, though dedicated to crafting the instruments that drive her. Accessed from an entrance hall, rather than the street, it's the realm and refuge of her husband and son, a complicated place to get to that she enters uncertainly, aware that different rules apply here.
Production companies: Lupa Film, Ideale Audience
International sales: Les Films du Losange, a.lesort@filmsdulosange.fr
Producers: Felix von Boehm, Pierre-Olivier Bardet
Screenplay: Daphne Charizani, Ina Weisse
Production design: Susanne Hopf
Editing: Hansjorg Weissbrich
Cinematography: Judith Kaufmann
Main cast: Nina Hoss, Simon Abkarian, Jens Albinus, Ilja Monti, Serafin Mishiev