Dir. Wim Wenders. France-Germany-Portugal. 2016. 97 mins.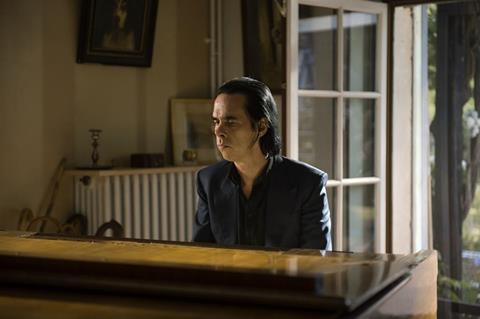 Auteur 3-D is not a new phenomenom. But Wim Wenders' new film, based on a play by his longtime script collaborator, Austrian writer Peter Handke, pushes the genre into a whole new territory of pretentious intellectual sterility. Pina, Wenders' 2011 homage to dance guru Pina Bausch, and his compatriot Werner Herzog's prehistoric art documentary Cave of Forgotten Dreams, both showed that a technology we associate with the multiplex could be proudly reclaimed and refined by the arthouse – unlike this static, theatrical four-hander conversation about one woman's love life.
Both actors do their best to animate the glaringly un-filmic dialogue
A few pre-sales have already been inked, but it's difficult to see how this arid slab of sex-laced emotional metaphysics, which premiered in competition at Venice, could emerge in more than a handful of 3-D-equipped cinemas; even more than those two predecessors, it could become a victim of the paradox that theatres that have invested in the technology will be unlikely to invest in the film.
Handke's 2012 play, which has been staged in France, Germany and elsewhere, is here reproduced almost verbatim, with the addition of a post-modern narrative frame in which a writer (played by Jens Harzer) is imagined seated at a typewriter, creating the lines and lives that are played out in the garden of the bookish old country house with its distant view of Paris that is his privileged workspace.
The brunt of the 'action' is a dramatic dialogue between a nameless middle-aged man (Reda Kateb) and woman (Sophie Semin), seated at a rustic-bourgeois garden table at the height of summer, surrounded by wisteria and old roses. We know nothing about them at the beginning, and little more by the end. Are they former lovers? A married couple? Siblings? It becomes clear that, just before we join them in their first-world arbour, they have reached some kind of agreement whereby the man will be allowed to ask questions, and the woman to respond according to certain rules – one of which is that she cannot simply answer yes or no.
Both actors do their best to animate the glaringly un-filmic dialogue. There's an affectionate wariness in the way Kateb's questioner probes Semin's character without quite prying and she offers information and revelations without ever, we feel, letting her guard down completely. But as the woman details her pre-sexual sexual awakening, which happened on a swing, and moves on to her first proper carnal encounter, with a stranger in a salt pan on a pile of dried human excrement, there's more movement in the foliage around the pair, as a summer breeze rustles the leaves, than there is in the relationship between the two.
The erotic bildungsroman spun by Semin's character moves on from her sexual salad days to her main-course adult wander through a wilderness of partners (or "man-accomplices", as the wordy dialogue puts it), straying at times into an uncomfortable netherland between feminist empowerment and male scorn. Meanwhile, Kateb's gently sardonic flaneur butts in with off-message philosophical-botanical observations about sparrows, apples and gooseberry bushes (the latter arises from a story he tells about the royal palace in Aranjuez, Spain – setting of Schiller's play Don Carlos, a line from which provides the film's title).
The script's otherwise imperceptible three-act structure is marked only by Semin's character's change of light summer dress – from vermilion to blue and back again.
Occasionally we cut to Harzer's writer figure, tapping away on his analogue typewriter inside the big old house, occasionally lifting his head to observe his characters in the sunlit garden outside, as if searching for inspiration for their next lines. When blocked, he gets up and puts another song on the vintage Wurlitzer he keeps in the hall – one of which, Nick Cave's Into My Arms, translates into an entirely gratuitous cameo by the Australian musician himself, seated at a piano performing the song inside the house.
Some moments of poetry and emotional truth lurk in among the pretentious high grass. But the sometimes baffling dialogue is a serious subtitle endurance test ­for non French-speaking audiences, and the woman's intellectualised erotic confessions feel bloodless, making us yearn for the explosive power of, say, Bibi Andersson's equally 'narrated' but far more unsettling sexual monologue in Ingmar Bergman's Persona. Even the 3-D fails to rise to the occasion: in the garden scenes especially, there's a distracting 'cut-out' halo of rippling foliage around the two characters, with layers that are supposed to be in the background seeming to leap to the front.
Production companies: Alfama Films, Neue Road Movies, in cooperation with Leopardo Filmes
International sales: Alfama Films, andrea.alfamafilms@orange.fr
Producers: Paulo Branco, Gian-Piero Ringel
Screenplay: Wim Wenders, based on the play by Peter Handke
Cinematography: Benoît Debie
Editor: Beatrice Babin
Production designer: Virginie Hernvann, Thierry Flamand
Main cast: Sophie Semin, Reda Kateb, Jens Harzer, Nick Cave