This beautifully textured Moroccan drama is a 'superbly acted and emotionally resonant offering'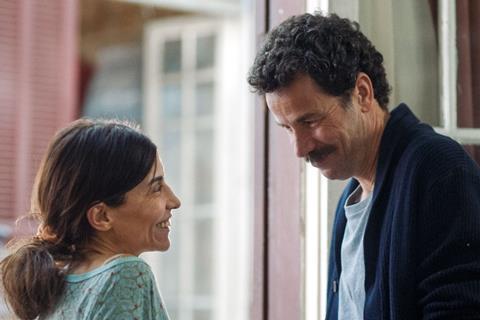 Dir: Maryam Touzani. France/Morocco/Belgium/Denmark. 2022. 122 mins
Hand-stitched with loving care, Maryam Touzani's The Blue Caftan is an elegant artisanal film that would be misrepresented by calling it obvious awards-season material. This Moroccan melodrama is clearly the sort of picture that's likely to chime with people who don't always gravitate towards foreign-language cinema – but saying this risks obscuring the maturity, complexity and rich simplicity of this superbly acted, emotionally resonant offering from the writer-director of 2019's Adam. Sturdy crossover potential is in the offing, if canny vendors take the chance to give this quality couture number a place in their boutique windows.
This is a film that quietly but effectively rails against increasing conservatism
Built around an emotional triangle between a middle-aged couple and a younger man, the story is set in the medina of the Moroccan town Salé, where Mina (Lubna Azabal) and her husband Halim (Saleh Bakri) run a small shop selling traditional caftans. Halim is a maalem, a master tailor specialising in bespoke cutting and artistic embroidery, which means that the process of preparing garments is slow and expensive – and ever slower, since the art of the maalem is falling out of fashion, and a string of apprentices have proved insufficiently dedicated to the craft. Perhaps the couple's latest recruit, a handsome young man named Youssef (Ayoub Missioui) will prove equal to the task; but perhaps he'll also bring problems.
One reason why he may stir things up is that Halim is gay, a regular habitué of the local hammam, where he has discreetly snatched assignations. In fact, Mina is fully aware of his secret life, and the couple enjoy a tender, mutually supportive relationship – and Halim has been a loving, solicitous partner throughout Mina's past and present experience of cancer. But she has reached the point where she can't help noticing just how fond her husband is becoming of Youssef, making her increasingly prickly about the young man's presence in their shop.
The film is sharply written by Touzani, with script input from the film's producer Nabil Ayouch, whose own cliché-confronting takes on Moroccan life include recent rap-school drama Casablanca Beats and 2017's Razzia, which Touzani co-wrote and starred in. Skewed subtly towards Mina's female perspective, but showing deep empathy in exploring Halim's contradictory interiority, The Blue Caftan is a keenly tuned, non-judgmental exploration of an enduring relationship that has thrived despite the stresses of conflicting desires and the pressures of social norms.
Azabal and Bakri have a gently crackling chemistry as a couple who have formed an unshakeable closeness through years of riding the storms together, and through the daily mundane routine of working as a keenly-matched business duo: his artisanship, her canny and pugnacious management skills and no-nonsense front-of-house skills with their sometimes difficult (and neatly sketched) customers.
The characterisation emerges very richly through the acting: Belgian actress Azabal, of Moroccon-Spanish descent, who starred in Adam as well as films including Incendies and Paradise Now, gives Mina a mixture of toughness, fatigue and quietly irreducible joie de vivre, with a distinct streak of anti-conservative rebelliousness. And Palestinian actor Bakri illuminates a character we don't see that often in cinema: a gentle, introverted artist-intellectual who's also a sensualist and something of an old-school gentleman. Bakri's general demeanour, that of a somewhat lined, soft-spoken matinee idol well into his mature years, works beautifully in the role.
Missioui is also effective as someone of a different generation, who clearly sees the world differently from his two employers and mentors but may have more in common with them than first appears. The quality of Touzani's direction emerges especially keenly when the three dance together – a scene that other film-makers might have pushed for obvious feelgood potential, but here it's played for genuine release and for the deepening of the emotional dynamics between the three.
There are a couple of moments when Touzani seems to slightly overplay her hand in terms of what needs to be said – one a brief glimpse of how illness has affected Mina's body, the other a shot making it perhaps superfluously obvious what Halim does in the bathhouse. But, in the context of a film from an Islamic country, you can see why Touzani might be doing this: rather than cover up these truths, she's saying, this is how it is, and it doesn't need disguising with false discretion.
This is also a film that quietly but effectively rails against increasing conservatism: notably in a scene where Mina and Halim are ID-checked by a policeman, indicating new authoritarian times in the medina, and another where she objects to the too-sober funeral of a singer who deserved a more joyous celebration. Overall, the film is very much a plea for tolerance and a protest against gender-determined boundaries: even Mina's visit with Halim to a male-frequented café is a quiet but forceful snub to the system.
As the film approaches its final act, the emotional charge surges increasingly, but Touzani and her cast keep it tightly controlled, to very satisfying effect. Superb camerawork by Virginie Surdej, returning from Adam, maps the actors' facial nuances against the shifts of light in the medina and the play of colours in the shop, with close scrutiny of beautifully textured fabrics and embroidery making for an aesthetic finesse that would make any maalem proud.
Production companies: Films du Nouveau Monde, Velvet Films, Snowglobe, Ali N'Productions
International sales: Films Boutique, contact@filmsboutique.com
Producer: Nabil Ayouch
Screenplay: Maryam Touzani in collaboration with Nabil Ayouch
Cinematography: Virginie Surdej
Editor: Nicolas Rumpl
Music: Kristian Eidnes Andersen
Main cast: Lubna Azabal, Saleh Bakri, Ayoub Missioui