Dir. Taylor Hackford. US. 2016. 120mins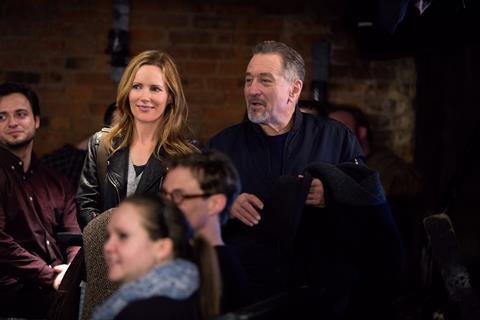 Robert De Niro gives one of his warmest performances in recent years in The Comedian, a mighty likeable but ultimately flimsy comedy-drama about an ageing stand-up who gives love another try. Much like its Oscar-winning star, the film coasts along on charm and audience goodwill, although a little more edge might have helped.
Awards seem unlikely for this undemanding bauble, although its crowd-pleasing tone will certainly lure older viewers.
Still, a sparkling ensemble highlighted by an absolutely lovely Leslie Mann somewhat mitigates a storyline that offers very little insight into the cutthroat world of professional comedians. Premiering at AFI Fest, this Sony Classics release will have a one-week Oscar-qualifying run in December before re-opening in January. But awards seem unlikely for this undemanding bauble, although its crowd-pleasing tone will certainly lure older viewers, as will a supporting cast that includes Danny DeVito, Edie Falco and Harvey Keitel.
De Niro plays Jackie, a once-popular comic who enjoyed superstardom as the lead of a dopey family sitcom called Eddie's Home. But now, he's stuck doing stand-up in dreary dives where his dwindling fan base just wants him to spout catchphrases from his old show. After a violent confrontation with one fan requires him to do community service, he meets Harmony (Mann), who's also doing community service for an assault charge. An attraction begins to grow between them, although they're both old enough to have had their heart broken many times.
Directed by Taylor Hackford (Ray), The Comedian will undoubtedly bring to mind another drama in which De Niro played a comic, the dark Martin Scorsese satire The King Of Comedy. But where Rupert Pupkin was a dangerous sociopath who was also massively untalented, Jackie is a legendary shock comic who is frustrated that his greatest fame came from a milquetoast sitcom.
One of The Comedian's bigger liabilities is that the film-makers believe Jackie is still a sharp stand-up, an assumption his lame material does not support. De Niro displays total confidence delivering one-liners about masturbation, marriage and incontinence, but the actor simply doesn't convince as a seasoned comic. The fact that De Niro is surrounded by actual comics doesn't help matters, but his laidback sullenness bears little resemblance to the neuroses and quicksilver wit displayed by most comedians.
The actor, however, is immensely affecting away from the microphone when Jackie is just spending time with Harmony. The two characters have a grown-up rapport that feels believably casual and sexy, filled with the quiet anxieties that adults feel when they take another stab at dating.
Mann has been a reliable comic presence in her husband Judd Apatow's films, but in The Comedian she gets one of her most fully fleshed-out roles, and she makes the most of it. We get the sense that Harmony is a screw-up — her overbearing father (Keitel) keeps wanting to swoop in and help her — but Mann doesn't make the character loveably quirky. Instead, Harmony is a frustrated woman who's been restlessly searching for something, and she's not sure if Jackie is exactly what she's been looking for.
When Hackford and The Comedian's four credited screenwriters seek to dramatise Jackie's career travails, the movie lacks a keen eye for the realities of the stand-up circuit. Actual stand-ups served as consultants, and insult comic Jeff Ross is one of the film's screenwriters. But recent television shows like Louie and indie comedies such as Sleepwalk With Me have provided immersive looks at the lives of working comics, whereas The Comedian's plot points concerning YouTube videos going viral or Jackie having to host a demeaning reality show don't have a comparable biting specificity.
Much more satisfying are Jackie's scenes with his harried brother, played affectionately by DeVito, or his mildly contentious interactions with his long-suffering manager (a nicely dry Falco). In these moments, we recognise how difficult it must be to have Jackie around, and the whole ensemble play off each other with such easy familiarity that it feels like an extended, somewhat dysfunctional family. That's why it's too bad that The Comedian eventually invents obstacles to keep Jackie and Harmony apart, which then leads to a melodramatic third-act plot twist that this thin, breezy movie can't possibly support.

Production companies: Cinelou Films, Linson Entertainment, Anvil Films, The Fyzz Facility, Mad Riot Entertainment
US distribution: Sony Pictures Classics, www.sonyclassics.com
International distribution: Warner Bros. Pictures International, www.warnerbros.com
Producers: Mark Canton, Courtney Solomon, Taylor Hackford, Art Linson, John Linson
Executive producers: Scott Karol, Wayne Marc Godfrey, Robert Jones, Iain Abraham, Dennis Pelino, Fredy Bush, Mark Axelowitz, Lawrence Smith, Peter Sobiloff
Screenplay: Art Linson & Jeff Ross and Richard LaGravenese and Lewis Friedman, story by Art Linson
Cinematography: Oliver Stapleton
Production design: Kristi Zea
Editor: Mark Warner
Music: Terence Blanchard
Website: http://sonyclassics.com/thecomedian/
Main Cast: Robert De Niro, Leslie Mann, Danny DeVito, Edie Falco, Veronica Ferres, Charles Grodin, Cloris Leachman, Patti LuPone, Lois Smith, Harvey Keitel