Season Four bursts into life with an array of young stars including scene-stealing turns from Josh O'Connor and Emma Corrin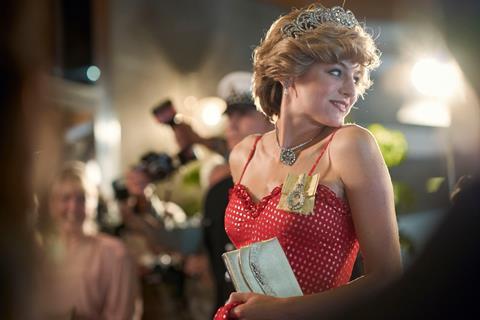 "Explosive" is a word which has little meaning when it comes to "shock" "revelations" from "The Palace", but Season 4 of The Crown is, in its own vernacular, "something of a surprise". Peter Morgan continues to interlace two soap operas – that of the UK state, and the domestic upheavals of the British Royal Family – in the latest, much-anticipated block of 10 episodes which deals with the 1980s and the introduction of Lady Diana Spencer (Emma Corrin) to "the Firm" as Margaret Thatcher (an arch Gillian Anderson) rises to what she perceives as absolute power. It doesn't hold back on either front.
An impossibly posh Jenga
With close to 10 hours of stately homes to fill, Morgan's screenplay unsurprisingly ends up roaming around some by-now familiar corridors in lavish palaces. On an episode-by-episode basis, it isn't consistent, and can verge towards the formulaic (something dramatic takes place in the UK political arena: the Queen, as cheerfully played by Olivia Colman, re-examines her personal life). But Morgan is a past master at keeping every ring on a simmer, adjusting the levels separately and coming full flame together. Overall, this is a very cleverly-written series which is constantly building on its foundations like an impossibly posh Jenga. The main takeaway in Season 4, though, will be Morgan's interpretation of the story of Charles and Diana and the performances of Josh O'Connor and Corrin in those roles.
Unlike previous seasons, "Charles & Di" is relatively fresh and makes for compulsively queasy viewing when acted out in 3D, providing the clear series highlights in episodes 3 (which deals with their fairytale marriage), and 9 and 10 (in which it has come to an explosive end). What's most surprising is the frank and bruising treatment of Charles, still next in line to be the King of England. The War of the Wales's may have raged in the tabloid press at the time, but O'Connor's characterisation of a vain, needy man with an ego which is impossible to manage is unexpectedly stinging. Corrin, meanwhile, demonstrates what a difficult situation the fresh-faced young royal found herself in, which she could only relieve through debilitating bulimia. These are privileged, rich people, but The Crown has a talented, empathetic cast and crew who are more than equal to the challenge of making them watchable.
Over in the political arena – one of The Crown's more challenging tendencies is to give, say, the struggle against Apartheid in South Africa equal screentime as Princess Margaret (Helena Bonham Carter) being sidelined in her role and flying off to Mustique – Margaret Thatcher sweeps into Number 10 to rule the roost. Gillian Anderson has her down to a physical (Mrs) T, although there's an excess of gliding and craning that seems even more out of time when viewed through a 2020 lens. Thatcher's insistence in serving suppers from a hatch in Downing Street to her middle-aged "boys" in cabinet, her hatred of any perceived "weakness" which she identified closely with being female, and her status as a grocer's daughter outsider in British society add spice to Morgan's already-pungent kedgeree. An uncomfortable visit by Thatcher and her husband Denis to Balmoral Castle where the royal family are doing what they do best – killing animals in "their half-Scottish, half-Germanic cuckooland" - is particularly effective.
Starting with the murder of Lord Mountbatten (Charles Dance) by the IRA in 1979 and ending over a decade later in 1990 with Thatcher being ousted from office, The Crown has a lot of ground to cover. Issues which have plagued the first three series remain: not every episode is equal (take, for example, the intruder in the Queen's bedroom, which doesn't quite capture the desperation of the 1980s even though it's designed to a fault). Not everything the Royal Family, or the "ghastly politburo" as Charles calls them, does is necessarily riveting (say, Anne's trials at Badminton, even though Erin Doherty exploits her role for all its lock-jawed worth). Olivia Colman's Queen Elizabeth, frequently referred to as being distant – and often troubled by it – is far too twinkly to convincingly play an real-life ice queen who wreaked the kind of damage that has clearly been done to her oldest son.
Whether or not any of Morgan's script is true just adds intrigue to what is esssentially a soap opera, the most expensive ever made. Every type of attention to detail is still here; no corners are ever cut. Accents are cut-crystal replicas of the time, from Thatcher's contrived burr to Diana's ok-yah Sloane Ranger. Elaborate costumes suddenly take on an immediacy as Diana's fashion undergoes a modern revival. This in itself helps contrast the naive young women with the crusty tartan life led in country piles by this horsey set, and plenty of younger viewers will be drawn to it, marveling at how the "in crowd" conducted themselves back then. Expect the UK tabloids to hop on board as well; they were only ever pushed off temporarily, as Meghan might attest.
Because, when it comes to soap operas, there's nothing to draw the punters quite like a love triangle - and has there ever been any love triangle like the one between Charles/Diana/Camilla Parker Bowles (Emerald Fennell), even in the annals of polyamorous royals throughout the centuries? Anticipation surely must squrimingly be mounting for the squdgygate/tampax tapes of the next series.
Despite some attention-grabbing turns, particularly from Anderson, The Crown 4 belongs to all its young actors: interesting to note that Charles and Diana married before any of them were born.
Production company: Left Bank Pictures
Creator, writer: Peter Morgan
Worldwide distribution: Netflix
Executive producers: Peter Morgan, Stephen Daldry, Suzanne Mackie, Matthew Byam Shaw, Andy Harries, Robert Fox
Production design: Martin Childs
Main cast: Olivia Colman, Tobias Menzies, Gillian Anderson, Helena Bonham Carter, Charles Dance, Josh O'Connor, Erin Doherty, Emerald Fennell