Catherine Corsini's Competition entry is set in the emergency of a Paris hospital during the fallout from a gilets jaune demonstration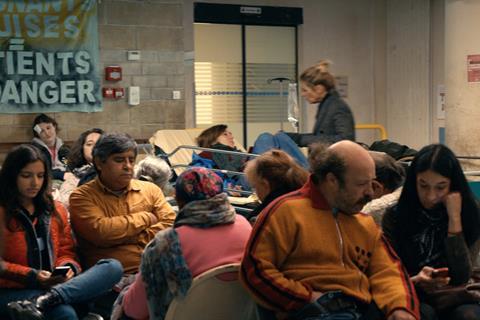 Dir. Catherine Corsini. France. 2021. 98 mins.
Long respected in France for her female portraits and relationship dramas, writer-director Catherine Corsini steps out of her comfort zone – and into a realm of maximum social discomfort – with The Divide. Set in Paris at the height of the gilets jaunes demonstrations, it's a dynamic, politically charged ensemble drama about different characters, and social positions, colliding in a hospital emergency room. Mixing melodrama, action movie intensity and some high-pressure farce, The Divide is a heady cocktail that mixes its effects with as much abandon as one character mixes her medication.
The film is not just about a division in French society – class tensions again reaching boiling point in the Macron era – but about a critical moment of cracking apart
Corsini makes it all cohere rivetingly, and at furious pace, with narrative drive to equal a full-on series finale of ER. Entertainment value, political urgency and a strong trio of leads should make it both commercial and a talking point in France, while buyers and festivals could pounce on the latest from a director who, with this and her last film An Impossible Love, has raised her game.
French title La Fracture suggests something more fraught and violent than simply a divide. The film is not just about a division in French society – class tensions again reaching boiling point in the Macron era – but about a critical moment of cracking apart. This fracture affects not just one character's arm, but national social stability, France's health system, and the relationship of a female couple, publisher Julie (Marina Foïs) and illustrator Raf, or Raphaelle (Valeria Bruni Tedeschi).
As the film starts, in domestic comedy mode, Julie has announced that she's bailing out of their ten-year relationship, to the distress of neurotic, needy Raf, who barrages Julie with text messages even while she's sleeping beside her in bed. The next morning, as Julie's teenage son Eliot heads off to a Gilets Jaunes demo, Raf pursues Julie in the street, slips and ends up in hospital with a broken elbow. At the same time, truck driver Yann (Pio Marmaï), who has sneaked off work to join the demo, has landed in the same emergency room with a leg full of shrapnel after police opened fire on the demonstrators.
Yann and an increasingly manic Raf are two of the patients in a hospital where staff are on strike for better conditions, but still working regardless in the face of shortages and intolerable pressures. Their persistence is epitomised by nurse Kim (Aissatou Diallo Sagna), who faces mounting demands even while fielding concerns from home about the health of her baby. While Julie hovers, trying to calm her partner, Raf comes into conflict with the volatile, politically enraged Yann, who sees her as a self-absorbed bourgeoise (he's not wrong about that).
The film's political content is sharp and provocative, with President Macron emerging as bitterly mistrusted, and viewed as a distant, lofty presence with insufficient concern either for the French people or for the functioning of a supportive social system; while his critics are a fractured front, with Gilets Jaunes demonstrations involving both the left and the far right. Attempting to maintain stability in the face of such division is a hospital service seen here as figuratively and before long, literally, under siege. The Divide can be seen not least as Corsini's expression of solidarity with health workers who soldier on determinedly, clearing up the debris that's the fallout of dysfunctional government and heavy-handed policing.
Corsini could be accused of piling on more than the film can easily handle, with the farce, largely arising from Bruni Tedeschi's joyously unrestrained performance, sometimes pushed to overload (it probably would have been enough for Raf to fall off her gurney just once). And with patients trapped in a waiting room with flames blazing outside and tear gas seeping under the doors, it might seem a little excessive to introduce an episode in which one character holds a pair of scissors to another's neck. Nevertheless, restlessly mobile camerawork from Jeanne Lapoirie, plus Frédéric Baillehaiche's pacy editing, keep the intensity mounting, and even though it sometimes feels as if Corsini is trying to keep too many plates spinning, the whole risky exercise pays off to provocative effect.
Smaller roles added to the mix bring additional density – notably, there's an affecting turn from Jean-Louis Coulloc'h as an old school friend of Julie, who has befriended a young woman wounded in the turmoil. French cinema stalwart Pio Marmai brings a vital nervous aggression to his role, while Bruni Tedeschi – a long-term specialist in representations of crackling neurosis – lays it on a bit thick at moments, but overall is very engaging as a woman who loves too much, and worries even more. Meanwhile, impressive non-professional newcomer Aissatou Diallo Sagna – in real life, a nursing assistant – brings the film both technical realism and a baseline of tenacious calm in the face of chaos. As for Marina Foïs – a terrific talent still too little known outside France – she's at her best here as the mature, calm but internally ever more frazzled yin to Bruni Tedeschi's manic, infuriating yang.
Production company: CHAZ Productions
International sales: Kinology, gmelin@kinology.eu
Producer: Elisabeth Perez
Screenplay: Catherine Corsini, Laurette Polmanss, Agnès Feuvre
Cinematography: Jeanne Lapoirie
Editor: Frédéric Baillehaiche
Production design: Toma Baqueni
Music: ROB
Main cast: Valeria Bruni Tedeschi, Marina Foïs, Pio Marmaï, Aissatou Diallo Sagna