Benedict Cumberbatch and Claire Foy headline Will Sharpe's period biopic of the eccentric Victorian cat-fancier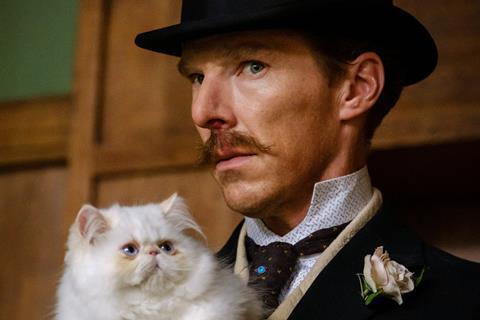 Dir. Will Sharpe. UK. 2020.

An eccentric Victorian artist for the 'IIlustrated London News' becomes a fervent cat-fancier and -painter, loses his wife, goes mad, and obsesses about voltage. "I feel….electricity," exhales the beak-nosed polymath Louis Wain (Benedict Cumberbatch) in this trippy, misfiring heritage yarn.

Wanders tonally through its own aesthetic maze
Co-produced by Cumberbatch's own production house, destined for release on Amazon in the US and StudioCanal in the UK, and and launching at Telluride followed by Toronto, The Electrical Life Of Louise Wain is challenging to describe as it veers around London over Wain's adult lifespan. Four decades worth of kitchen sinks are thrown at the screen (at one point, animated kaleidoscopic images gyrate indolently on a black background, while a kitten is given cutely mis-spelled subtitles: "I like jomping"). There's extensive voiceover narration by Olivia Colman which uses the first person but is never identified while Wain is described as "like a frenzied bat in a burning oven". That, essentially, describes the film equally as well as its protagonist.

For those who remember, Wain popularised cats in Victorian Britain through his anthropomorphic drawings, at one time a household staple. We join him earlier, however: shortly after the death of his father, when he is suddenly charged with looking after his mother and five sisters (one, played by Andrea Riseborough at full volume, is a harridan; another, via Hayley Squires, turns out to be extravagantly schizophrenic), Louis Wain has his hands full even before his romance with the governess (Claire Foy), her terminal breast cancer, and the adoption of a moggie called Peter ("Peter will look after you when I'm gone.").

Perhaps it's no surprise that Louis, who starts out this real-life story as a mere eccentric, ends up going mad - and that's no plot spoiler, as it is foreshadowed in the opening sequences with Cumberbatch dancing crazily in an asylum. This sets the timer for the audience as the film heads out on a 40-odd year voyage through the past to return to the same place.

Boxily framed, the film tries out several visual looks, wandering tonally through its own aesthetic maze. There's the Victorian 'A Christmas Carol' arrangements at the onset, with the Wain family racing around exquisitely art-directed sets of their warren-like genteel London home. At this point, Louis is portrayed as a charming mad genius, busily experimenting with electrical patents, writing an opera, and illustrating as a way to provide for his large family.

When he falls for the new governess and they move to Hampstead against his family's wishes, a Wes Anderson-like fondness for wallpaper starts to creep in, along with the kittens. By now, director Will Sharpe (Black Pond) is turning vistas into Louis Wain primary-coloured landscapes as cats start to sport animated bug eyes. And Wain is desperately dependent on the kindness of the ILN's proprietor Sir William Ingram (Toby Jones) for any income for the family as money becomes an increasing challenge. Repeatedly in here, too, are nightmares in which Wain is drowning at sea, this phobia manifesting itself most notably in a sinking ship sequence where he is tilted and submerged.
Completed during Covid-19, Louis Wain always feels as if it's in danger of tilting off the screen as well: that it wasn't intended to come together quite like this. Key clues seem to be Riseborough's performance, so oddly pitched - at times, comic, at others, maniacal - alongside Cumberbatch's committed depiction of a man of many parts which never quite sew together into a human portrait. Stacey Martin plays one of his sisters for only one line of dialogue, for example, while Taika Waititi and Nick Cave turn up in tiny roles.
It's impossible to deny Sharpe and Cumberbatch's audacious risk-taking on this 2014 Brit List script by Simon Stephenson, though, which at least attempts to push the boundaries of the period British biopic. If it's a gamble that doesn't entirely pay off, the effort is clearly sincere. Fans of the actor can at least be reassured that the he has never been finer than in his other 2021 fall-festival awards season hopeful, The Power Of The Dog - and there's the next Dr Strange to look forward as well, although Louis Wain's antics are enough to make the Marvel character look positively sedate.

Production companies: Shoebox Films, Sunnymarch Films
International sales: StudioCanal, info@studiocanal.com
Screenplay: Simon Stephenson, Will Sharpe, from a story by Simon Stephenson
Producers: Guy Heeley, Ed Clarke, Adam Ackland, Leah Clarke
Cinematography: Erik Alexander Wilson
Production design: Suzie Davies
Editing: Selena MacArthur
Music: Arthur Sharpe
Main cast: Benedict Cumberbatch, Claire Foy, Andrea Riseborough, Toby Jones, Hayley Squires