UK comedy stalwart Jessica Hynes goes behind the camera for a drama about self-esteem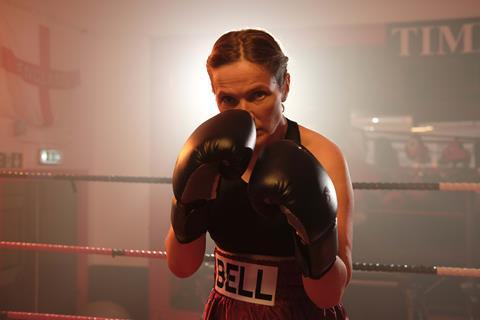 Dir. Jessica Hynes. UK. 2018. 91 mins.
Stepping into the ring for the first time as a director, British comedy and drama regular Jessica Hynes shows no shortage of heart in The Fight, but ultimately comes out as a plucky bantamweight. Known for her formidable talent as both a writer (Spaced, suffragette series Up the Women­) and performer (The Royle Family, W1A), Hynes is one of British screen comedy's best known faces, but in her debut feature as writer, director and star she ditches the humour for a mundane domestic drama about bullying, self-esteem and the importance of standing up for yourself.
Boxing plays a metaphorical rather than a significantly narrative role
Well-intentioned and clearly a labour of love, The Fight feels lumberingly earnest, as well as visually unambitious, and comes across more like a magazine article on 'Issues That Affect Us All' rather than a film with the wherewithal to go nine rounds on its own dramatic terms.
Shot on the coast around Folkestone, the film stars Hynes as Tina, a care worker for the elderly who's experiencing intense stress – partly because she and supportive husband Mick (solidly likeable Shaun Parkes) have three children of various ages to raise, partly because of the demands made by her neurotic mother (Anita Dobson). Tina keeps body and soul together by attending a local gym, going jogging and listening to podcasts by a stressbusting New Age guru (voiced, a little creepily, by Russell Brand). Things are about to get worse: Tina's put-upon dad (veteran stalwart Christopher Fairbank) is set to move in, while the couple's oldest child, sensitive and talented Emma (Sennia Nannua) is being tormented at school by bully Jordan (Liv Hill), and Tina and Mick can't agree on a way of addressing the problem.
Jordan, of course, has her own problems with divorced mother Amanda (an utterly wooden Rhona Mitra) – and if Tina seems unduly nervous about confronting this angry parent, it's because she and Amanda have their own unfinished business. But – in a twist that comes across more schematically than it might – their fraught backstory isn't quite what we might assume.
The fight element - brief Raging Bull parody and all – has to do with Tina donning boxing gloves, getting in the ring and learning to defend herself, with assistance from Cathy Tyson as a trainer who helps motivate her with a somewhat off-the-peg women-fighting-back speech. But the boxing plays a metaphorical rather than a significantly narrative role, the lessons being that everyone must learn to walk tall but also resist violence, that bullies were created by other bullies, and that abuse, violence and unhappiness bring their own legacy. Everything is directed, in other words, towards a series of payoffs in which Tina will learn to stand up to her mum, Mick will talk back to an alpha-male workmate, Jordan will shed sensitive tears and Emma will proudly let her talent shine.
The comedy is sparse, beyond some spiky marital repartee and an amusing turn by Alice Lowe as the saccharine-sweet leader of a home-schooling group. Sally Phillips is also dependable in a one-dimensional role as a supportive, empathetic teacher. Hynes herself abandons the brittle edge of her best TV characterisations, her Tina never really coming across as much more than a world-weary bundle of agitation; she certainly casts aside vanity as a director in making herself look permanently flustered and dishevelled.
The best performances, however, are from the two girls – Hill as the arrogant but troubled Jordan, and the very self-possessed Nannua, the standout discovery from The Girl With All the Gifts, as Emma – although it's no doubt a fault of direction that Emma seems less flustered about her bullying than anyone else does. The fact that, dramatically, the film is far more focused on Tina's problems than her daughter's gives The Fight a somewhat solipsistic edge in addition to it feeling parochial and middle-class – and the script cosily dodges difficult territory in eliding any suggestion that Jordan's persecution of mixed-race Emma might be in any way tinged by racism.
Production companies: Unstoppable Entertainment, Dignity Film Finance
International sales: AMP International, info@amp-film.com
Producers: Noel Clarke, Jason Maza, Maggie Monteith, David Wade
Screenplay: Jessica Hynes
Cinematography: Ryan Eddleston
Editor: Anna Dick
Production design: Sophia Simensky
Music: Luke Abbott
Main cast: Jessica Hynes, Shaun Parkes, Rhona Mitra, Sally Phillips, Anita Dobson, Alice Lowe, Cathy Tyson