A girl's powerful sense of smell suddenly starts to evoke times before she was born in Lea Mysius' follow-up to 'Ava'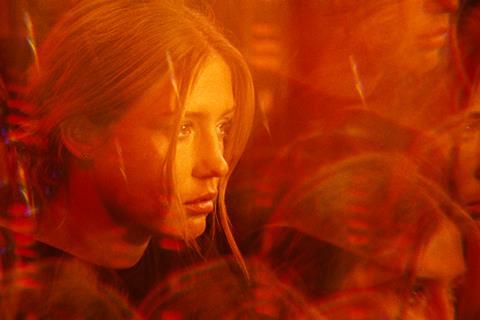 Dir: Léa Mysius. France. 2022. 95 mins
There is an age, around seven or eight, when children can be particularly vulnerable to change, as they sense a change coming. Most parents think of this as the "Why?" phase. Some children more than others regress into private worlds, rediscover abandoned toys, ponder existential questions, or tussle with the dawning realisation that their parents are fallible, and mortal. Lea Mysius' follow-up to her well received debut feature Ava turns this difficult transition into the genre-tinged tale of a young bi-racial girl whose preternaturally sharp sense of smell brings visions of a time before she was born. Buoyed by two outstanding performances – from Adèle Exarchopoulos and first-time child actress Sally Dramé – and shot in ravishing 35mm, The Five Devils is a finely-crafted drama-genre hybrid, let down only by the fact that the story is a lot less interesting than the themes it carries.
A drama about an intense, vulnerable but also slightly scary little girl who turns her unease about her parents' rocky marriage into a dark superpower she can't quite control
With Le Pacte set to release in France, and MUBI on board for US and UK after a pre-Cannes sale, the performances and the tactile beauty of DoP (and co-writer) Paul Guilhaume's photography in the French Alpine setting give Mysius' tale of lives that somehow drifted onto the wrong track a widescreen authority and confidence.
Alhough this is recognisably a provincial mountain village, key locations take on a fairy-tale quality. Vicky (Dramé) lives with her depressed swimming instructor mother Joanne (Exarchopoulos) and dour fireman father Jimmy (Senegalese musician Moustapha Mbengue, whose acting career was launched in Philippe Faucon's 2018 film Amin) in a house with a steep pitched roof. Set in a deep valley with a distant view of jagged peaks, it looks like a location manager's interpretation of a child's drawing. Then there's the lake bordered by a dark line of conifers where a grease-daubed Joanne goes swimming in the gelid water while Vicky times her. Reflecting snow-covered mountains upside down, it has a strange, not quite natural blue-green tinge.
In this eerie limbo, the fact that Vicky's stopwatch is there not to measure her mother's speed but to tell her when to get out before hypothermia sets in takes on a special resonance. But Vicky doesn't just hold her mother's life, literally, in her hands: she also bottles her. As Joanne discovers one day, Vicky's sense of smell is so keen that, when blindfolded, she can even detect the dried coffee stain on the page of an old notebook. What her mother doesn't know, or is too distracted by her own stuck life and marriage to care much about, is that, like a budding perfumier, Vicky blends ingredients to create smell profiles of people, places and things that she keeps in glass jars in the spare room: she has at least three different ones labelled 'MAMAN'. That's quite a "Why?" thing to do for a lonely child like Vicky, who is a target for school bullies owing to her skin colour and hairdo.
What is more unusual is the way that, when Vicky smells certain potions she has made, she falls to the ground in a trance and begins to see visions of things that happened before she was born – not just involving her parents, but her father's estranged sister Julia (singer Swala Emati, impressive in her first acting role), who has suddenly turned up ten years after leaving the village under a very dark cloud.
If mid-story lulls set in, it's at least partly because most viewers will have guessed, by now, where the melodramatic backstory uncovered by Vicky's visions is heading – it's a pretty 'explanation' that is unlikely to satisfy true genre connoisseurs. It's better to invest in The Five Devils (which is the name of the local sports centre in the film) as a drama about an intense, vulnerable but also slightly scary little girl who turns her unease about her parents' rocky marriage into a dark superpower she can't quite control. That reading is given able support by Florencia Di Concilio's atmospheric soundtrack, which seems to give form to Vicky's emotional temperature. Existing tracks are also artfully dropped into the mix – including that old chestnut 'Total Eclipse of the Heart', which efficiently replaces the need for dialogue in one key karaoke scene.
Production companies: F Comme Film, Trois Brigands Productions
International sales: Wild Bunch International, aguilhem@wildbunch.eu
Producers: Jean-Louis Livi, Fanny Yvonnet
Screenplay: Léa Mysius, Paul Guilhaume
Production design: Esther Mysius
Editing: Marie Loustalot
Cinematography: Paul Guilhaume
Music: Florencia Di Concilio
Cast: Adèle Exarchopoulos, Daphné Patakia, Moustapha Mbengue, Sally Dramé, Swala Emati, Patrick Bouchitey