Jackie Chan returns to English-language fare in a political thriller directed by Martin Campbell and co-starring Pierce Brosnan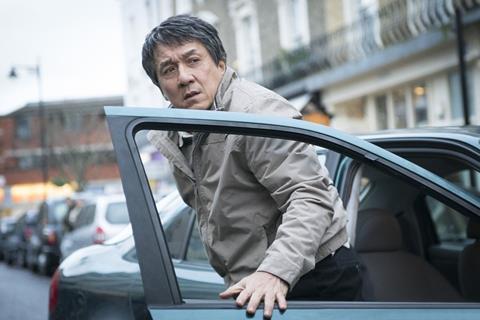 Dir: Martin Campbell. UK/China. 2017. 114mins
In a five-decade career defined by mixing acrobatic stunts with slapstick humour, Jackie Chan has occasionally demonstrated his serious side, notably in Crime Story (1993) and Shinjuku Incident (2009). Still, this enduring performer has rarely been as stoic as in The Foreigner, which sees him returning to English-language fare after a consolidating his stardom in the mainland Chinese marketplace. Playing an anguished father who seeks revenge for the death of his daughter in a rogue IRA bombing opposite Pierce Brosnan as a Martin McGuinness-like politician, The Foreigner's trailers have effectively sold Chan in taciturn avenger mode and emphasised the film's brutal action content. But this adaption of Stephen Leather's 1992 novel The Chinaman plays more like an political thriller, spending as much time on conspiratorial plotting as the publicised bone breaking.
Martin Campbell's unfussy style works well with Jackie Chan's action choreography
With a China release that takes advantage of the lucrative National Holiday period, this UK-China co-production should post solid numbers in the Middle Kingdom afer a two-day, $22.5m launch, although a lack of general familiarity with its political backdrop will probably prevent it from being as successful as recent Chan outings like the patriotic historical adventure Railroad Tigers (2016) or family friendly comedy Kung Fu Yoga (2017). Elsewhere, it will likely follow the path of Brosnan's last action effort The November Man (2014) by putting up a brief theatrical fight before becoming a viable VOD option.
The film opens with a London bombing by a rogue cell of IRA nationalists, which claims a number of lives, including Fan (Katie Leung), the daughter of Chinese-Vietnamese restaurant owner Quan Ngoc Minh (Chan). A former special forces solider whose set of skills is disguised by the humble manner in which he shuffles around, Quan initially tries bribing the head of the investigation, Commander Bromley (Ray Fearon) to provide him with the names of men responsible.
After being told to let the police do their job, he shifts his focus to Northern Irish government official Liam Hennessy (Pierce Brosnan), based on the politician's ex-terrorist past.Already dealing with growing internal dissent as he tries to appease both sides of the peace agreement at a time of crisis, Hennessy must now contend with Quan's harassment campaign .
At times, the Hennessy strand can feel like a condensed mini-series with an occasionally blustering Brosnan seizing the opportunity to play a steely figurehead who finds his intertwined professional and personal lives coming apart at the seams. Hennessy's problems range from the agenda of his wife Mary (Orla Brady), whose political rage has not been tempered by their now comfortable lifestyle, to being double-crossed by former associates who think he has lost his grit, entailing tough decisions being made with a stiff whiskey in hand.
With all of this going on, not to mention pressure from British high-ups to identify the bombers, it's perhaps not surprising that Hennessy – and the film itself – almost treats Quan as an aside to a bigger story with Chan absent for some stretches. However, as the threads of Hennessy's tight-knit world come loose, the determined Quan pulls himself back to narrative's centre.
The Foreigner is directed in no-nonsense fashion by action veteran Martin Campbell, who returns to the fray following the fallout surrounding comic book fiasco The Green Lantern (2011) and gives the film a flintiness that recalls less his big-screen peaks with the splashy James Bond revivals GoldenEye (1995) and Casino Royale (2006) than his excellent 1980s television work. In a truncated form, Campbell even reprises the haunting scene from his classic mini-series Edge of Darkness (1985) in which the grieving father carefully picks up his daughter's things, trying to connect with whatever remains of her essence.The need to expedite payback means that Chan doesn't have as much time to convey inconsolable loss as Bob Peck did, but is nonetheless effective in quiet close-ups.
When it comes to the action scenes, Campbell's unfussy style works well with Chan's choreography. The star's willingness to look his 63 years makes the falls look like they really hurt and creates a sense of jeopardy when Quan finds himself outnumbered.
Cliff Martinez's electronic score evokes the genre cinema of the 1980s and the era's capacity for turning political tensions into efficient programmers, although The Foreigner is very much a product of today's climate of fear and never commits the cinematic sin of suggesting that terrorism is a threat than can be readily dispatched with a few one-liners.
Production companies: The Fyzz Facility, Sparkle Roll Media, Huayi Brothers Pictures, Wanda Pictures, Arthur Sarkissian Productions
US distribution: STX Films
Producers: Jackie Chan, Wayne Marc Godfrey, D. Scott Lumpkin, Jamie Marshall, Arthur M. Sarkissian
Executive producers: Oren Aviv, Phillip Button, Cary Cheng, Adam Fogelson, Defu Jiang, Penny Jiang, Arnaud Lannic, Stephen Leather, Zhao Lei, Dave Li, Karl Li, David Marconi, Robert Simonds, Sunny Sun, Joe Tam, Donald Tang, Zhongjun Wang, Zhonglei Wang, Liu Xinxua
Screenplay: David Marconi, Stephen Leather, based on Leather's novel The Chinaman
Cinematography: David Tattersall
Production design: Alex Cameron
Editor: Angela M. Catanzaro
Music: Cliff Martinez
Website: http://theforeignermovie.com
Main Cast: Jackie Chan, Pierce Brosnan, Charlie Murphy, Orla Brady, Ray Fearon, Lia Williams, Katie Leung