This high-concept thriller from Korea is already set to be remade by Sylvester Stallone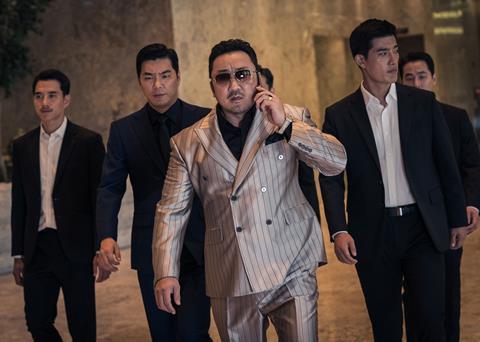 Dir/scr: Lee Won-tae. South Korea. 2019. 110mins.
Don Lee (Train to Busan) headlines this thoroughly engaging high-concept action thriller which, as the title suggests, brings together a gangster and cop to take down a sadistic serial killer. What it lacks in substance is compensated for by Lee's entertaining performance, more than a little reminiscent of his macho roles in the enormously successful Train to Busan and The Outlaws. Released in Korea on May 15 ahead of its international premiere as a midnight screening at Cannes, The Gangster… will seek to replicate the success of The Outlaws, with which it shares a production entity, B.A. Entertainment.
An unlikely alliance between the legal- and the underworld, creating an interesting dynamic in which both collide and synthesise in catching an increasingly dangerous murderer
Much like other Korean genre fare selected by Cannes, Lee Won-tae's actioner shouldn't have a problem finding an audience overseas (something which is illustrated by presales to more than 100 territories). The recent announcement of a Hollywood remake to be produced by Sylvester Stallone's Balboa Productions (which will also star Lee in the same role) should further increase its profile.
Set in the city of Cheonan (south of Seoul) in 2005, The Gangster… casts Don Lee as gang boss called Jang Dong-su. Late one night he becomes involved in a minor car accident and is stabbed repeatedly by the other driver. Although he survives by fighting back, Jang is conscious that his image as a formidable gangster is at risk and is determined to hunt down his assailant for retribution
Jang is eventually approached by detective Jung Tae-seok (Kim Moo-yul) who is hunting for a serial killer known as "K." (At the beginning of the film, "K" intentionally causes a car collision to get the driver out of the automobile before murdering him.) Although Jung's superior officer doesn't believe there is enough evidence to tie this murder to a series of cold cases, the dogged investigator persuades the gangster Jang, as the only living witness to his case, to team up in an unlikely alliance between the legal- and the under-world, creating an interesting dynamic in which both collide and synthesise in catching an increasingly dangerous murderer.
Visually, Lee Won-tae (Man of Will) takes the lead from many Korean thrillers, adopting a familiar aesthetic which exploits Cheonan's neon lights and dark roads as the rain continuously falls. He also brings some flair to the film's interiors, echoing a which juxtaposes sinister moments with unlikely comedy.
Kim Moo-yul as the detective and Kim Sung-kyu playing the vicious serial killer are certainly notable in their respective roles, but the star of the show is Don Lee (aka Ma Dong-seok) who is becoming increasingly prolific at home, starring in scores of films - one of which was appropriately titled Unstoppable (2018). While he may be at risk of over-exposure, something that might hinder domestic box office for The Gangsters… , the films' simple concept and solid execution should enable it to find an enthusiastic audience, not least internationally.
Production Company: B.A. Entertainment
International sales: K-Movie Entertainment (sales@kmovieenter.com)
Producers: Billy Acumen, Seo Kang-ho
Cinematography: Park Se-seung
Production Design: Cho Hwa-sung, Jeong Yi-jin
Music: Jo Young-uk
Editing: Heo Sun-mi, Han Young-kyu
Main cast: Don Lee, Kim Moo-yul and Kim Sung-kyu.