The business of life and death in Dijibouti City forms the basis for this Critics Week title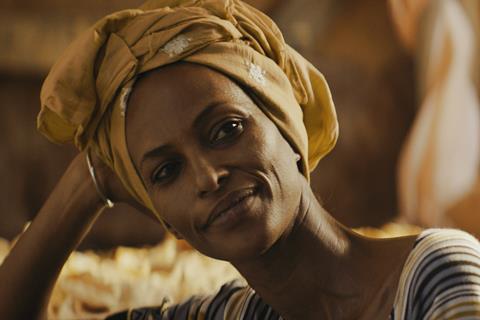 Dir/scr: Khadar Ayderus Ahmed. Finland/Germany/France. 2021. 83mins.
A health emergency brings a loving couple with an adolescent son up against the nightmare of their own poverty in The Gravedigger's Wife. This Dijibouti City- set contemporary tale uses building blocks that are basic but there's genuine suspense and undeniable cinematic flair as the titular woman's condition worsens and assembling the money needed for life-saving surgery seems impossibly out of reach. The film's theme of survival on micro and macro levels is completely centred on African habits and resources, yet universally accessible.
Guled must hope others die in order to earn money to prevent his wife's death
Developed at Cannes' Cinefondation residency, this Finland/Germany/France co-production from Finnish-Somali writer-director Khadar Ayderus Ahmed is a fine example of how European production entities can help move worthwhile African stories on screen and towards wider exposure. Although only the poorest sections of the city are shown, the result is handsome, involving and free of condescension toward its protagonists and their time-sensitive dilemma.
Hard-working 45 year-old Guled (Omar Abdi) adores his wife Nasra (Yasmin Warsame), a lithe beauty suffering from an infected kidney. Some may quibble that Mogadishu-born Canadian model Warsame is far too attractive for such dire circumstances but, then again, physical beauty doesn't know what socio-economic bracket it's being born into. The couple's savings from Guled's job as a gravedigger have already gone to pay for antibiotics, but Nasra's condition isn't improving.
There's an irony at the heart of the story: Guled must hope others die in order to earn money to prevent his wife's death.
Guled and his shovel-toting colleagues loiter by the local hospital and are crestfallen when a day goes by and nobody dies. Theirs is a low-status profession where you can't drum up business but must align your skills with circumstances beyond your control. The couple's son, Mahad, (Kadar Abdoul-Aziz Ibrahim) is insistently enterprising to raise money. He washes windshields, rounds up passengers for buses. Guled yearns to be a strong example for his son but is forced to wrestle with the prospect of failing to protect his family. Guled alludes to "going back to the village" without our knowing what, exactly, that might mean.
When Guled reluctantly resolves to return, solo, to his possibly frayed roots, the journey is punishing. There's no shade and the broiling sun definitely doesn't care whether Nasra lives or dies. Arttu Peltomaa's camera reveals the very definition of 'unforgiving terrain.' It remains to be seen whether human forgiveness is in short or large supply if Guled arrives at his destination.
In one entertaining sequence when her condition is in flux, Nasra initiates a bold prank to crash a wedding, involving a goat and whatever the Somali word is for "chutzpah." Not merely an amusing interlude, it provides insight into the couple's complicity, which has only deepened since they eloped from the rural village where her future had been arranged without her input.
Khadar Ayderus Ahmed was born in Somalia and lived in Ethiopia before his family emigrated from Africa to Finland when he was 16. His screenplay draws on the death of a family member and discovering the formal administrative procedure for a burial in Finland compared to Somalia or Ethiopia where bodies are generally buried within 24 hours. The film was shot in 21 days with a cast of first-time feature actors. A literally steamy shower sequence was kept secret since, out of context, it would clash with Islamic standards.
Andre Matthias's score is an appealing component.
Production companies: Bufo, Twenty Twenty Vision, Pyramide Productions
International Sales: Orange Studio, Inès Papo, ines.papo@orange.com
Producers: Misha Jaari, Mark Lwoff, Risto Nikkilä, Thanassis Karathanos, Martin Hampel, Stéphane Parthenay, Robin Boespflug-Vonie
Production Design: Antti Nikkinen
Editing: Sebastian Thümler
Cinematography: Arttu Peltomaa
Music: Andre Matthias
Main cast: Yasmin Warsame, Omar Abdi, Kadar Abdoul-Aziz Ibrahim