Jake Gyllenhaal puts in a raw performance in Antonie Fuqua's remake of the Danish cop thriller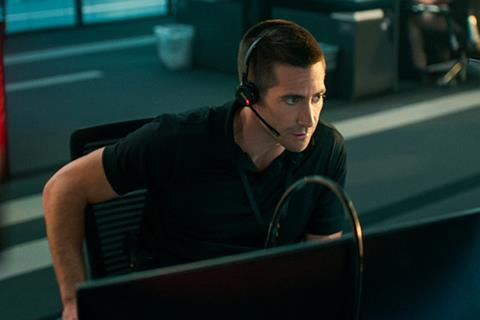 Dir: Antoine Fuqua. US. 2021. 90mins
A claustrophobic thriller about a disgraced cop trying to undo his past mistakes over the course of one supremely stressful night, The Guilty boasts a clever close-quarters conceit that ends up feeling more like an actorly exercise than a gripping human drama. Based on the 2018 Danish picture of the same name, Antoine Fuqua's remake benefits greatly from Jake Gyllenhaal's raw performance as a 911 call-responder desperate to save a mystery woman who's been kidnapped. But while there's pleasure in The Guilty's radio-play intimacy — so much of the suspense occurs because of the things we cannot see — this English-language redo overdoes both its protagonist's inner turmoil and its story's feverish intensity.
Gyllenhaal is effortlessly empathetic, even if he sometimes oversells his character's pressure-cooker mindset
This Toronto premiere will receive a US theatrical run starting September 24 before launching globally on Netflix October 1. Gyllenhaal (who also served as producer) is in every scene, spending most of the film talking to different people on the phone; the unseen supporting cast includes Ethan Hawke, Riley Keough and Peter Sarsgaard. For those unfamiliar with the Danish original, The Guilty may be a fun novelty, although reviews will probably be muted.
Gyllenhaal plays Joe, a Los Angeles cop who, for reasons that aren't immediately clear, has been demoted to answering 911 emergency calls in the middle of the night. With his shift nearly over, he receives a panicked, incoherent call from Emily (Keough), who sounds like she's been abducted by her husband Henry (Sarsgaard), leaving their two young children home alone. But Emily hangs up before Joe can get much information, forcing him to frantically piece together clues in the hopes of tracking down her location.
Gustav Moller's 2018 feature debut was praised for its ingeniously simple premise, which chronicled a cop dealing with his demons while trying to save a woman's life. The US remake copies the formula, reuniting Gyllenhaal with his Southpaw director, and the actor is effortlessly empathetic, even if he sometimes oversells his character's pressure-cooker mindset. Not only is Joe in a race against time to rescue Emily, he's trying to field calls from his ex-wife so that he can talk to his daughter — not to mention he's also due to appear in court tomorrow morning for his police-misconduct case. The man has much on his plate — including battling debilitating asthma — and Gyllenhaal accentuates Joe's losing battle to keep his wits about him.
Fuqua focuses the action primarily within the 911 call centre, but he's not especially adept at creating a sense of the walls closing in on Joe. (The director frequently shoots his reluctant hero in close-up as a way of artificially amplifying the life-or-death stakes.) That said, the people Joe communicates with — Emily, Henry, an amusingly blasé operator for the California Highway Patrol (Da'Vine Joy Randolph) — create a vivid chorus of disembodied voices that are in his head, and ours, zeroing in on the anxiety that comes from hearing distressed people talk about horrifying situations that we can only imagine.
Initially, The Guilty is diverting as Joe uses the resources at his fingertips to figure out where in L.A. Emily is calling from. But soon the script's straightforwardness becomes glaringly noticeable: Joe is so determined to save Emily, in part to assuage his guilt over whatever he did in the past, that most viewers will correctly predict that not all is as it seems. Sure enough, Joe will learn that all his dogged police-work can't save him from making mistakes — and that voices on the phone don't tell the whole story.
Sarsgaard does solid work voicing the menacing Henry, creating a mental image of an abusive husband that's suitably disturbing. Meanwhile, frequent Fuqua collaborator Hawke plays Joe's former sergeant — that rare friendly voice during a late night and early morning full of building anxiety. Eventually, the different strands of Joe's life will come to a head, but the collision doesn't prove particularly cathartic or illuminating, despite Gyllenhaal's ability to fall apart so convincingly. If nothing else, one could never accuse the star of phoning-in his performance.
Production companies: Nine Stories, Fuqua Films
Worldwide distribution: Netflix
Producers: Jake Gyllenhaal, Riva Marker, David Litvak, Gary Michael Walters, David Haring, Michel Litvak, Svetlana Metkina, Antoine Fuqua, Scott Greenberg, Kat Samick
Screenplay: Nic Pizzolatto
Production design: Peter Wenham
Editing: Jason Ballantine
Cinematography: Maz Makhani
Music: Marcelo Zarvos
Main cast: Jake Gyllenhaal, Ethan Hawke, Riley Keough, Christina Vidal Mitchell, Eli Goree, Da'vine Joy Randolph, David Castaneda, Paul Dano, Peter Sarsgaard