Dir: Dorris Dorrie. Germany. 2010. 106mins.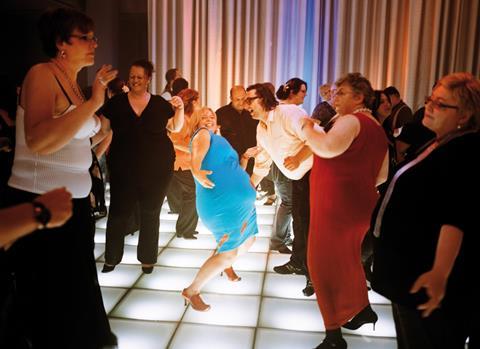 "Our profession is an aesthetic," a tough Berlin beauty salon owner tells hair stylist Kathy Konig (Schmeide), an obese woman who has been sent by the unemployment office to interview for what appears to be a certain job. "You are not aesthetic."The brutally frank employer could just as well have been referring to the film itself, a competently directed but silly work crammed with lowbrow humour that tips the delicate balance between art and commerce way towards the latter. In spite of Schmeide's engaging performance, The Hairdresser is as light as hair that has been overblown dry.
Dorrie accentuates her protagonist's vulgarity by accessorising her with loud plastic jewelry in the shape of assorted fruits
Dorrie's English-language Me And Him (1989), in which Griffin Dunne's penis advises him on love and financial matters, continued the satirical edge she displayed in her breakthrough film, Men/Manner (1986), a box-office hit in Germany about a conservative husband who attempts to win back his wife by converting her bohemian lover into a straight arrow.
It's hard to know how much of the downward spiral in The Hairdresser's humour and overall quality departments stems from the fact that this is the first film she has directed that she did not write. Regardless, it will not affect its promising commercial prospects, especially in German-language markets where audiences should devour it. It might cross over into a few other territories, but it's doubtful that The Hairdresser will make a dent in English-speaking territories.
Dorrie evidently wore a fat suit around Berlin to discover for herself what tremendously large people endure and was moved by their shabby treatment. In the film, however, she and cinematographer Lentz relentlessly, and insensitively, shoot over and over and over again the bulges in Kathy's tight, bright clothes, her naked body and her thick legs, throwing in uninspired close-ups of her spreading fat-filled paste on bread and chomping down pizza.
Dorrie accentuates her protagonist's vulgarity by accessorising her with loud plastic jewelry in the shape of assorted fruits. The lack of subtlety spills over into the music track, which consists chiefly of bouncy accordion and the sound of horns similar to that used for ironic effect in dark Eastern European comedies of the '60s and '70s.
The plotline involves Kathy's bouncing back from the job rejection by trying to start her own business next door to the offensive shop owner. She can not gather enough capital, however, so she begins to earn money by helping a man smuggle Vietnamese immigrants from Poland into Germany. She ends up having an affair with the group's unofficial leader, the gentle but married Tien (Kim), but her dabbling into the trafficking underground feels like an afterthought.
To sign up for Screen's weekly Reviews Newsletter with all the week's new releases, international openings and full festival reviews delivered free to your mailbox every Friday, please click HERE
Production companies
Collina Filmproduktion
Constantin Film Produktion
International sales
Fortissimo Films
(31) 20 627 3215
Producer
Ulrich Limmer
Screenplay
Laila Stieler
Cinematography
Hanno Lentz
Editors
Inez Regnier
Frank Muller
Production design
Susanne Hopf
Music
Ivan Hajek
Coconami
LaBrassBanda
Main cast
Gabriela Maria Schmeide
Natascha Lawiszus
Kim Ill-young
Christina Grosse
Rolf Zacher