A startling view from underground Madrid is one of the year's breakthrough documentaries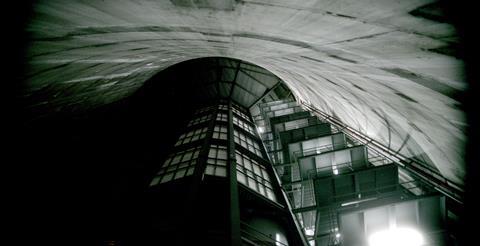 Dir. Victor Moreno. Spain/France/Germany. 2018. 80 mins.
Some documentaries aspire to make the world a more transparent place, others set out to show us the world we think we know, but in ways we've never seen. Pitched firmly in the latter camp, Victor Moreno's haunting, almost abstract docu-reverie The Hidden City presents a world of drastic defamiliarisation: it studies the world underneath Madrid, transforming its tunnels and subterranean architecture into spaces so strange and eerie we might almost be looking at life on another planet, or on our own but in some distant, desolate future.
The film's architectural features - vast vaulted spaces, tunnels, sometimes the narrowest crawlspaces – resemble corners of spaceships or abandoned sets for Alien
This new film by the director of Holidays (2010) and the Goya-nominated The Building (2012) is a sombre but visually mesmerising evocation of a world of darkness, noise and sometimes troubling surprises, its poetic drift close to the documentaries of Denis Côté (Bestiaire, Joy of Man's Desiring) and its immersive intensity reminiscent to the productions of the Harvard Sensory Ethnographic Lab, notably Lucien Castaing-Taylor and Véréna Paravel. The latter duo's Leviathan scored on the distribution front, and The Hidden City could similarly appeal beyond the specialist doc channels. Premiered at the Seville Film Festival before moving on to IDFA, it's one of the outstanding documentary discoveries of the year, and should be a major talking point in the festival circuit and beyond.
Moreno here studies the little-seen world that exists underneath Madrid's pavements, and that allows the city to function – road tunnels, the Metro, the sewer system, all of which have their own population of workers constantly operating to sustain them. The world above ground is only sometimes glimpsed from below through manhole covers and the like, but sunlight is a distant reality in the film's darkened world.
The Hidden City begins with an eerie image of what appears to be stars in a night sky, before we realise that we're looking into a different kind of darkness. We seem to be visiting a science-fiction world (many images here recall the still shots of Chris Marker's La Jetée) in which figures clad in spacesuit-like uniforms, complete with sealed helmets, navigate a dark space. Some of these 'astronaut' figures at one point congregate near a grille though which we see cars rushing by, viewed from above. The film's architectural features - vast vaulted spaces, tunnels, sometimes the narrowest crawlspaces – resemble corners of spaceships or abandoned sets for Alien, but are simply functional parts of Madrid's maintenance system.
Moreno sometimes plays up the unworldly dimension: rails glow red as the camera tracks by in the dark, a slow journey down a Metro tunnel resembles a radically minimalist remake of the 2001 'Stargate'. Sometimes the screen fills with computer images of the world we're visiting, for example an electronic map of the subway system. At other times, human presence, however alienated, comes to the fore. A sequence of close-ups of Metro workers have the statue-like quality you associate with Pedro Costa's films; later, bringing the film closer to the familiar realm, we see commuters dozing, lost in their private worlds as they travel.
They are not the only life forms we see. What appears to be footage from a roaming surveillance cam brings us alarmingly close to the underground's rat population, while narrows tunnels prove to contain a more unlikely animal population. In a touch of poetic license, Moreno also brings us face to face with an owl, an eerie presence - although end-titles reference to an animal supply company shows that a little poetic license has been taken with this documentary, as does a credit for hair and make-up.
Operating in extraordinarily challenging conditions, cinematographer Jose A. Alayón works with a necessarily reduced palette, making the most both of still sculptural compositions and of evocative camera movement, as in an extended track along subway rails, with workers in hi-vis jackets bending to drill the earth like an army of human moles. Elsewhere a violent flicker effect brings the walls of the Metro and roadway tunnels to dynamic life. A final sequence shows even sewer water can have unsettlingly sculptural textures, before Moreno takes his study onto a microscopic level.
Voices are heard sporadically and at a distance, over work team radios; there's no commentary whatsoever. Electronic composer Juan Carlos Blancas and German experimental veteran Asmus Tietchens add space and density to an imposingly eerie atmosphere, in tandem with sound designer Janis Grossmann, whose intricate networks of echo and industrial sound become a sonic city in their own right.
Production companies: El Viaje Films, Rinoceronte Films, Pomme Hurlante Films, Dirk Manthey Films, Kino Pravda
International sales: Shellac, shellac@altern.org
Producers: José Alayon, Marina Alberti, Nayra Sanz Fuentes, Eva Chillon, Dirk Manthey, Viictor Moreno
Screenplay: Rodrigo Rodríguez, Nayra Sanz Fuentes, Víctor Moreno
Cinematography: Jose A. Alayón
Editors: Samuel M. Delgado, Víctor Moreno
Music: Asmus Tietchens, Juan Carlos Blancas