Shakespearean revenge tragedy Titus Adronicus is updated to modern-day India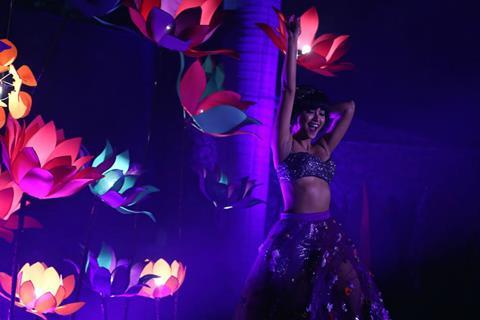 Dir: Bornila Chatterjee. India-UK. 2017. 100m.
Vengeance claims innocent and guilty, idealist and cynic alike in The Hungry, a suitably blood-soaked contemporary re-imagining of the Shakespeare tragedy Titus Andronicus. An elaborate swirl of shifting allegiances, corruption, betrayal and murder, the film is sometimes more impressive for its resourceful production design and craft than the awkward dialogue and variable performances.
An imaginative, intermittently engaging attempt to give contemporary weight to a Shakespeare classic
The first India-UK co-production from the Microwave International: Shakespeare India series of workshops in 2015, further festival interest should follow the film's Toronto world premiere, but commercial play seems a decidedly tougher challenge.
The Hungry begins during New Year celebrations that end in the apparent suicide of Ankur (Suraj Sharma), the beloved son of Tulsi (Tisca Chopra). Two years later, Tulsi is preparing to marry the buffoonish Sunny (Arjun Gupta) in a ceremony that feels more like a business merger than a declaration of love. Their wedding will unite two families, much to the satisfaction of elderly business tycoon and father of the groom Tathagat Ahuja (Naseeruddin Shah).
It is during the preparations for the wedding that Tulsi's elaborate, all-consuming revenge starts to bear fruit. Old debts are settled, lives are taken and all the guilty secrets of the past come into the open as flashbacks reveal what really happened to her son and who was responsible.
The Hungry initially strains to achieve conviction. It feels as if we have strolled into a cliched, B-movie tale of murky business dealings and larger than life characters. Ankur's supposed suicide seems something that could easily have been proven otherwise by the most perfunctory police investigation. The dialogue is strained and some of the performances feel awkward.
What does catch the eye, however, is the way in which production designer Aradhana Seth makes use of vast, starkly white spaces to convey the status of the wealthy Ahuja family. There is notable work, too, from cinematographer Nick Cooke as he captures misty morning scenes, contrasting rich and poor or glides through the courses of a vast and deadly wedding banquet.
As the casualties mount and the ironies increase, the story eventually tightens its grip and seems to deliberately echo Peter Greenaway's The Cook, The Thief as it lurches towards grand guignol and there is a positively Nymanesque tone to Benedict Taylor's score.
Tisca Chopra's Tulsi is defined by lingering close-up of the performer, in which her flashing eyes and enigmatic smile convey varying shades of mystery and menace. Naseeruddin Shah is given more to play with as the pitiless Tathagat, creating a wearily imperious figure, disdainful of anyone who dares to stand in the way of his grand designs. Both performances play a major part in keeping the increasingly bloody story grounded and believable.
Ultimately, while far from perfect, The Hungry is an imaginative, intermittently engaging attempt to give contemporary weight to a Shakespeare classic.
Production companies: Microwave International, Cinestaan Film Company, Film London
International sales: C International Sales info@cintsales.com
Producers: Kurban Kassam, Tanaji Dasgupta
Screenplay: Bornila Chatterjee, Kurban Kassam, Tanaji Dasgupta
Cinematography: Nick Cooke
Editor: Jamie Kataky
Prod des: Aradhana Seth
Music: Benedict Taylor
Main cast: Naseeruddin Shah, Tisca Chopra, Neeraj Kabi