Melissa McCarthy, Tiffany Haddish and Elisabeth Moss lead this #metoo mob drama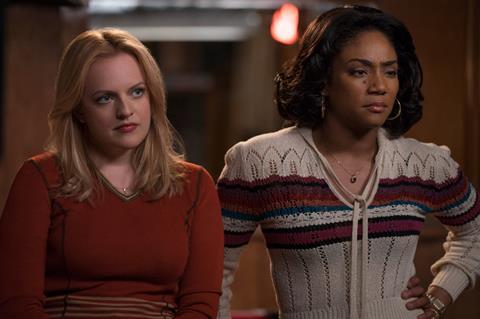 Dir: Andrea Berloff. US. 2019. 102mins.
The world is a dangerous place for women — even when they're not mixed up with the mafia. The Kitchen, which follows three put-upon gangster wives who go to war with the Irish mob after their menfolk are sent to the slammer, embraces our #MeToo/#TimesUp age to deliver a convoluted tale that sometimes howls with pained fury but too often gets mired in overheated plot machinations. A fine cast led by a superb Melissa McCarthy seeks to illustrate how the criminal underworld isn't that different to the daily stressors mothers and wives must face, but while one roots for this female-led ensemble, Oscar-nominated writer-director Andrea Berloff doesn't have as sure a hand with the script's mounting body count.
Even when the film devolves into cliché, the timeliness of the material is hard to discount
Warner Bros. releases The Kitchen in the US on August 9, and September 20 in the UK. The combined star power of McCarthy and co-stars Tiffany Haddish and Elisabeth Moss will be a major draw for a thriller that has a passing similarity to last year's underperforming Widows, but lukewarm reviews could stall momentum.
Set in 1970s New York, the film stars McCarthy as Kathy, a housewife who's married to a member of the Irish mafia (Brian d'Arcy James). Her good friends Ruby (Haddish) and Claire (Moss) are in similar relationships, so they come together after their husbands are incarcerated for three years. Since the bosses won't provide enough of a stipend to support them while their spouses are away, Kathy, Ruby and Claire decide to earn more money by offering protection to local businesses that feel that the mob isn't doing enough to keep them safe. But the Irish mafia doesn't appreciate these women muscling in on their turf, escalating tensions and setting the stage for a violent showdown.
Based on the DC Vertigo comic, Berloff's directorial debut flaunts terrific period garb and rich atmosphere. (cinematographer Maryse Alberti gives New York's Hell's Kitchec a seedy glow). Initially, Berloff (who was one of the writers on Straight Outta Compton) seems to be offering a corrective to male-centric mobster movies, which often relegate female characters to nagging-wife roles. Here, the wives are front and centre, and the leads articulate the burden placed on these women to be pliant spouses and mothers. (For Claire, the indignity is magnified by the fact that her husband beats her.)
There's a satisfying rush in watching these wives assert themselves after their husbands get sent to jail — they stand up to mobsters and intimidate people with their smarts, no longer stuck in the shadows. Each of the actresses capably pinpoints their character's insecurity and then shows how she finds her self-confidence.
Unfortunately, for all the bloodshed and corpses, The Kitchen has a cartoon-y vibe that trivialises the story's thematic underpinnings and sense of stakes. As much as these women court severe consequences, the film tries too hard to be an irreverent, for-adults-only good time, wanting to simultaneously be sombre and escapist. Those tones fail to coalesce, and the film is further undermined by plot twists that are pulp-y without being plausible.
That said, The Kitchen's trio of formidable actresses have standout moments. Haddish shows a steelier side than we've seen in her outlandish comic turns in Girls Trip and Night School while playing a woman who discovers she has a knack for murder. And Moss captures Claire's meekness, which melts away as she becomes more assured.
But McCarthy is The Kitchen's highlight. Best known for broad comedies, she excelled in last year's character drama Can You Ever Forgive Me? As Kathy, she delivers a movie-star performance that's equally comfortable drawing laughs and eliciting pathos. In one of the film's best scenes, she gives voice to the fear that many women experience on a daily basis — how they feel unsafe in their communities because of predatory men. Clearly, mob goons are just another breed of cretin Kathy regularly encounters.
Even when the film devolves into cliché, the timeliness of the material is hard to discount. Berloff is proudly unsubtle when depicting her characters as marginalised figures who grab their power and fight back against their oppressors, and that verve can be liberating. At times, The Kitchen is pleasingly provocative, showing its female characters killing with the same coldblooded intensity as the men in, say, Goodfellas. In our patriarchal society, the film seems to be arguing, women need make no apology for being as aggressive as their male counterparts. But this is tricky moral terrain as more and more people die in the wake of these characters, and Berloff fails to deftly navigate it. As a result, The Kitchen may prove to be a meaningful time-capsule document, but is far less successful as broad entertainment.
Production company: Michael De Luca Productions
Worldwide distribution: Warner Bros. Pictures
Producers: Michael De Luca, Marcus Viscidi
Screenplay: Andrea Berloff, based on the comic book series created for DC Vertigo by Ollie Masters and Ming Doyle
Production design: Shane Valentino
Editing: Christopher Tellefsen
Cinematography: Maryse Alberti
Music: Bryce Dessner
Main cast: Melissa McCarthy, Tiffany Haddish, Elisabeth Moss, Domhnall Gleeson, James Badge Dale, Brian d'Arcy James, Margo Martindale, Common, Bill Camp