Dirs: Thanos Anastopoulos, Davide del Degan. Italy-Greece-France. 2016. 135mins.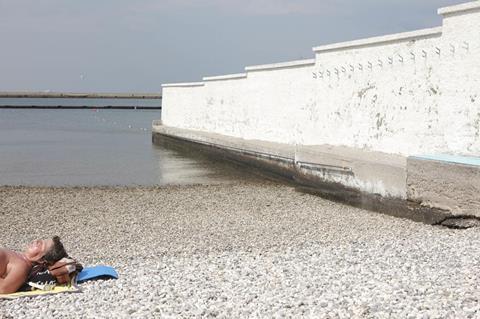 In Trieste, a once-thriving multicultural port city in north-eastern Italy, there's a municipal bathing establishment with a high concrete wall dividing the men's and women's sections of the beach. This wry, profound, tender documentary co-directed by Trieste-based Greek auteur Thanos Anastopoulos (Daughter) and his Italian colleague Davide del Degan, distils a year spent observing the denizens of this strange, divided sliver of old Europe. Metaphor? Yes, but not in the obvious way we might expect.
In the insouciance of its style, the utter lack of cinematic self-consciousness among the 'actors' of what is finally a refreshingly real reality show, The Last Resort is utterly engaging
More elegiac than didactic, The Last Resort (L'ultima spiaggia) encourages its audience to muse on borders, geographical, sexual and otherwise, while never abandoning its affectionate focus on the eccentric bunch of regulars that hang out, rain or shine, in this curious survivor of a more prudish Austro-Hungarian seaside era. Slected for a special screening slot at this year's Cannes festival, this engaging study is sure to attract more festival play and could catch the eye of streaming platforms in the market for quirky arthouse content. On paper, the two-and-a-quarter-hour running time looks challenging for a film with no dramatic arc to speak of, but those who settle into its gently lapping rhythms and tune into the thematic undertow may feel almost cheated when it's over.
James Joyce lived in Trieste for several years, but it's the spirit of his friend and compatriot Samuel Beckett that comes through in the opening scene as two male regulars of 'El Pedocin', as the Bagni Comunali Lanterna bathing establishment is known locally, sit in silence, contemplating the glum weather. "No-one will turn up today," one eventually remarks. The film follows the flow of the bathing season: at first, before the summer invasion, it's just regulars like grumpy, pigeon-chested Vinicio who turn up to exchange sometimes barbed badinage with other elderly habitués and watch the huge Turkish ro-ro ferries come and go from the nearby container port.
These leathery men seem like hoary old walruses, alternately bored and sparring (things are territorial over here – the lido's white plastic chairs get spray-painted to mark ownership). The women, in their section, play cards, and have altogether fewer complexes. But in both areas we sense the crackle of history in what was long a contested Italo-Slav border zone. After a bibulous lunch, two old friends, one from each ethnic group, fall out over definitions of nationalism. Fragments of Slovenian dialect emerge; painful wartime memories bubble to the surface. A couple of archive newsreel sequences attempt to give a little context, perhaps unwisely – they break the stylistic unity of the exercise without really providing much of a grounding in Trieste's chequered past.
The rest of the time, the handheld camera never strays further from El Pedocin than the rubbish bins across the road, and it's not long before we become intimately familiar with the layout of the place.
Men and women are not the only ones to be separated here. Anna, the stressed, ever-muttering municipal employee who mans the ticket desk and cleans up the beach, turns out to be the tragic Eleanor Rigby of the tale, while two muscular young lifeguards can, in theory, access all areas; but this charmed status seems a limbo rather than a license for these recent immigrants, who work out on the rusting metal bars of the breakwater terrace, biding their time until something better turns up.
Only once – rather charmingly – is the camera acknowledged, though it's often literally in its subjects' faces. Sometimes it ducks underwater, for example to join a diver fixing the net and buoys that separate this civic bathing enclave from the open sea, creating yet another border. In the insouciance of its style, the utter lack of cinematic self-consciousness among the 'actors' of what is finally a refreshingly real reality show, The Last Resort is utterly engaging. Its other major achievement is in the editing of what must have been weeks of footage to create a subtle, nuanced, humorous, poignant reflection on the walls that unite and divide us.
Production companies: Mansarda Production, Fantasia Audiovisual, Arizona Productions
International sales: Wide House, ac@widehouse.org
Producers: Nicoletta Romeo, Stella Theodorakis, Guillaume de Seille
Cinematography: Ilias Adamis, Debora Vrizzi
Editor: Bonita Papastathi