If nothing else, the disputed, notorious 'Salvator Mundi' is at least a bone fide cinema crowd-pleaser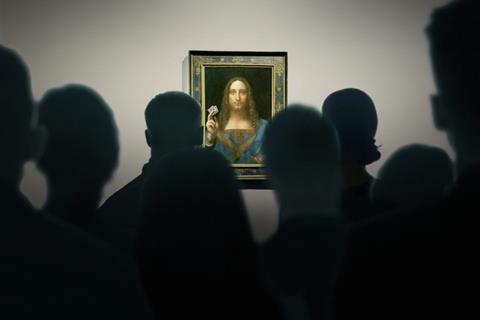 Dir: Andreas Koefoed. Denmark/France/Sweden. 2021. 96 mins.
There's nothing quite like a good story, well-told. Danish director Andreas Koefoed uses all the polish of his experience — and that of his technical team — to tell the ripping yarn of the Salvator Mundi, the so-called lost Leonardo da Vinci. Discovered in a New Orleans auction house in 2005, it is now, and will long remain, the most expensive painting in the world, with one of the most hotly-contested provenances. The Lost Leonardo is one of those rare documentaries in which almost everyone involved volunteers their loose-lipped testimony, seemingly unconcerned as to the dubious light in which it may place them, and Koefoed turns it in at a snappy 96 minutes with all the bells and whistles of a doc crowd-pleaser.
A three-act morality play where qualms are scant and art world egos run riot in the face of wealth and power and raw, dripping greed
Sony Pictures Classics swooped in to take worldwide rights (from Dogwoof) outside the UK, Germany and France during post-production and will release in US theatres from August 13 after its Tribeca launch. That says something of the label's expectations, and it helps that while Koefoed's story is filled to the brim with dodgy dealers, it doesn't actually field a real villain — a sort of Catch Me If You Can of the art world, in which the biggest baddie is also the biggest dupe. Streaming is a natural home for this title, and a Tribeca premiere followed by a theatrical release, accompanied by positive reviews, will set it in the right frame for wider consumption.
Unusually, The Lost Leonardo is credited to no fewer than five writers, but the seams are smooth in this three-act morality play where qualms are scant and art world egos run riot in the face of wealth and power and raw, dripping greed. There's a judicious doling-out of information here, so the viewer never quite knows what will happen next, although we do realise early on that this is a pacey film which starts out at incredible and will only move up the scale. We never see the third-rate New Orleans auction house where a "sleeper hunter" and an art dealer purchase a poor-condition ("overpainted") version of the Salvator Mundi for $11,000 in 2005. They suspect this ratty picture is worth more — perhaps it's one of the many copies of the missing masterpiece painted during da Vinci's time.
They take Koefoed and the viewer through what happened next — namely, when they contacted New York University's Dianne Modestini for an opinion, and she declared it was the lost Leonardo before restoring it herself, for an unspecified commission. Events take another turn when the UK's National Gallery put it in front of friendly experts and declared it authenticated. Yet no museum would buy it. Put it this way: the consortium which bought and restored it considered themselves lucky to get out of the game for $86 million, but by that point there was a Russian oligarch and a Swiss "free port billionaire" in the frame, busy swindling each other and everyone else out of taxes.
By 2017, this painting would notch a world record at $400 million (plus $50-odd million in commissions), sold by Christie's in New York, and by this point we're talking about Saudi Arabia, a half-billion-dollar yacht, the Louvre, and French president Emmanuel Macron. The painting has never been seen in public since, and has not been properly authenticated. It seems impossible now that it ever will be, given the polarisation of opinions and the sheer amount of money involved.
It's hard to be upset by the idea that greedy people have been swindled out of money by other greedy people but, as The Lost Leonardo shows, when you move into the world of global billionaires, politics, and the acquisition of art — which becomes just another way to raise more money — it's also hard not to be disgusted. People push and shove to get what they want and then push and shove for it to be what they wanted, even if they knew their purchase was "like buying a car that was in an accident".
Koefoed positions Modestini as the centre anchor of this tale, allowing the viewer to make up their own mind about her place in the debate — although there's no doubt that it went far beyond what she expected, and that she has clearly profited from it as well. She's an interesting companion, but can't manage the dynamic shock value of two separate interludes. One is set in Geneva, and explains what free ports mean to the art market and the global billionaire economy. The testimony of Yves Bouvier about his 100 percent "mark up" on the Russian oligarch Dmitry Rybolovlev is an object lesson in self-justification and a terminal blow to the idea of honour amongst thieves. The second takes place in the Louvre, where it begins to look like geo-realpolitik will distort matters even further: that there really is nothing in this world that money can't buy.
Fittingly, DoP Adam Jandrup has an eye for the frame and a pleasing composition. Interviewees stare into the void which is the art world market, telling their truth as they see it. Sveinung Nygaard's score alternates between high choirs of choral aspiration to jaunty jet-set piano, fuelling The Lost Leonardo through to our eventual realisation that this is a da Vinci which will always be, in one way or another, lost to us.
Production companies: Elk Films, Pumpernickel Films
International sales: Dogwoof, sales@dogwoof.com
Screenplay: Duska Zagorac, Mark Monroe, Andreas Dalsgaard, Christian Kirk Muff, Andreas Koefoed
Producers: Andreas Dalsgaard, Christoph Jorg
Cinematography: Adam Jandrup
Editing: Nicolas Norgaard Staffolani
Music: Sveinung Nygaard