Dir/scr/prod: Anna Biller. USA, 2016. 120min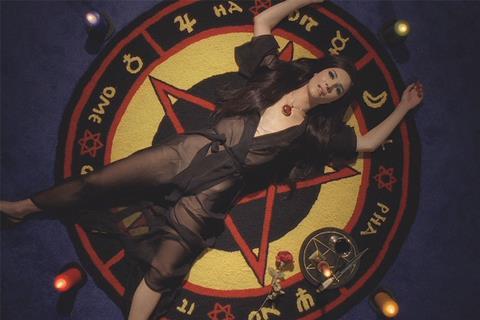 Chic, poised and sensual Elaine (Samantha Robinson) - fleeing a relationship which has ended badly (especially for her lover) - settles in a quiet Northern California town. The community is open-minded enough to support a well-established witch coven among its quaint ladies' tea-shops and go-go dance bars. Augmenting her natural attractions with love philtres and witch bottles (mystic artefacts which involve urine and used tampons), Elaine sets out to find a suitable new man. This leads, however, to legal complications, as those she seduces tend to disappoint her the next morning and her cast-offs are inclined to sudden death by heart failure or suicide.
Anna Biller creates a wholly engaging straight-faced melodrama with barbed feminist footnotes.
When Elaine meets her match in investigating cop Griff (Gian Keys), who is no less susceptible to her (literal) charms, the leading lights of the local coven pass their circle off as a renaissance fair to lure Griff into a form of binding ceremony. They also wonder, however, whether Elaine may be too self-obsessed for the good of their relationship with non-pagan locals, who only need a few rumours to form a traditional 'burn the witch' mob.
Following Viva, a pastiche of late '60s psychedelic sexploitation, all-round auteur Anna Biller here immerses herself in an artificial world inspired by early 1970s soap opera, TV movies, Italian and American horror films and post-hippie colour supplement Wiccan glamour to create a wholly engaging straight-faced melodrama with barbed feminist footnotes.
Besides directing, writing and producing, Biller also edits, supervises the music (mixing her own compositions - including songs - with selections from vintage giallo soundtracks after the manner of Tarantino or Hélène Cattet and Bruno Forzani), acts as production designer and set decorator (down to hand-crafting props) and supervises the costumes. Almost the only job she doesn't take is cinematography, but M. David Mullen (Jennifer's Body), shooting on 35mm film, fully enters into her mindset: the primary colours pop so that odd props (an apple-red cigarette carton) take on sinister meaning.
Just about the only filmmakers who have previously attained this level of control over their visions are Russ Meyer and Wes Anderson; the fact that The Love Witch evokes both their self-enclosed universes, but with a uniquely female viewpoint, suggest how fresh and strange Biller's imagination is.
Though a little too languid at two hours, The Love Witch is appropriately seductive. The deliberately muted performances of a cast selected because they look like 1970s models - with a nice throwaway about The Stepford Wives - are a dead-on match for Biller's on-the-nose dialogue exchanges and ritual-like scenes of witch cults, tea parties and pole-dancing. It's a shock half-way through when Trish pulls out a mobile phone and, later, DNA analysis of the fluids used in a witch bottle leads Griff to Elaine, because otherwise this would seem to be set in the period it evokes.
Like Cattet and Forzani (Amer, The Strange Colour of Your Body's Tears), Biller does more than resurrect a chic, cool bygone film style. She counters many of the underlying assumptions of the male-directed exploitation films she evokes (The Mephisto Waltz, Simon King of the Witches, All the Colors of the Dark), even as Elaine is ultimately shown to be a genuine monster for the unsisterly treatment of other women which goes along with her relentless romantic self-interest.
The only woman grindhouse filmmaker to really thrive in the era homaged by The Love Witch was Stephanie Rothman, whose Velvet Vampire (1971) might make an interesting double bill partner for programmers who want to show this in the context of its inspirations.
Production Company: Anna Biller Productions
US Distributor: Oscilloscope
Executive Producer: Jared Sanford
Cinematography: M David Mullen
Editor/Music/Production Designer: Anna Biller
Main cast: Samantha Robinson, Elle Evans, Jeffrey Vincent Parise, Lily Holleman, Dani Lennon, Laura Waddell, Stephen Wozniak, Jennifer Ingrum, Gian Keys