Francesco Maresco explores the impact of the 1992 assassinations of Italian anti-Mafia magistrated Giovanni Falcone and Paolo Borsellino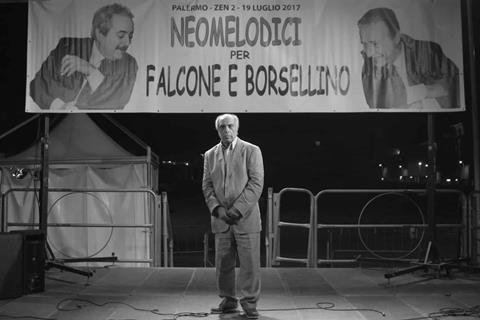 Dir/scr. Franco Maresco. Italy. 2019. 107mins
His fondness for the absurd and tragicomic firmly intact, Franco Maresco heads back to Sicily to ponder one of Palermo's biggest scandals: the 1992 murders of judges Giovanni Falcone and Paolo Borsellino. A pseudo-sequel to 2014's Belluscone: A Sicilian Story, complete with the return of shady music manager and festival organiser Ciccio Mira, The Mafia Is Not What It Used to Be examines how the slain pair's anti-mob fight resonates today, if at all. Again filtering fact through satire, the Italian writer/director turns his equally cynical and bemused observations into a gleefully indulgent work of agitation — one that, even with its Special Jury Prize win in Venice, will overstay its welcome with all but local audiences.
Obviousness played for both laughs and outrage is the strategy from the outset
It's not that the film lacks broader relevance or interest. Demonstrating how apathy, ignorance and self-absorption remain influential politically and socially, the opposite quickly becomes apparent. As the film calls out Palermitans' complacency towards history, and how that attitude feeds the Cosa Nostra's standing in turn, it's easy to extrapolate parallels around the world. But while farce is a long-established part of Maresco's approach, and remains ever-present in his mile-a-minute running commentary, he's all too willing to embrace his own madcap tendencies to wearying, grating repetition.
Still, considering the subjects in front of his lens, the filmmaker's unwillingness to turn away is somewhat understandable. Maresco has found an infuriating, amusing trainwreck to look at which perfectly underscores his thesis, and look he does. In leading the audience so forcefully, however, it almost feels as though he's missing an opportunity; without the overt mockery (and perhaps with a shorter runtime), Mira and his cronies would've inspired the same reactions.
Acclaimed photojournalist Letizia Battaglia, the film's only hero, kickstarts The Mafia Is Not What It Used to Be, proving as passionate in her 80s as when she was documenting the mafia during the 1970s. Her commitment to honouring Falcone and Borsellino's legacy is hardly the norm, but that's largely the movie's point. Small ceremonies commemorate the 25th anniversary of the Capaci bombing in 2017, leaving Battaglia disheartened about the lack of substantial interest. The key word is substantial, with the ever-opportunistic Mira planning a concert two months later to mark the Via D'Amelio bombing – although it's far from a thoughtful homage.
In Belluscone, Maresco highlighted Mira's dubious ties. Without retracing the same territory, here he asks the small-time showman and his troupe of regulars to decry the mafia mid-performance. Unsurprisingly, there are no takers. Mira and long-term producer Matteo Mannino shudder at the mere thought of uttering hostile sentiments, while volatile Neapolitan singer Cristian Miscel won't discuss his refusal. Their responses speak volumes, but Maresco has already primed viewers — earlier, Mira couldn't perceive any conflict of interest in organising the tribute after spearheading mob-funded events in the past, and Miscel once credited the assassinated judges with reviving him from a coma.
Co-writing with Claudia Uzzo, Francesco Guttuso and Giuliano La Franca, obviousness played for both laughs and outrage is the strategy from the outset. It's evident as ordinary folks sound nonplussed in clearly scripted vox pops, and as Mira's gig descends into a grotesque spectacle (the 'talent' part of his talent agent role should be taken loosely).
There's nothing subtle about depicting Mira in black-and-white either, harksing back to the filmmaker's television work while blatantly stressing the ageing entertainer's old-school leanings. Indeed, by the time The Mafia Is Not What It Used to Be shows the latter hosting yet another misfire of a street party, dedicated to President Sergio Mattarella to push a personal agenda, the film has already screamed its statement to the point of wearing out its (and Maresco's) voice.
Production company: Ila Palma, Dream Film, Tramp Limited
International sales: Fandango, sales@fandango.it
Producers: Rean Mazzone, Anna Vinci, Daniele Moretti, Paolo Quaregna, Nicola Picone, Attilio De Razza
Screenwriters: Franco Maresco, Claudia Uzzo, Francesco Guttuso, Giuliano La Franca
Cinematography: Tommaso Lusena De Sarmiento
Editing: Francesco Guttuso, Edoardo Morabito
Music: Salvatore Bonafede